Offshore Wind O&M in China
【Offshore Wind O&M in China】
Deliverable: Industry report PDF (52 pages)
Report contents: As the momentum of offshore wind power plant is becoming stronger in the new energy sector in the world, business opportunities for operation and maintenance for offshore wind power plants turns promising now. In China, the momentum is reaching the peak and some opportunities for O&M such as O&M vessels, LiDAR, digital platform, and robotics including UAV, are emerging. The report summarizes and analyzes this emerging industry of offshore wind power plant O&M, while introducing general statistic data.
Download Sample / Report Purchase / Subscribe
The free sample report is available, please register as a member.
Click here for new membership registration. (Member registration is free)
↓Pickup image of

main version of the report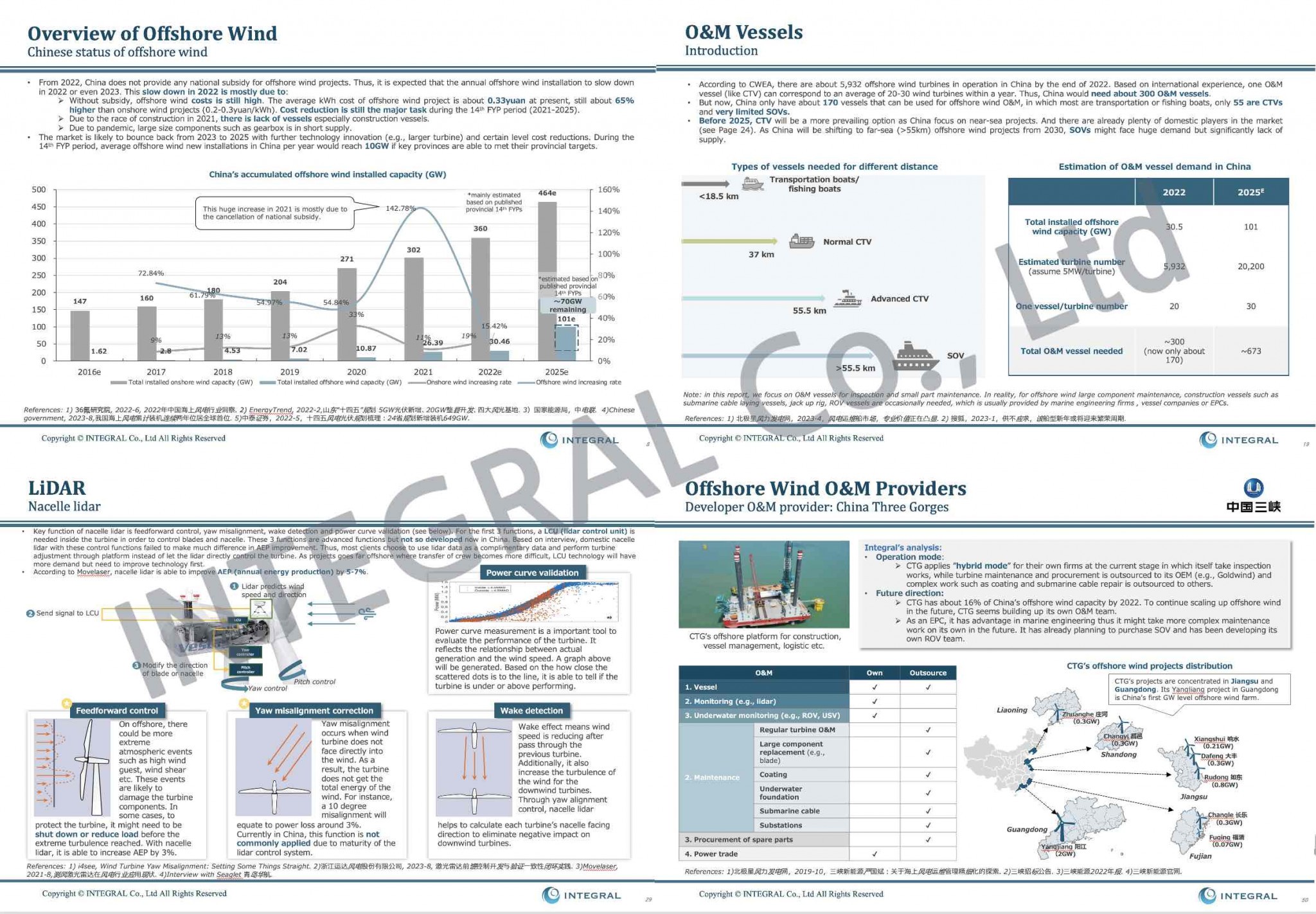 Table of Contents
Part 1. National and Provincial Policy of Offshore Wind in China
-14th Five-Year Plan for Renewable Energy Development (2021-2025)
-Provincial offshore wind targets and subsidies
Part 2. Industry Overview
Part 2-1. Overview of Offshore Wind
-Global status of offshore wind
-Chinese status of offshore wind
-Challenges in offshore wind
-Lifecycle of an offshore wind project
Part 2-2. Overview of Offshore Wind O&M in China
-Overview status of China's offshore wind O&M
-What does offshore wind O&M include in China
-Key technologies in inspection and maintenance (No.1-8)
-Ecosystem of an offshore wind O&M project
Part 3. Key Technologies in O&M
-Comparison among fishing boats, CTV and SOV
-Business opportunity: SOV
-Vessel decarbonization: Methanol powered vessel
-Chinese offshore wind O&M vessel owners
-Usage of wind lidar in offshore wind lifecycle
-Usage of wind lidar in offshore wind O&M
-Main wind lidar suppliers in China
-Vertical lidar product comparison
Part 3-3-1. Digital Platform
-Players and their product functions
-Turbine O&M robots (no.2-4)
-Substation inspection robot (no.8)
Part 3-4. Summary of Key Technologies
-Summary of key technology trends
-Summary of business opportunities
Part 4. Offshore Wind O&M Providers
-Three types of O&M providers
-Developer O&M provider: China Three Gorges
-OEM O&M provider: Goldwind
-Independent O&M provider: Haidian