Market Analysis of Green Hydrogen Production in China (2021)
【Market Analysis of Green Hydrogen Production in China (2021) 】
Deliverable: Industry report PDF (35 pages) *This report is available for subscription member only
Report contents: With the rapid development of water electrolysis technology, green hydrogen production projects that aim to explore the possibility of comprehensive hydrogen application began to emerge. To date, there are 33 green hydrogen production (water electrolysis) projects in China, with total theoretically production capacity of 352 K tons/year of Hydrogen, in 15 provinces across China were confirmed by our research. This report covers domestic green hydrogen production market overview which includes market and tech trend of domestic green hydrogen production, value chain analysis of typical large scale water electrolysis projects, introduction of bidding system of the projects, as well as detailed list of green hydrogen projects (information includes project name, location, RE power type, projejct period, project owner, Investment amount, hydrogen production capacity, hydrogen application etc.). The report also introduce latest market update of Suzhou Jingli, largest ALK water electrolyzer manufacturer globally, and deliver analysis of his market competitiveness and expansion strategy.
Survey period: From March 2021~April 2021
Sample report is available for this product, please register as a member and download it from the members-only page.
Click here for new membership registration. (Member registration is free)
↓Pickup image of the report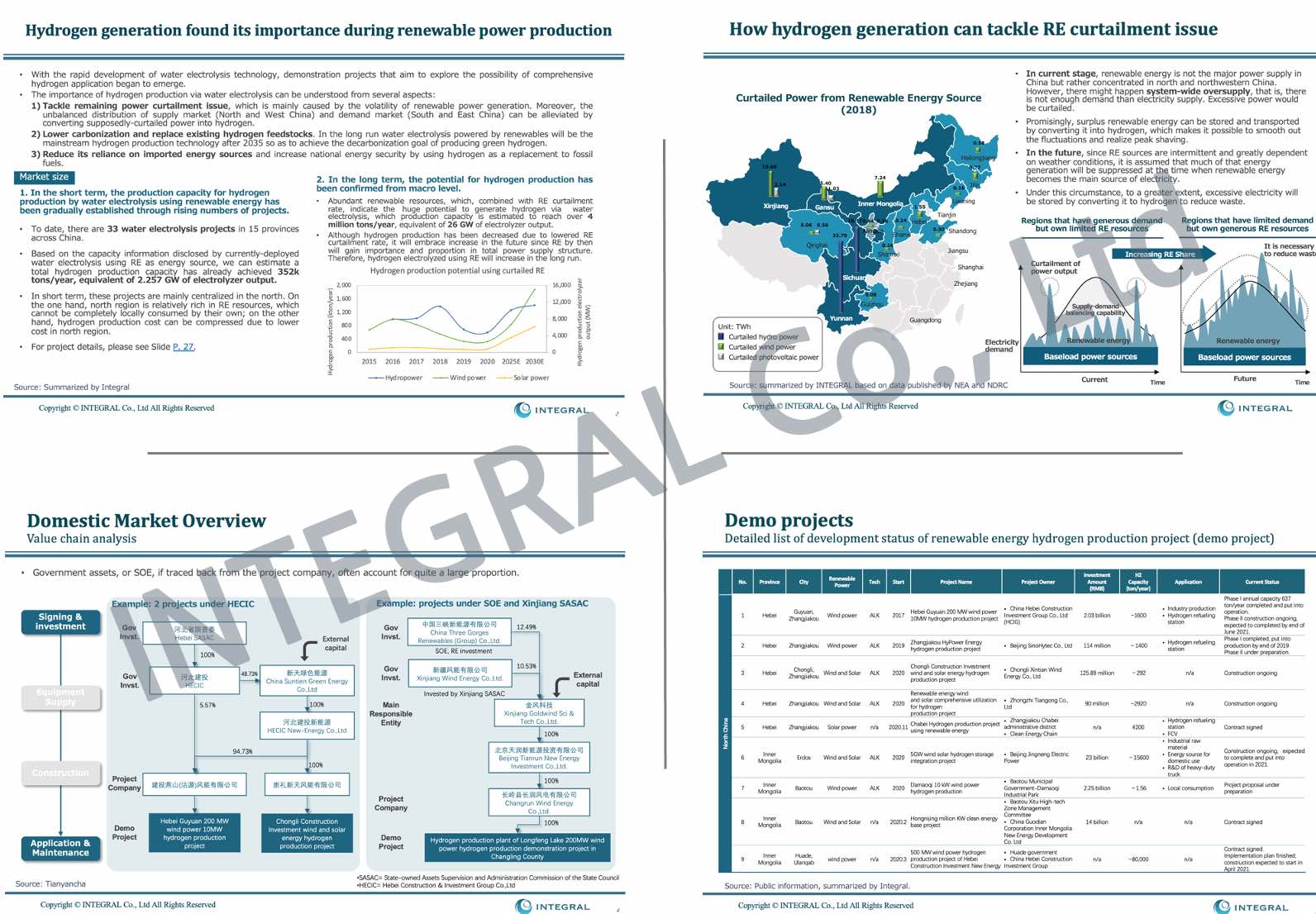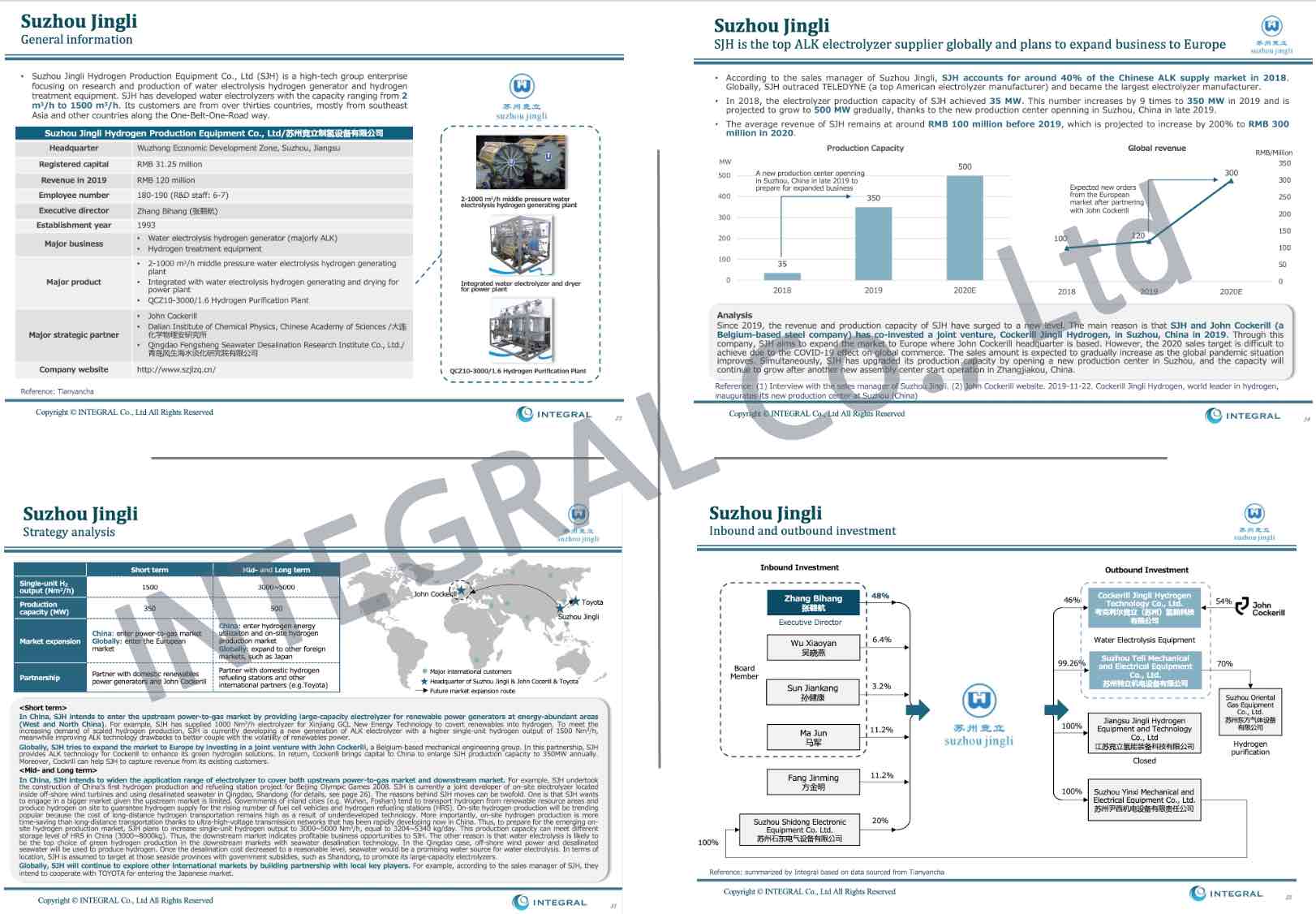 Part 1 Market and Tech Trend of Domestic Water Electrolysis Equipment
-Water Electrolysis Market In China
-Policy of Water Electrolysis Based on Renewable Energy
-On hydrogen supply side, governments try to convert local renewables into hydrogen via water electrolysisValue chain structure
-On hydrogen consumption side, governments focus on technological development and application
-New national subsidies for hydrogen production industry was released in September 2020
-Hydrogen Production via Water Electrolysis
-China's hydrogen market will rapidly expand in the next three decades
-Three Key Technologies of Water Electrolysis
-China is taking the lead in advancing international ALK technology
-China is making progress in PEM, yet key components need to be further improved to reduce cost
-Renewable Energy curtailment issue in China and its hydrogen production potential
-Green Hydrogen production potential in China (Market size)
-Domestic Market Overview (Project flow)
-Domestic Market Overview (Value chain analysis)
-Domestic Market Overview (Bidding process of the projects)
-Demo projects : Most of demo projects are ALK, concentrated in the north region in China
-Detailed list of development status of renewable energy hydrogen production projects (demo projects No.1~33)
Part 2 Strategy Analysis : Suzhou Jingli (ALK Player)
-SJH is the top ALK electrolyzer supplier globally and plans to expand business to Europe
-Inbound and outbound investment
-Technology development milestones
-Key product specification
-Technology advantages: SJH owns largest-capacity and energy-saving ALK technology globally
-R&D performance patent and standard drafting
-R&D performance: patent and standard drafting
-Partnership highlights: SJH has been highly involved with domestic hydrogen energy utilization projects
-Strategy analysis: Short term, Long term
If you want to download and read a sample of this report,
please register as a member and download it from the members-only page.
Click here for new membership registration. (Member registration is free)