Major Players in Hydrogen Industry in China Part II (2020)
【
Major Players in
Hydrogen Industry in China Part II (2020)
】
Deliverable: Industry report PDF (126 pages) *This full report is available for VIP member only.
Report contents:
We released this second version of our compilation of major players in the hydrogen industry in China, which covers the leading companies that deal with fuel cell system integrators, stack manufacturers, MEA manufacturers, other key component manufacturers etc.
The contents include each player's general introduction, product information, key milestone activities in hydrogen industry in China, as well as partnership ecosystem etc.
The data for each company includes overview such as a year of establishment, address of their headquarters, their registered capital, revenue, executive board, number of employees, major shareholders, contact information and web site, complete set of product information, as well as value chain information which include their product component supplier, customer, strategic partner etc.
To read sample report, please register as a member and download it from the members-only page .
Click here for new membership registration. (Member registration is free)
↓Pickup image of the report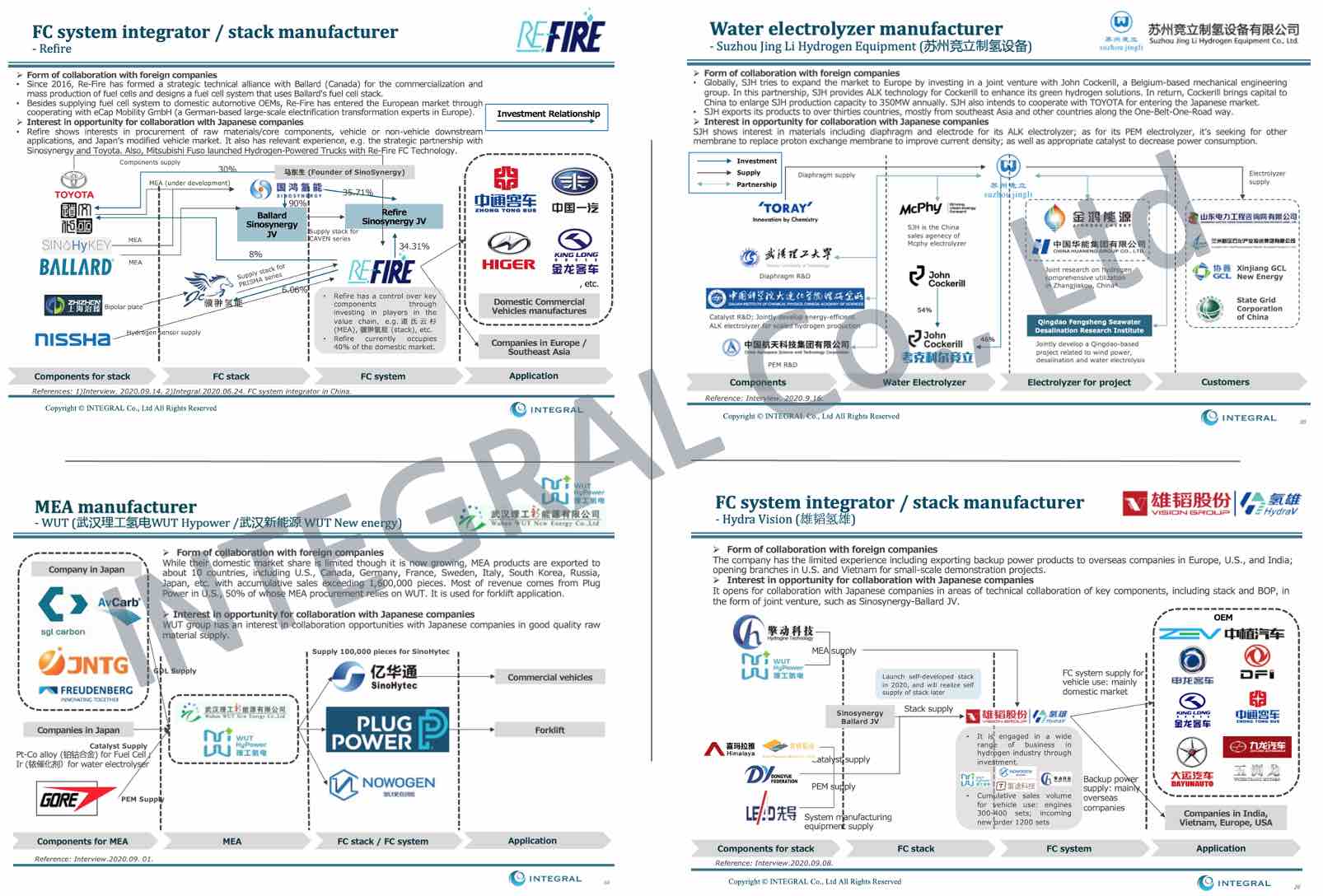 Part 1 FC system integrator/stack manufacturer
-Horizon
-Refire
-Sinosynergy
-SinoHytec
-Weichai Power
-Troowin
-Cemt
-Hydra Vision
-Dongfang Electric
-Nowogen
-Mingtian
-Himalaya
-SinoFuelCell
-SHPT
-Sunrise Power
-SPIC
Part 2 MEA manufacturer
-SinoHyKey
-Hydrogine
-WUT
Part 3 Other components for FC
-Dongyue
-Shanghai Zhizhen
-Shanghai Hongfeng
-Ji Ping New Energy
Part 4 Hydrogen refueling station
-Sunwise
-Hyfun
-Guofuhee
-Air Liquid Houpu
-Censtar
Part 5 Water electrolyzer manufacturer
-Suzhou Jing Li
-Shandong Saikesaisi
-CSIC Peric
Part 6 Hydrogen tank manufacturer
-CIMC Enric
-Shenyang Gas Cylinder Safety Technology
-Sinoma
Part 7 Hydrogen compressor manufacturer
-Zhongding Hengsheng
Part 8 Stationary FC manufacturer
-Foresight
-Huade
CCTC
To read a sample of our report, please register as a member and download it from the members-only page .
Click here for new membership registration. (Member registration is free)