Subsidy Policy Analysis "Notice on the Development of Fuel Cell Vehicle Demonstration Applications"
【

Subsidy Policy Analysis
"Notice on the Development of Hydrogen Fuel Cell Vehicle Demonstration Applications"
】
Deliverable: Industry report PDF (7 pages)
We issued summary report of the latest government subsidy policy regarding China hydrogen and fuel cell vehicles, "Notice on the Development of Fuel Cell Vehicle Demonstration Applications", which was announced in September, 2020.
* The copyright of the contents of this report belongs to INTEGRAL Co., Ltd. Please use it only for your business office and refrain from copying or reprinting without permission.
To see sample reports of other reports, please register as a member.
Click here for new membership registration. (Member registration is free)
↓Pickup image of the report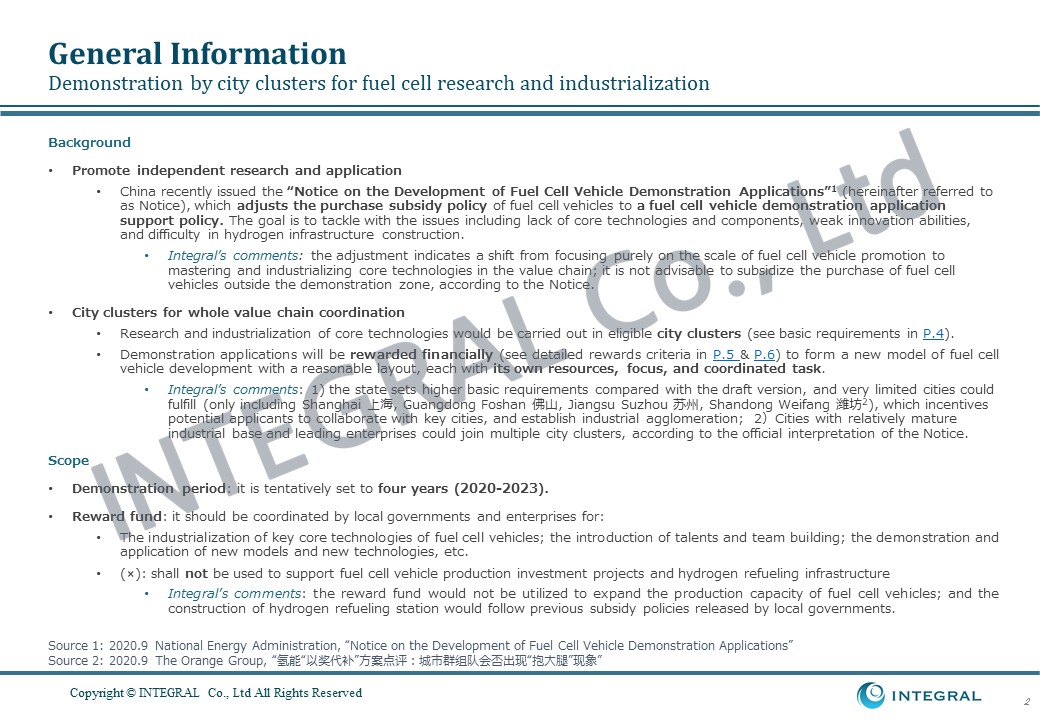 -Fuel cell vehicle industrial chain
-Fuel cell vehicle demonstration applications
-Economical business operation
-Basic requirements for application
-Goals to be achieved during demonstration
Evaluation Criteria and Rewards
-For fuel cell vehicle promotion
-For hydrogen supply chain
-Maximum rewards for single vehicle
-Maximum rewards for single city cluste