Fuel Cell integrators strategies in China 2021
【Fuel Cell system integrators strategies in China 2021】
Deliverable: Industry report PDF (about 56 pages)
Report contents:
We released an analysis report of Chinese fuel cell system integrator strategies in the Chinese hydrogen and fuel cell industry, which covers the leading companies that deal with fuel cell for automotive.
The contents include in depth analysis of the current and future business layout of major fuel cell system integrators in China, Shanghai Refire, Guangdong Sinosynergy, Beijing SinoHytec, and Weichai Power, as well as each player's general introduction, product information, key milestone activities in hydrogen industry in China, analysis of the business model, revenue structure, as well as partnership ecosystem etc.
The data for each company includes overview such as a year of establishment, address of their headquarters, their registered capital, revenue, executive board, number of employees, major shareholders, contact information and web site, complete set of product information, as well as value chain information which include their product component supplier, customer, strategic partner etc.
Download Sample / Report Purchase / Subscribe
The free sample report is available, please register as a member.
Click here for new membership registration. (Member registration is free)
↓Pickup image of the report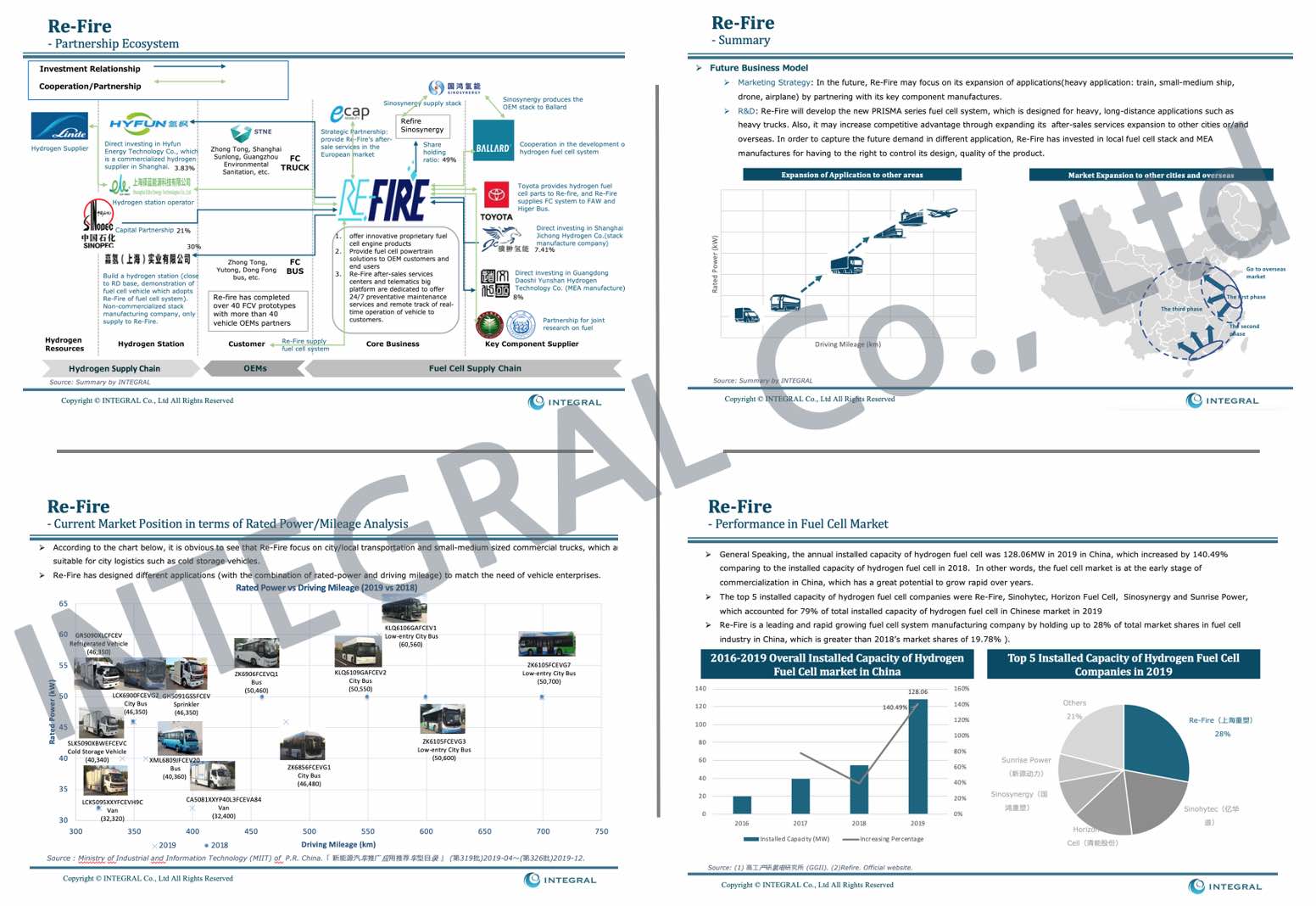 Table of Contents
-Performance in Fuel Cell Market
-Key milestones in China hydrogen energy industry
-Major product technical specification
-Current market position in small-medium trucks
-Future market position towards heavy trucks
-Business operation layout: centered on Yangtze River Delta
-Current market expansion in Yangtze River Delta regions
-Background: Development plan of hydrogen Corridor in Yangtze River Delta
-Current business strategy
-Refire's value chain analysis
-Domestic market expansion initiatives
-Overseas market expansion initiatives
-Refire's after sale service
-Summary: Current and future business model
-Performance in Fuel Cell Market
-Key milestones in China hydrogen energy industry
-Major product technical specification
-Sinosynergy's value chain analysis
-Business operation layout: centered on Pearl River Delta
-Current business strategy
-Background: Development plan of hydrogen Corridor in Pearl River Delta
-Domestic market expansion initiatives
-Overseas market expansion initiatives
-Summary: Current and future business model
-Performance in Fuel Cell Market
-Key milestones in China hydrogen energy industry
-Major product technical specification
-Current market position in medium/large buses
-SinoHytec's value chain analysis
-Business operation layout
-Current business strategy
-Background: Target market and development plan in Jing-Jin-Ji area
-Current and future strategy
-Key milestones in China hydrogen energy industry
-Demonstration project cases
-Performance in Fuel Cell Market
-Business operation layout: Centered on Shandong province
-Industry alliances in Shandong
-Background: Hydrogen potential in Shandong province
-Weichai's value chain analysis
-Summary: transition from diesel engine to fuel cell system