Chinese FCEV OEM strategies in China 2020
【Chinese FCEV OEM strategies in China 2020】
Deliverable: Industry report PDF (about 35 pages)
Report contents:
In consideration of resource reserves and technology research and development, FCEVs have been considered as a strategically important business for many Chinese OEMs in recent years. Although FCEV sector still remains at the very early stage of commercialization and is relevantly minor in the NEV industry, Chinese FCEVs are beginning to enter the commercialization phase starting from commercial vehicles. At present, most of the big Chinese automotive OEMs in the field are paving way for its own strategic roadmap to capture growing FCEV market in commercial segment.
This report covers four leading automotive OEM companies, Zhong Tong Bus, Dongfeng Motor, Great Wall Motor, and SAIC Motor, with in-depth analysis of each players business layout its in the hydrogen fuel cell industry as well as general introduction, product information, key milestone activities in hydrogen industry in China, analysis of the business model, revenue structure, as well as partnership ecosystem etc.
The data for each company includes overview such as a year of establishment, address of their headquarters, their registered capital, revenue, executive board, number of employees, major shareholders, contact information and web site, complete set of product information, as well as value chain information which include their fuel cell supplier, customer, strategic partner etc.
Survey period: From November 2019~, the research is ongoing.
Download Sample / Report Purchase / Subscribe
The free sample report is available, please register as a member.
Click here for new membership registration. (Member registration is free)
↓Pickup image of the report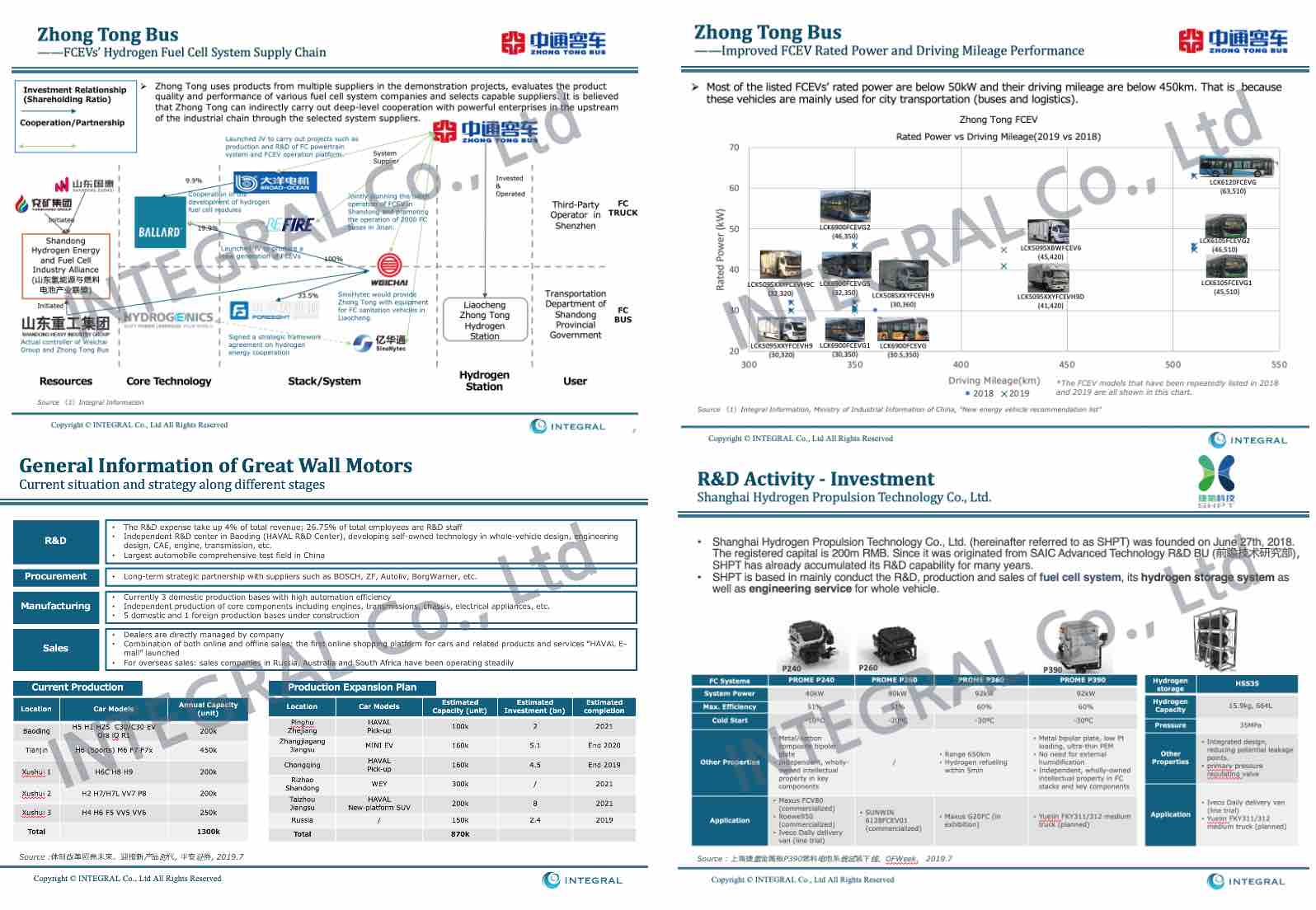 Table of Contents
Part 1 China commercial FCEV manufacturer
Bus: Zhong Tong Bus
Main composition analysis
Installed capacity of Hydrogen Fuel Cell Vehicles
Improved FCEV Rated Power and Driving Mileage Performance Shareholding structure
Basic Strategy toward China's NEV Market
FCEVs' Hydrogen Fuel Cell System Supply Chain
Strategic partners, reasons and background for cooperation
Cooperation project cases in development of Hydrogen Fuel Cell Operational Layout in China
Demonstration project cases
Key insight: Future Strategy of Zhong Tong Bus
Truck: Dongfeng Motor
Performances in FCEV industry
Milestone of entering the hydrogen fuel industry
Suppliers' layout throughout China
Improved FCEV Rated Power and Driving Mileage Performance
Future development in Yangtze River Delta
Development plan of hydrogen corridor in Yangtze River Delta
FCEVs' hydrogen fuel cell system supply chain
Key insight: Future Strategy of Dongfeng Motor
Demonstration project cases(Appendix)
Part 2 China passenger FCEV manufacturer
Great Wall Motors
Strategy for Hydrogen and Fuel Cell Development
External Collaboration - Hydrogen Council
- Launch of Eastern China(Shanghai) Headquarter
SAIC Motor
General Information of SAIC Motor
Hydrogen and Fuel Cell Vehicle
Hydrogen and Fuel Cell Vehicle
List of NEV(Passenger Vehicles)