International Hydrogen Suppliers in China
【International Hydrogen Suppliers in China】
Deliverable: Industry report PDF (about 62 pages)
Report contents: reports on strategies of international hydrogen suppliers in China
Survey period: From October 2019 to March 2020
If you want to read fll report,
please register as a member and download it from the members-only page.
Click here for new membership registration. (Member registration is free)
*
The copyright of the contents of this report belongs to INTEGRAL Co., Ltd. Please use it only for your business office and refrain from copying or reprinting without permission.
VIP Membership Terms for details.
↓Pickup image of the report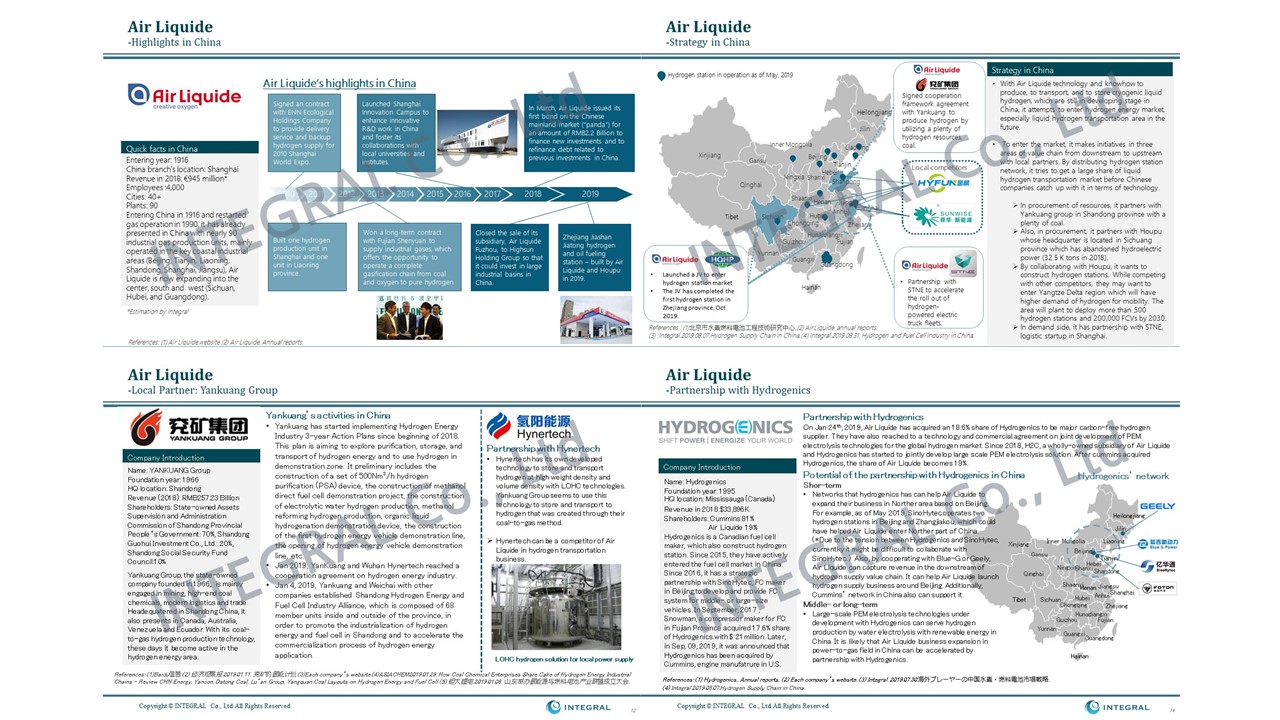 Air Liquide
-Introduction
-Leadership in the field of hydrogen energy
-Initiatives outside of China
-Highlights in China
-Current strategy in China
-Local players around Air Liquide
-Joint Venture with Houpu
-Strategy with Air Liquide Houpu Hydrogen Equipment
-Local partner: STNE
-Partnership with STNE
-Local Partner: Yankuang Group
-Partnership with Yankuang Group
-Local Partners: Sinopec
-Impacts of the Partnership with Sinopec on the current strategy
-Two hydrogen stations in Shanghai with Sinopec
-Partnership with Zotye Auto
-Partnership with Hydrogenics
-Opportunities with Cummins
Air Products
-Introduction
-Leadership in the field of hydrogen energy
-Initiatives outside of China
-Highlights in China
-Current strategy in China
-Local players around Air Products
-Future Vision of Air Products
-Local players: Fullcryo
-Partnership with Fullcryo
-Strategy with Fullcryo
-Local players: Weichai Power
-Partnership with Weichai Power
-Local players: China Energy
-Partnership with China Energy
-Strategy with China Energy
-Byproduct hydrogen project in Zhejiang
Linde
- Introduction
-Leadership in the field of hydrogen energy
-Initiatives outside of China
-Highlights in China
-Current strategy in China
-Current strategy along with policy
-Local players around Linde
-Joint Venture with Sunwise and E-drive
-Local players: Sunwise
-Local Players: Shanghai E-drive
-Local Players: SAIC
-Strategy with local players in Shanghai
-Local players: Baowu Steel Group
-Partnership with Baowu
-Strategy with Baowu
-Local Players: Great Wall Motor
-Partnership with GWM
-Local Players: SPIC
-Linde's partnership with SPIC
-Contribution of partnership with ITM Power to China's Power-to-Gas market
-Strategy with SPIC
If you want to read a sample of our report,
Click here for new membership registration. (Member registration is free)