China's Offshore Wind Turbine Manufacturers Pioneering the Global Market:
What Does it Mean for the Rest of the World?
Author of this article
【Snapshot】
China has secured its leading position within the offshore wind energy sector, displaying consistent growth in recent years. This sustained progress persists even with the cessation of China's "feed-in-tariff" premium for wind energy in 2021, signifying a shift from subsidy-dependent to market-oriented dynamics.

In response to heightened industry competition, diverse technological trends have emerged to facilitate cost reduction, notably encompassing the continuous expansion of turbine size and the localized production of upstream key components.

Projections indicate the industry's eventual economic viability for expansive growth in the forthcoming years. The outward expansion into international markets appears to be a promising prospect for Chinese turbine OEMs, a path already paved by industry leaders like Mingyang and Goldwind.

Despite concerns stemming from a protectionist stance regarding the importation of China's offshore wind turbines, it becomes increasingly apparent that China will establish a more significant presence in the offshore wind sector. This trend is accentuated by the foreseeable imbalance between supply and demand in Western markets, particularly Europe and North America.
Keywords:

#Renewable energy #Offshore wind power China #Market Expansion #Supply Chain Localization
----------------------------------------------------------------------------------------------------------------------------------------------------------------------------------
Market overview:
Up to this point, Chinese turbine OEMs have primarily directed their attention towards the domestic market, resulting in the absence of a dominant global player, unlike the onshore sector

[1]

. Looking at the global market, Denmark-based Vestas remained the first place in offshore wind installations in the year 2022 while two Chinese players,

Shanghai Electric

and Mingyang followed closely behind

[2]

. In the domestic competition, besides these two, CSSC and Envision also demonstrate a clear focus on offshore wind among all the top turbine manufacturers in China market.
Figure 1

Top 10 Turbine Manufacturers in Mainland China
Cancellation of the government subsidy

as one of the reasons, multiple drivers could also be accountable for the surging offshore wind in the country, including the ambitious target of renewable energy in accordance with the national plan of "Carbon Peak" and "Carbon Neutrality", together with the

geographic mismatch

between renewable energy resources and regions of demand. (Take a step further to read about the related articles:

China's Renewable Energy: Offshore Wind Takes Off, What Does the Future Hold?

)
Even though every turbine manufacturer in China has been striving to make

larger turbines over 15MW

, these prototypes or one-time delivered products are not able to reflect a market mainstream, as serial production has not yet been achieved at a commercial level. From the stand-alone capacity of installed offshore wind turbines in 2022, small-mid size offshore turbines still accounted for a relatively high proportion, with a mainstream capacity of new models concentrated at the 8MW level, while the proportion of new installments greater than or equal to 10MW accounted for 12% among all last year, which is expected to obtain bigger proportion in the following years.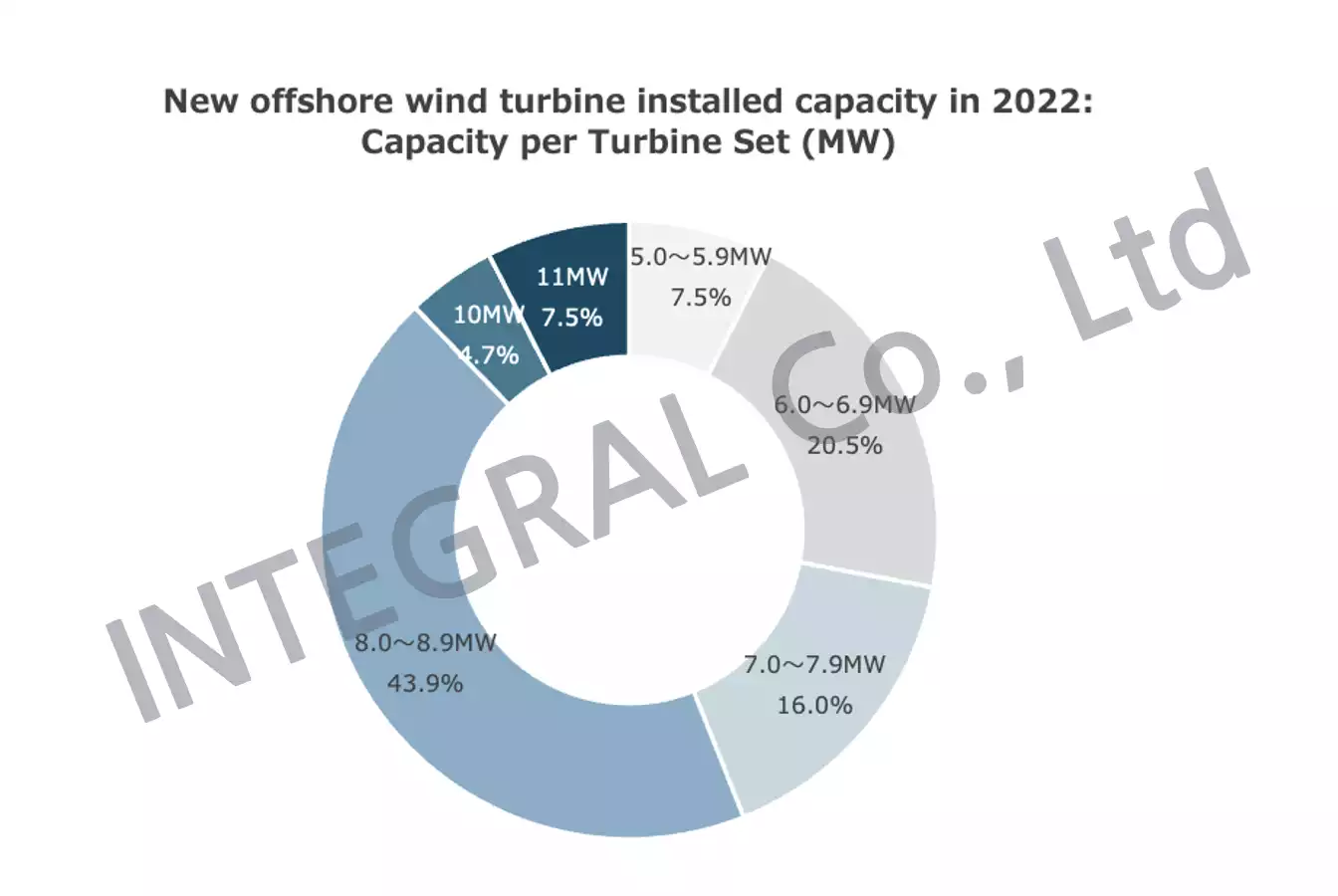 Figure 2 Size of the Offshore Wind Turbine Installed Capacity in 2022 per Turbine Set (MW)
When the onshore business has become steady, the offshore sector is now thriving at a fast pace as the continuous cost reduction has granted Chinese manufacturers a competitive position in the global market. The strength comes from China's massive growing domestic market and localized supply chain, enabling players to scale up without government subsidies.
Figure 3
Installed Capacity of Offshore Wind in China
Competition Going Fierce: China's Offshore Wind Goes Big and Economic
When leading players in offshore sector keep scaling up, it is also observed that newcomers such as CRRC and Dongfang Electric also tried their hands at the offshore wind sector, intending their willingness to take a share of this surging market.
As competition becomes fierce, Chinese turbine manufacturers have been devoting themselves to developing bigger-size turbines above 15MW, even to a historical level of 18MW capacity. The reason behind this is that project developers usually prefer to adopt the largest wind turbine available in the market so that fewer turbines will be needed for the same project capacity, which further cuts O&M costs on a per-kilowatt basis.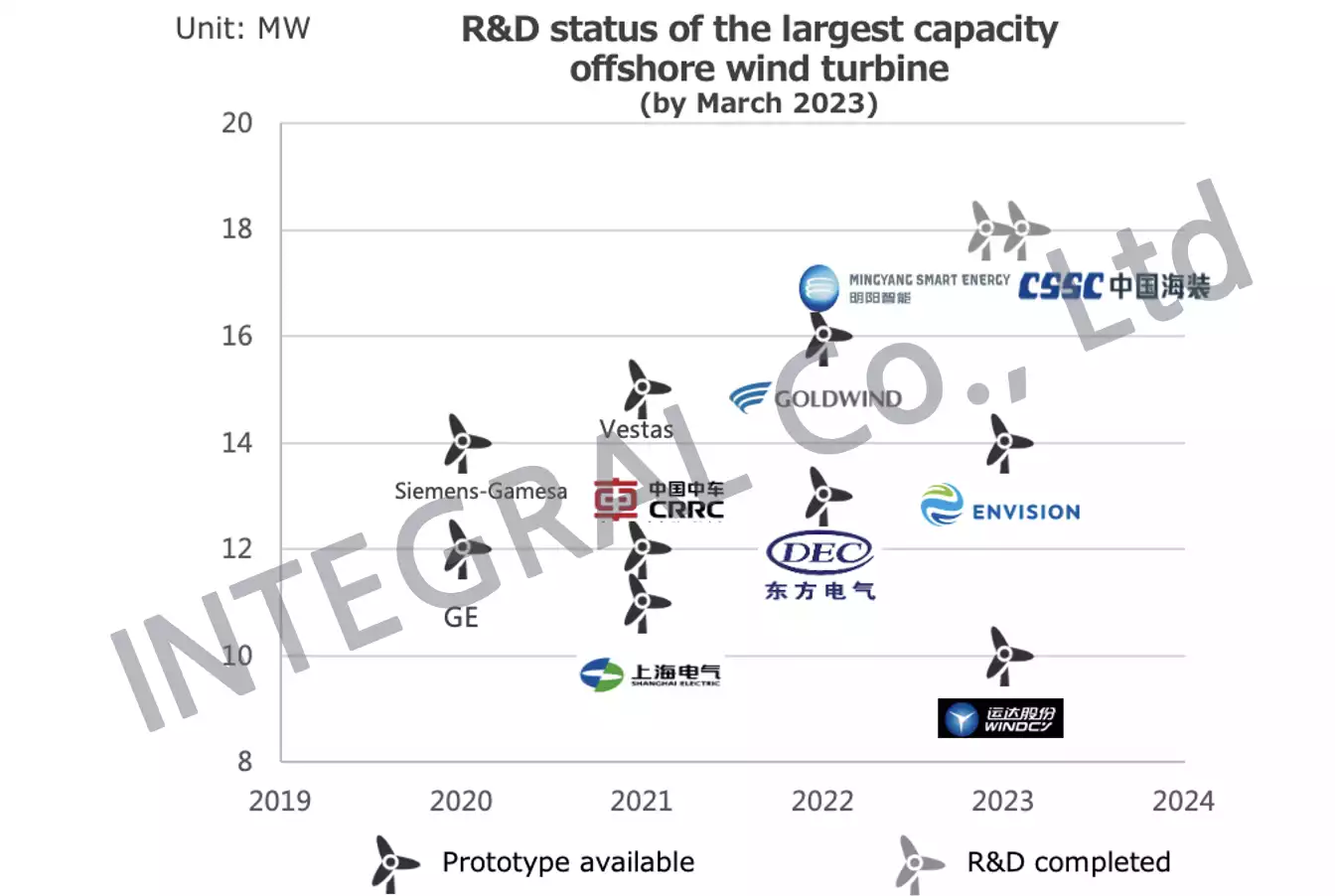 Figure 4 R&D Status of the Largest Offshore Wind Turbine of Leading Players
There is still a gap between the delivered deals in the market and the R&D direction, as the former usually lags behind a couple of months or even more than one year for the prototype products to be tested and put into the market, which could also be affected by the market demand. Although the installed offshore wind turbine capacity sold in the market is mainly small-mid capacity (8MW) models, in the past two years the leading domestic wind turbine manufacturers have materialized the deployment of 15MW and above high-power offshore wind turbine with R&D progress and prototype under testing, such as Mingyang and

CSSC

, who have successfully completed the

R&D

of

18MW ultra-large wind turbine

in 2023, which is expected to be in serial production in the following years.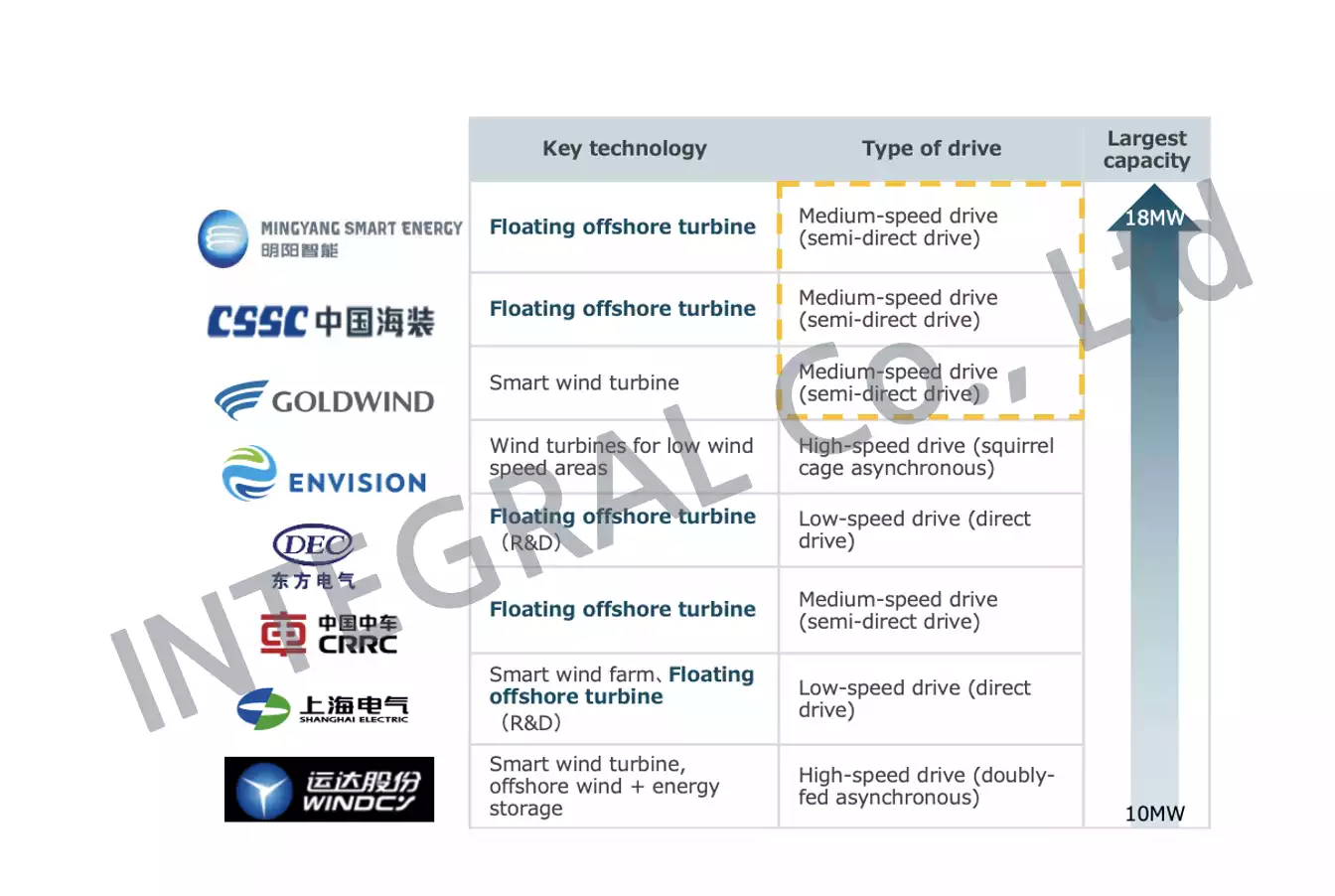 Figure 5 Mainstream R&D Direction of Chinese Offshore Wind OEMs
In addition to the trend of developing large-megawatt sizes of turbines, it is also witnessed that

semi-direct drive models

are preferred by the manufacturers for the next-gen products of higher power. These medium-speed models have rather integrated motors, coupled with gearboxes, which leverage a simple, efficient structure with a relatively lower production cost. It is believed by the industry in China that the semi-direct models act as a better fit in meeting the requirements for stability and power generation efficiency, especially for large offshore wind turbines, which also cater to the price-sensitive market. Even though the semi-direct drive technology is still not applied on a large scale at present, offshore wind giants Mingyang, CSSC, and Goldwind have materialized the technology with products, showcasing joint efforts in the promotion of its application in large-size offshore turbines. In response, other manufacturers such as Shanghai Electric also claimed to switch to the semi-direct drive technology in the next generation of high-power offshore turbines.
Under the rising demand for cost reduction, supply chain localization has become another trend. During the past few years, China has not only become the world's leading offshore wind turbine manufacturing base but also the largest production base for key components and raw materials, with a solidified, resilient supply chain, despite the global turbulence and economic uncertainty. In 2022, unlike the Western market that struggled with the storm of supply chain challenges, Chinese equipment manufacturers stay relatively firm thanks to the

ever-increasing domestic demand

and a highly localized supply chain.
Overall, the localization level of large offshore wind power components is high, except for a few components and secondary materials accordingly, among which the
bearing
is of the lowest and still
greatly dependent on imports
[3]
. In terms of secondary materials, some of them are supplied by Japanese and European players, mainly due to a high technology barrier that could not be bridged in a short period of time. For example, blade manufacturing has been fully localized in China, but the supply of its important raw material
carbon fibe
r
is still largely dependent on Toray, SGL, and other foreign companies.
Although localization has been achieved in the manufacturing of most of the key components in the supply chain. Challenges and opportunities are brought to the table as new technology trends for the surging large-size offshore wind turbine have put higher requirements for the key components. Due to the fact that the cost of O&M (operation and maintenance) is high, and the difficulty of the replacement and repairs of larger turbines increases as the turbine capacity increases, those components of the highest value of the turbine such as main shaft bearings and gearbox bearings are expected to have better performance in stability and

anti-fatigue capacity

.
Figure 6 Summary of Trends in Large-Size Offshore Wind Key Components
Despite the challenges, 100% localization is the ultimate goal for domestic component suppliers, which is considered as a matter of time as a deepen international collaboration in key technologies and equipment procurement has been witnessed over the years. According to our interviews with key component suppliers

[4]

, due to the large size of the offshore wind parts, transportation costs are extremely high, and thus in this price-sensitive market turbine makers and project developers are prompt to prioritize domestically made components over imports, as long as the stability and durability of the emerging new products can be tested equivalent to a world-leading level.
In response to the localization trend, foreign players leverage different strategies to increase their penetration into the supply chain. Siemens-Gamesa, for instance, chose to conduct technology licensing to Shanghai Electric at the beginning, gradually turned into merely blades supply for

offshore wind turbine,

since its profit in turbine making shrink in a fiercer competition. Leading bearing manufacturer SKF, however, has deployed local partners from raw materials to the downstream OEMs in the forms of co-development and technology sharing, in order to quickly achieve the building of the local bearing supply chain and the overall technical progress of the industry for scaling up its business in China.
Combined Influence Domestic and Abroad Interplay for an "Opportune Moment" for Expansion
China's offshore wind industry is set to

obtain a growing presence in the global market

due to various factors. The escalating global demand for offshore wind energy, coupled with manufacturing limitations in Europe and North America

[5]

, provides an opportunity for China to fill the gap. We examine the reasons behind China's increasing prominence in the global offshore wind market, shown below:
Rising Global Demand and Cost Advantages in China
The global demand for offshore wind energy continues to surge as countries strive to meet renewable energy targets and reduce carbon emissions. However, the manufacturing capacity in Europe and North America, traditionally dominant players in the offshore wind sector, faces limitations. According to GWEC's estimation

[6]

, it is expected that except for China, India and LATAM that has enough nacelle production capacity to accommodate demand, the rest of world, "in a business as usual scenario, will continue to rely on imported wind turbines to cope with the anticipated growth."
Export Opportunities and Revenue Stability
The phase-out of China's offshore wind subsidies in 2022 highlighted the risks associated with relying solely on the domestic market. To stabilize revenue and maintain growth, as well as to also survive the domestic price war, Chinese offshore wind suppliers are increasingly looking to export their products. By expanding their presence in international markets, Chinese manufacturers can diversify their customer base and reduce dependence on government subsidies, ensuring more stable revenue streams in the long run.
The market expansion is presently in progress, encompassing both

exports

and

local manufacturing overseas

. According to CWEA, in 2022, the total number of offshore wind turbines 112 units were exported outside China, with a capacity of 489.8MW. Among all the turbine makers, Mingyang takes the lead, whose strategic deployment in exploring offshore wind business overseas covers multiple nations. In addition to existing onshore business in Vietnamese market, MingYang has expanded its focus to include the offshore wind power markets in Europe, Japan, and South Korea

[7]

.
Apart from the Taranto project in Italy and various projects in Japan, MingYang has secured a contract to provide a 16 MW floating offshore wind turbine in Norway in 2021, which already received the official feasibility statement.
In addition to export activities, in order to achieve the long-term objective for the growth of overseas market share, Chinese OEMs also started to deploy local manufacturing, as regionalization has been accelerated globally. Thus, manufacturing forces brought by Chinese players locally would be preferred by local governments. Mingyang, for instance, has also initiated investments in overseas manufacturing facilities. Agreement with the UK government to establish a wind turbine and blade production base, and engineering center in Hamburg, Germany, will together enable the company to further secure its future local manufacturing in the Europe market. On May 2022, the company signed a strategic cooperation agreement with UNISON, the largest wind turbine manufacturer and wind power enterprise in South Korea. The collaboration aims to establish a wind power center in South Korea, facilitating the research and development of fixed and floating offshore wind turbine models suitable for the Korean market.
Other companies are also on the move, as Goldwind claims to achieve a 5% market share with its foreign market by 2025 while Dongfang Electric also plans to establish R&D centers in Europe. The continued deepening of local strategies and the acquisition of overseas orders by Chinese market players inevitably pose a substantial threat to the market share of traditional offshore industry giants like Vestas in these regions.
Conclusion
In summary, the trend of China's offshore wind industry is marked by several key developments. The domestic market is witnessing a significant surge in growth. Concurrently, the competitive landscape is evolving with a pronounced emphasis on technological advancements, turbine size enlargement, and supply chain localization, all aimed at driving down costs and enhancing economic viability.
To survive the domestic price war and leverage current price advantages to obtain future global market share, Chinese OEMs would seek international outreach and explore opportunities overseas. It is foreseen that practices lie in expansive export business as well as deployment of

local manufacturing overseas

, the latter corresponds to the growing government initiatives in protecting local manufacturing out of geopolitical concerns. Instances of such leading ventures have already begun to emerge, e.g. Mingyang and Goldwind, with the potential for further overseas manufacturing endeavors.
Despite the underlying risk of trade protectionism and regionalization in the recent Western market, the compelling potential for manufacturing growth and ongoing cost reductions may inevitably drive China's offshore wind industry towards global expansion. This underscores China's greater presence in the coming future on the global stage in offshore wind, presenting both potential challenges and opportunities for the international community.
[1]

Bloomberg, 2023-03-23, Goldwind and Vestas in Photo Finish for Top Spot as Global Wind Power Additions Fall
[2]

CWEA, 2023-03-29, 2016-2022年中国风电吊装容量统计简报
[3]
风能杂志, 2022, 主轴轴承国产化还需多久
?
[4]

Interview with the key component suppliers not limited to Xinqianglian Bearings and NGC transmission
[5]

Wood Mackenzie, 2023-02-07, Expansion opportunities beckon for China's wind companies
[6]

GWEC, Global offshore wind report 2022
[7]
界面新闻,2022-06-08,冲进欧洲、日本,中国风电出海"夺食"
We welcome your comments and questions regarding this article! Please fill in the comments below.