■
Date: Jul 5, 2023
Enter the Chinese EMS Market as an ESCO with technical advantages
Author of this article

Carbon neutral and energy conservation-related policies, cost reduction needs, and also social drivers have been driving the EMS installation in China. The Chinese EMS market is quite promising with a total market size of around $9.57 billion in 2022 and a CAGR of 19.5% from 2020 to 2025.
Overseas EMS suppliers can enter the Chinese market by demonstrating their technological advantages in components such as programmable logic controller (PLC) and variable-frequency drive (VFD) which have obvious advantages in some of the parameters compared with Chinese suppliers. (Check the Technological Advantage part below)
Overseas EMS suppliers with integrated solution-providing ability can successfully enter the Chinese market through a suitable business model – Energy-saving Service Company (ESCO). (See further analysis on ESCO and Schneider's project below)
Keywords: # Energy Management System (EMS) # programmable logic controller (PLC) # variable-frequency drive (VFD) # Energy-saving Service Company (ESCO)
If you like this article, please also refer to our comprehensive analysis report "
VPP/EMS Industry in China
" in our database.
-----------------------------------------------------------------------------------------------------------------------------------------------------------------------------------------
Introduction
In the context of carbon peaking by 2030 and carbon neutrality by 2060 in China, by the end of 2021, the State Council of PRC released
the "14th Five-Year" Comprehensive Work Plan for Energy Conservation and Emission Reduction
: By 2025, the national energy consumption per unit of GDP will be reduced by 13.5% compared to 2020. To meet these targets, the Chinese government has issued a series of policies and regulations to encourage energy management and improve energy efficiency. Also, they promote some EMS pilot projects, which include energy-efficient factories, smart buildings, energy-saving communities, etc.
In addition to policy drivers for EMS installation, there are also economic and social drivers. Along with the overall development and technological advancement of various industries, there is an increasing emphasis on energy management. Enterprises want to reduce costs and increase efficiency through energy management. Meanwhile, different companies pay increasing attention to decarbonization and energy consumption in China because addressing Scope 3 emissions which European and American companies demand a lot often involves collaboration with suppliers, customers, and other stakeholders in the value chain. For instance, as of April 2023, 68 Chinese Apple suppliers have committed to addressing greenhouse gas emissions, taking a comprehensive decarbonization approach, and using only clean energy to produce Apple products by the end of 2030. Companies may implement strategies such as supply chain optimization and product design improvements etc. to minimize especially overseas clients' Scope 3 emissions. All those factors have contributed to the rapid growth of the Chinese EMS market.
Overview
China's EMS market is developing much faster than the global, providing more investment opportunities and entry opportunities for overseas players. According to Fortune Business Insights and Motor Intelligence, the global EMS market size in 2022 is $28.25 billion and is projected to grow to $82.34 billion by 2030, at a CAGR of 12.6%. China's EMS market size is expected to grow at around 19.5% CAGR from 2020 to 2025, a faster growth speed than that during 2014-2019 (17.6%). According to Integral's forecast, the total China's EMS market size in 2022 would be around 64,331.09 million RMB ($9.57 billion).
In China's EMS market, overseas players have many potential development opportunities, especially in the field of FEMS and BEMS. FEMS took up 54.88% of the total EMS market share (35,307.15 million RMB). BEMS ranked second and took 39.48% of the market (25,401.85 million RMB). HEMS took the rest 5.64% (3,622.09 million RMB).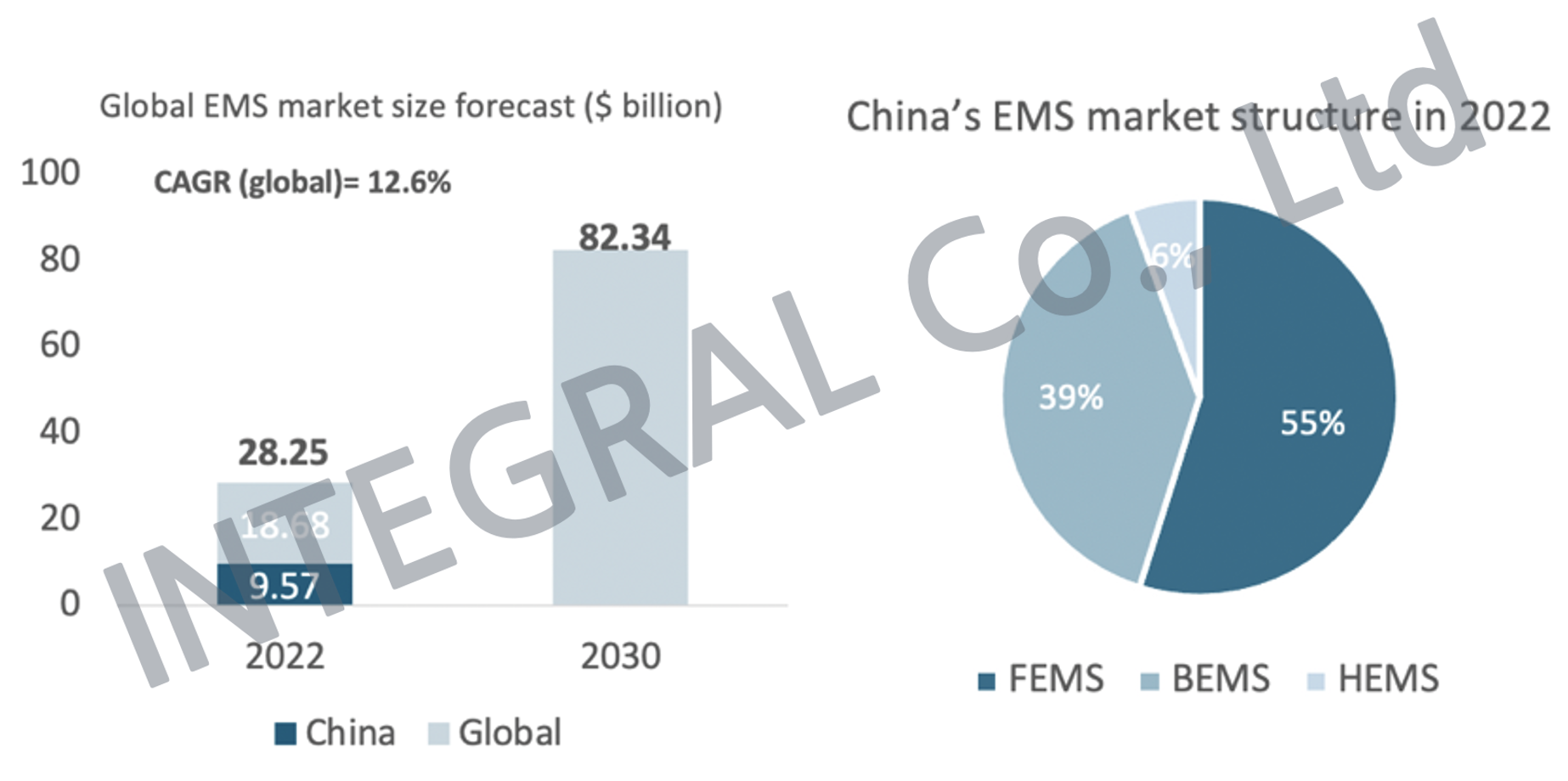 Figure 1. EMS market size
Note: EMS can be classified into three categories, known as Factory Energy Management System (FEMS), Building Energy Management System (BEMS), and Household Energy Management System (HEMS).
Technological advantages
Overseas EMS suppliers with technical advantages can consider entering the promising Chinese market since Chinese enterprises with complex industrial automation and control requirements need overseas hardware products which have obvious advantages in certain parameters.
Overseas suppliers started earlier in some hardware such as PLC, RTU, DCS, and VFD (used for automation, control, and monitoring) and accumulated a lot of experience, so they are ahead of domestic suppliers in terms of the completeness of the industrial chain of these equipment and certain technologies. Although domestic companies have developed rapidly in the fields of small PLCs and RTUs in recent years, large PLCs and high-voltage VFDs still rely on the supply of overseas companies because of high technical barriers.
Note: PLC (Programmable Logic Controller), RTU (Remote Terminal Unit), DCS (Distributed Control System), VFD (Variable Frequency Drive)
Controllers and inverters such as PLC, DCS, RTU, and VFD can be crucial to energy-saving performance through automation, monitoring, load optimization, process control, fault detection, and diagnostics. Their ability to provide precise control, real-time data insights, and intelligent decision-making contributes to efficient energy utilization, reduced energy waste, and improved energy-saving outcomes.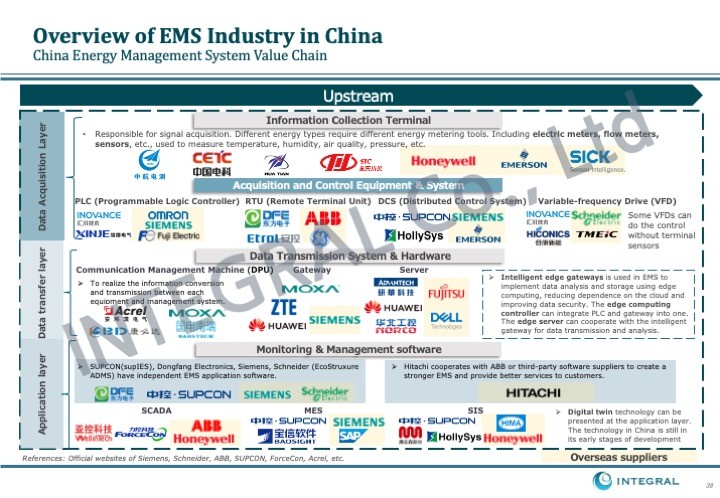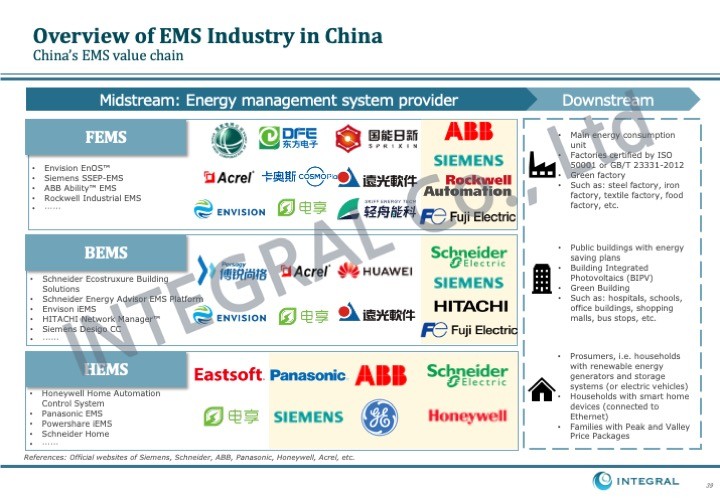 Figure 2. EMS value chain
In the value chain, controllers and inverters are in the Data Acquisition Layer, connecting the meters and sensors which are responsible for collecting terminal-side energy data. They exert the controlling & automation job according to the order of EMS-related monitoring and management software (Application Layer) sent through the server and DPU (Data Transfer Layer).
Among PLC, DCS, RTU, and VFD, overseas players have more opportunities in PLC and VFD considering better energy-saving ability, other technical barriers, and first mover advantage.
So, what is PLC and why does it matter to energy saving in the EMS industry? What are the advantages of overseas players in PLC?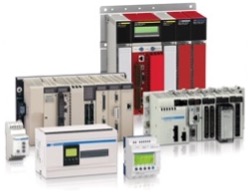 PLC (programmable logic controller) realizes equipment control and monitoring through programming. It has the advantages of quick response, easy programming, high reliability, and a high degree of modularization. It is usually used in automation situations in FEMS and BEMS such as assembly lines, packaging, pumping, building automation, and HVAC systems, etc.​
It can automatically adjust the operating status of equipment according to actual needs, improve energy utilization efficiency and reduce energy waste. Through real-time monitoring of energy consumption, the position and period of energy waste can be identified. Through programming and logic control, PLC can automatically implement energy-saving control strategies, such as reducing the operating speed of equipment or enabling energy-saving modes during periods of low demand.
It can also play a crucial role in implementing demand response strategies by automatically managing the operation of various loads and completing the peak shaving & valley filling. This may involve turning off non-essential equipment, reducing power to certain processes, or implementing load-shifting strategies. (About demand response, please refer this article "

China's Demand Response in Action

")
There are still huge opportunities for overseas suppliers to sell PLC in the Chinese market. Although Chinese companies have made great progress in the field of small and medium-sized PLCs, a big gap still exists in the technology of large-sized PLCs between Chinese suppliers and overseas ones (overseas companies have a market share of more than 90% in China, of which Japan is about 18%).
In the large PLC market, there are great differences in parameters between domestic brands and overseas brands. For large-sized PLCs, overseas brands are superior to domestic brands in some parameters such as maximum I/O points and safety-related issues, etc.
Larger maximum I/O points allow for greater scalability and flexibility in system design. It enables the access and control of more devices, the probability of future expansion, and enhanced system integration. Enterprises have a rigid demand for large-scale automation systems and need large PLCs (I/O>2048) to meet production requirements. Chinese domestic suppliers cannot meet their requirements so Chinese enterprises can only rely on overseas large-sized PLC suppliers at this stage.
As for safety-related functions, many overseas PLC manufacturers have generally applied redundancy backup technology to products, thus establishing a highly reliable fault-tolerant system. Afraid of a sharp increase in costs resulting from data loss because of sudden power cuts, many Chinese enterprises tend to choose overseas PLC with redundancy backup.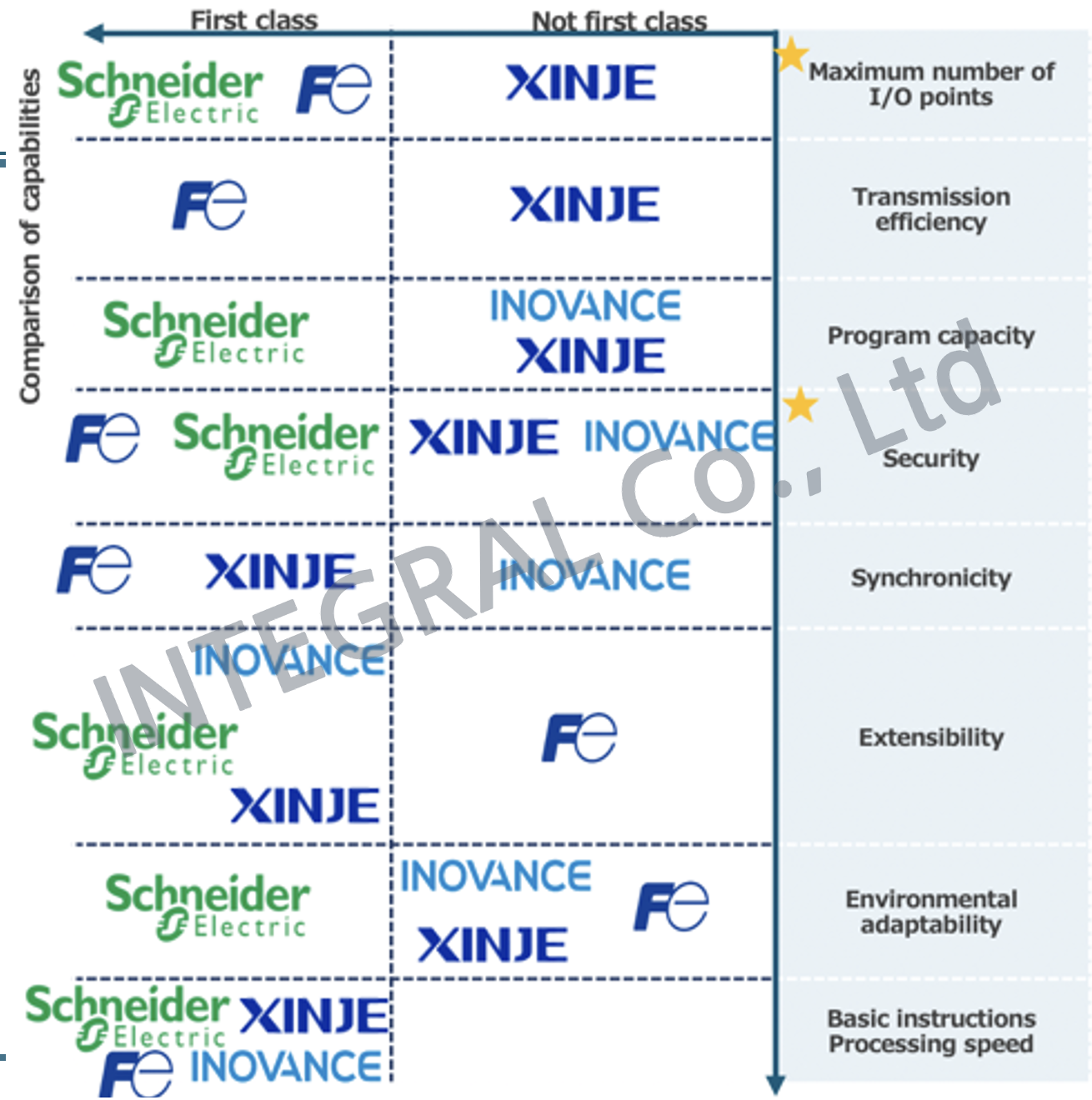 Figure 3. Comparion between domestic and foreign PLCs
(We select some overseas and domestic brands and conducted a more comprehensive comparison of parameters in eight dimensions. Please check our full report

"

VPP/EMS Industry in China

"

to gain more detailed information and insights.)
Ok, so what is VFD and why does it matter to energy saving in the EMS industry? What are the advantages of overseas players in VFD?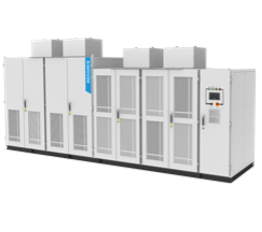 VFD (variable-frequency drive) is a power electronic device that converts DC power into variable-frequency AC. It is especially known for its energy-saving capabilities by adjusting motor speed to match the required load.
Compared with medium and low-voltage VFD, high-voltage VFD has higher technical barriers in terms of high-voltage insulation and isolation technology, selection of electronic devices, heat dissipation design, control algorithms, and safety requirements. European and Japanese companies such as Schneider and TMEiC have advantages in some parameters such as output efficiency and overload capability etc.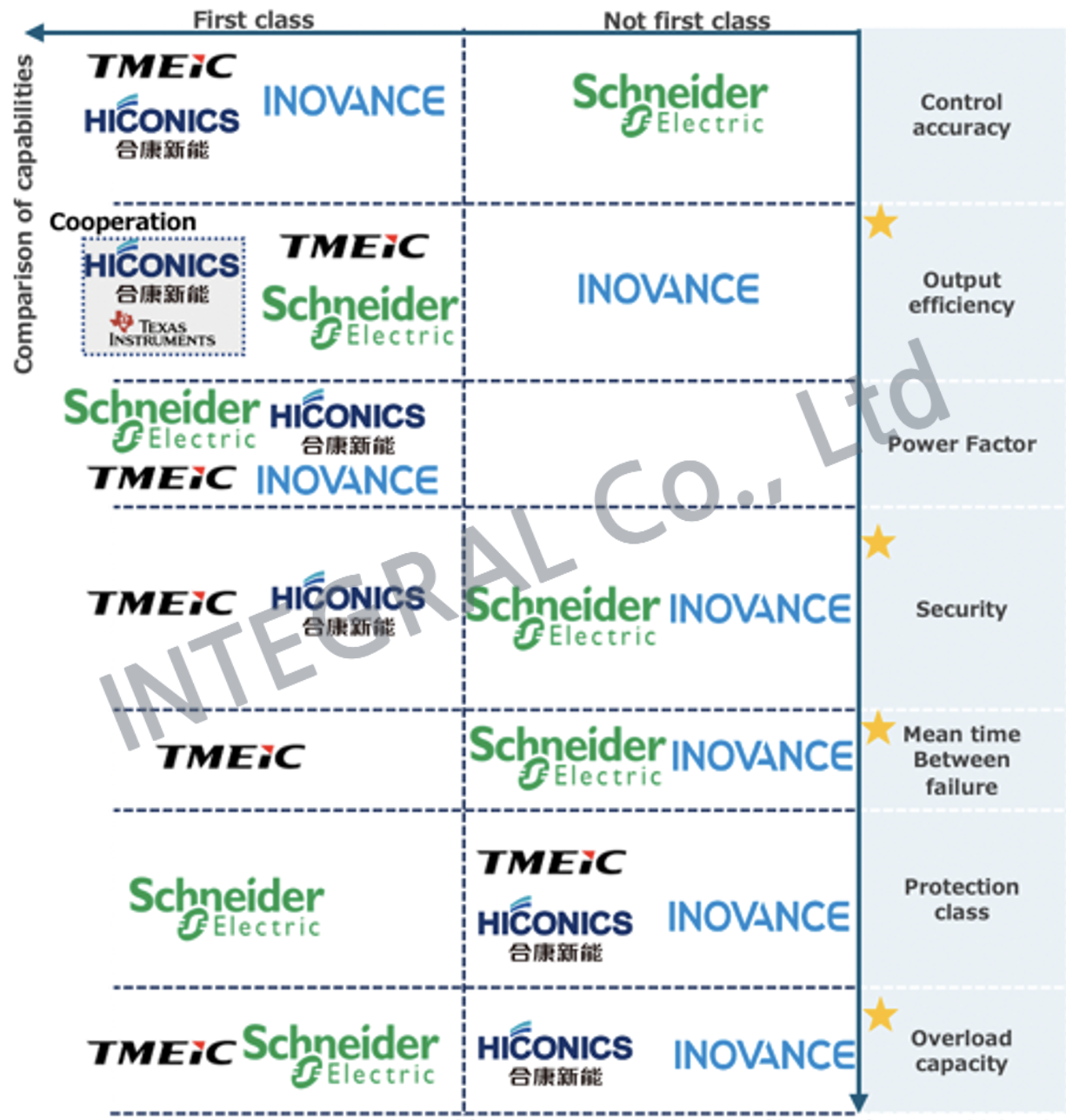 Figure 4. Comparion between domestic and foreign

high-voltage

VFD
(We select some overseas and domestic brands and conducted a more comprehensive comparison of parameters in seven dimensions. Please check our full report

"

VPP/EMS Industry in China

"

to gain more detailed information and insights.)
High voltage VFD is suitable for motor control with a voltage level above 6kV, and its output voltage is generally between 2-11kV. It is mainly used in large-scale heavy industry, involving electric power, mining, cement, metallurgy, petrochemical, etc. At present, overseas brands still account for more than half of the total market share, with Schneider and Siemens taking around ¼ of the market share.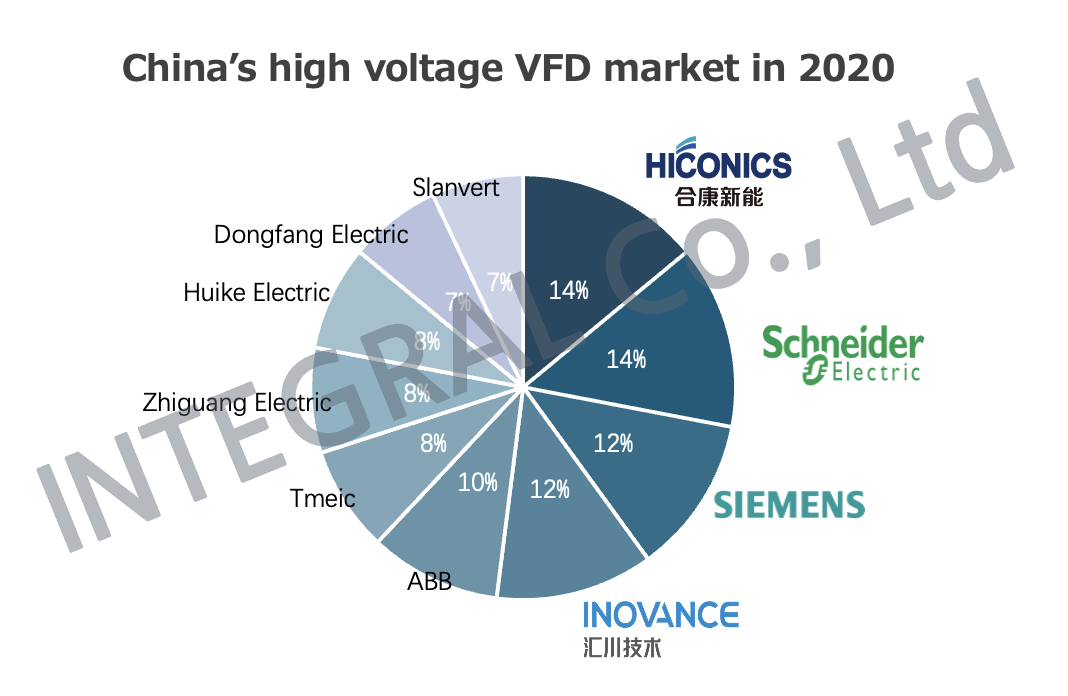 Figure 5. High-voltage VFD market in China in 2020
Overseas EMS suppliers must seize more market share before domestic brands completely occupy the market in the EMS value chain. Due to the higher replacement costs, domestic manufacturers will continue to use products from overseas suppliers for a long time. For instance, Siemens and Schneider entered the Chinese market as early as the end of the 20th century and seized a large market in the field of controllers and inverters because of their first-mover advantage and advanced technology.
Suitable business model for market entry
For overseas EMS suppliers with technological advantages, it is a logical choice to provide customers with
integrated solutions
(full-cycle services involving hardware, software, EPC, and daily operation & maintenance) to deepen customer relationships and earn more profits. In these integrated solutions, the compatibility between software and terminal devices delivers better operational performance and makes it more convenient for O&M. For instance, Schneider and Siemens are deeply bound with Chinese customers in EMS by providing integrated EMS solutions.
For these overseas suppliers, there is one suitable business model which can help them smoothly enter the Chinese EMS market –
Energy-saving Service Company (ESCO)
.
[
ESCOs provide customers with integrated solutions, covering project planning, financing arrangement, hardware & software procurement, EMS setup, daily operation services, and maintenance.
]

Figure 6. Basic concept of Energy Management Contracting
Here are three reasons why this pattern tends to succeed for overseas suppliers in the Chinese market:
1) ESCOs can enter the Chinese market and gain market opportunities more easily because they fully assure or share the performance risk and financial risk for their customers. It can be especially attractive for customers who are small-and-medium companies with insufficient capital.
Performance risk: under EMC models, ESCOs have to bear the loss if they underperform in energy saving and their benefit cannot cover the costs of energy-efficiency measures, so customers don't need to worry about it.
Financial risk: Under EMC, in the shared saving model and energy cost trusteeship model, ESCOs undertake the costs of energy-efficiency measures (e.g. initial equipment investment).

Figure 7. ESCO's service models / Types of EMC
In 2019, the EMC model (performance-based model) is the most popular choice in China by ESCO at a share of 53%, including shared saving (25%), guaranteed saving (20%), and energy cost trusteeship (8%). Since 2022, energy cost trusteeship has been promoted by the government and being adopted for many public institutions.
As long as ESCOs have technical advantages in EMS software or hardware, the energy-saving performance risk can be controlled. ESCOs with truly high technical levels and integrated business capabilities can have a stable and even substantial profit income if they outperform.
2) For ESCOs, after they establish long-term contracts with clients in the EMS field, there will be more potential business opportunities waiting for them. They can try to gradually enter the field of microgrid operation, assume the role of load aggregator for demand response, or even operator of virtual power plant (VPP). Components such as VFD and PLC are key in those fields.
3) The country's "14th Five-Year Plan" clearly mentioned the marketization of EMC (Energy Management Contracting), also known as performance-based models, and ESCO's EMC model has been promoted. So, it can be a trend and a feasible way to enter the Chinese market.
For example, State Grid IES, as SEO, signed an EMC contract with Wuxue No.1 People's Hospital and Mianyang Central Hospital. During the first 3 years, State Grid IES will share 10% energy savings benefits with Wuxue No.1 People's Hospital. (about 100,000 yuan of savings benefits on Jan. 28th2022). For the Mianyang Central Hospital project, State Grid IES must refund the service contract fee for 2% at most if it underperforms (consumption reduction < 5%), and it shares savings with the customer for the part that exceeds 7%.
Although some potential risks still exist in ESCO's EMC model like how can ESCOs and their customers share the benefit from saved energy cost, it's still a quite recommendable approach for overseas EMS suppliers based on the reasons mentioned. Now, some overseas players start to provide operation services of EMS though it might not be an EMC contract (It does not take performance and financial risk), leading to future EMC models. Let's see next how Schneider gain business opportunities in China by providing integrated solutions.
Schneider's case of an integrated solution
Schneider establishes a long-term cooperative relationship with many companies in China, relying on its advanced Ecostruxture integrated solution. Apart from providing hardware and EMS software, Schneider continuously provides its energy-saving and cost reduction & efficiency enhancement consulting service in the daily operation process.
Schneider has applied EcoStruxure integrated solutions to many Chinese projects such as Qilianshan Cement Group EMS project (FEMS), Green Smart Hospital project of Huashan Hospital (BEMS), Cotte Yolan smart energy saving project (FEMS), Yili Group EMS project (FEMS), and Swire Properties sustainable commercial building project (BEMS), etc. Schneider helps them improve energy efficiency, reduce energy consumption and cut overall costs.
Schneider's EMS project collaborating with Qilianshan Cement Group to understand integrated solution providers further:
Thanks to the technological advantages (EcoStruxure EMS/APC, Modicon PLC, Altivar ATV VFD, etc.), Schneider takes the operation of the energy management to perform well through Qilianshan Cement EMS project. Schneider helps Qilianshan Cement reduce energy consumption by up to 5% per year and reduce the electricity bill by 4.536 million yuan in 2019.
Background: In recent years, the low level of automation and digital intelligence has kept Qilianshan Cement Group's manufacturing costs high; increasingly stringent environmental protection policies have put forward more stringent requirements for energy conservation and emission reduction of enterprises. Qilianshan Cement urgently hopes to further reduce energy consumption, save costs, optimize production, and improve the core competitiveness of the enterprise through EMS.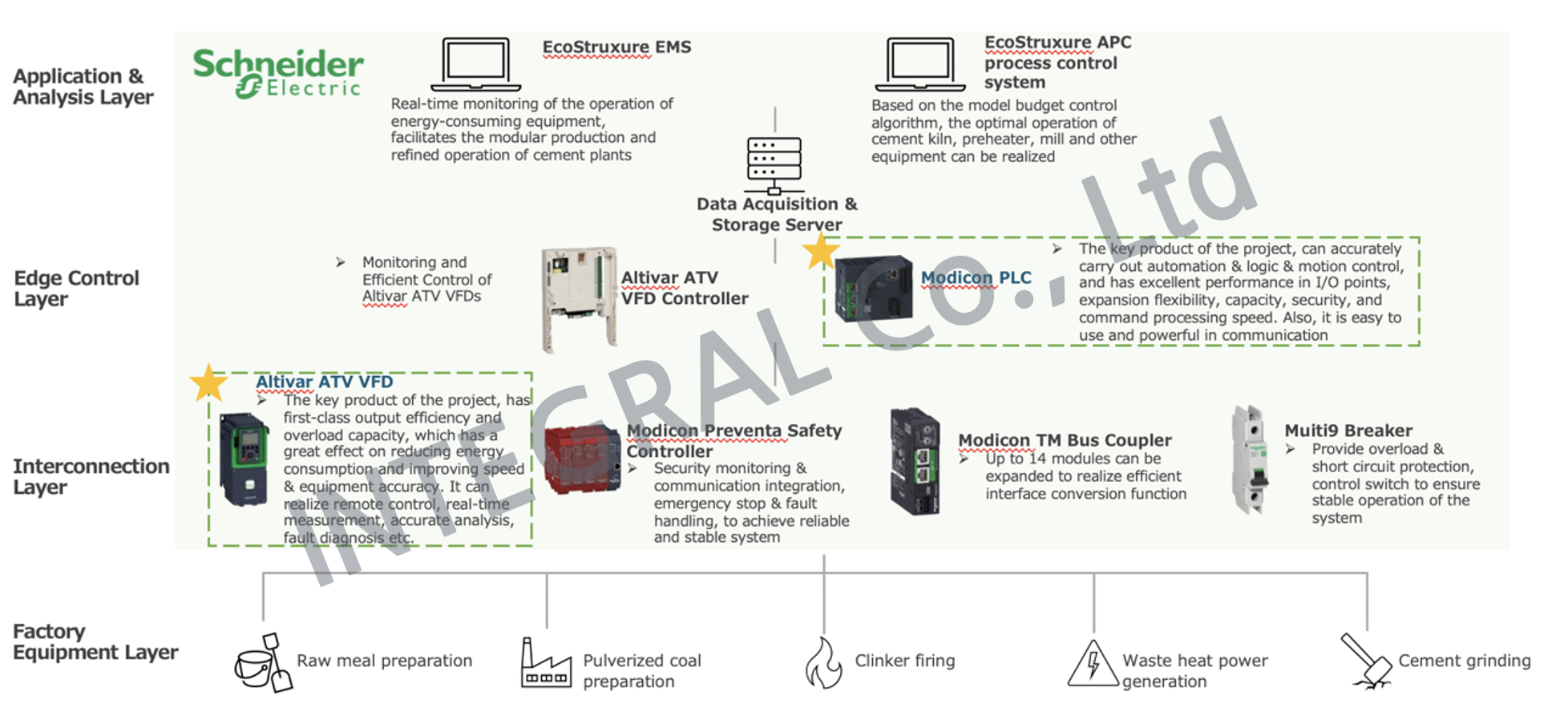 Figure 8. Qilianshan Cement EMS strucute overview
Schneider first helps Qilianshan Cement design the EMS project: Use EcoStruxure EMS to monitor their real-time energy consumption, and at the same time, let the staff know the operation status of equipment related to energy consumption, identifying opportunities for energy conservation in the cement production process. Meanwhile, use EcoStruxure APC to realize the optimal operation of cement kiln, mill, and preheater, etc.
During the EMS hardware setup, after the field trip, Schneider decides to use a few flagship products such as Altivar ATV VFD, Modicon PLC, and EcoStruxure EMS software to manage Qilianshan Cement's energy consumption and production process.
Schneider is also the operator of this project. Relying on its strong background in the cement industry and rich experience in energy management, Schneider has provided Qilianshan Cement with integrated services: energy system evaluation & process optimization, energy-consuming equipment diagnosis, energy-consuming data analysis, commissioning, and maintenance, spare parts supply, online & remote technical training, etc. The daily operation and consulting service help Qilianshan Cement achieve the goal of energy saving and emission reduction. (For more detailed project information, please check our full report.)
As the ESCO market matures more, EMC models by oversea players like Schneider can be seen and it will further lead to future opportunities for VPP operation business too. (See the coming article)
[1] Fortune Business Insights: Energy management system market
[2] Motor Intelligence: Energy management system market size & share analysis – growth trends & forecasts (2023-2028)
[3] Schneider Altivar ATV VFD, Modicon PLC product manuals
[6] Economic Research Institute for ASEAN and East Asia. 2017.02. Study on the Advancement of the Energy Management System in the East Asia Summit Region
[7] Zhihu. 2017.7.9. 智慧能源篇 1 —— 合同能源管理(EMC)及其商业模式和税收优惠政策
( Member registration is free. After registration, you can view and download reports in our
database
)
We welcome your comments and questions regarding this article! Please fill in the comments below.