China's Green Electricity Pilot Trade In a Nutshell
On the move to further boost renewable energy development and accelerate the progress to achieve carbon neutrality, China has launched its green electricity pilot trade program since Sep.2021. The long-awaited program offered a transformative solution that allows "bundled electricity + attribute certificates" to be traded directly between renewable generators and corporate buyers. More than 250 market participants, including reneawble generators, retail companies, and corporate consumers from home and abroad took part in the pilot trading on Sep.7th, purchaing more than 7.9 billion kWh of green electricity. German car giant BMW, chemical giant BASF, as well as Chinese Internet and techonology conglomerate Tencent were among the buyers of green electricity. (

To read more about power market in China:

【China Raises Cap on Electricity Price: What has Changed and Possible Impact for Business】
)
Two major issues of the conventional trading system
T
o gain a further
understand
ing of
the
pilot
trade
program,
we firstly focus on the conventional trading program to point out the key issues that limit the green electricity trade.
As China is accelerating the marketization of the power industry, market transaction amount has witnessed a stable growth within the past five years, and it is expected to grow further in the foreseeable future.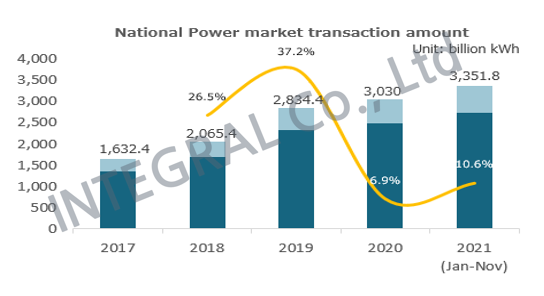 Figure 1: National Power Market Transaction Amount from 2017 to 2021



Sources : (1)

中国电力企业联合会,

2017, 2018, 2019, 全国电力市场交易信息; (2)

中国电力企业联合会, 2021-12-31,

1-11月份全国电力市场交易简况; (3) 电力规划设计总院, 2021-07-14,

中国电力发展报告2020

; (4)

北京电力交易中心, 2021-05-06,

北京电力交易中心2020年电力市场年报; (5)

广州电力交易中心, 2021-07-20.,

2020广州电力交易中心社会责任报告,
While within this marketisation, the sellers in most of the market transactions are coal-fired generators. A majority of the electricity generated by RE generators is procured by grid companies, which is planned by the government, leaving limited space for market participants to purchase. Under the conventional program, corporate buyers faced a lot of challenges when procuring green electricity from a specific RE generator, due to
1) Lack of a specific channel to purchase green electricity 
Under the conventional trading scheme, buyers (e.g., corporate consumers, retail companies, grid companies) and sellers (e.g., coal-fired power generators, RE generators, nuclear generators) reach agreements by signing a mid-to-long term contract (which can be considered as a Power Purchase Agreement (PPA). Bilateral Contracts with RE generators is the only way to surely get green PPA. Power consumers have to find RE generators on their own or via retailers. Although Power Exchange Center (PX) provides market clearing services to pair up buyers and sellers, which includes Centralised Auction, Rolling Match, and Listing, consumers cannot always choose the specific type of source of energy, and a majority of the power is coal-fired power.
Note: Different provinces may issue province-specific rules on market clearing services.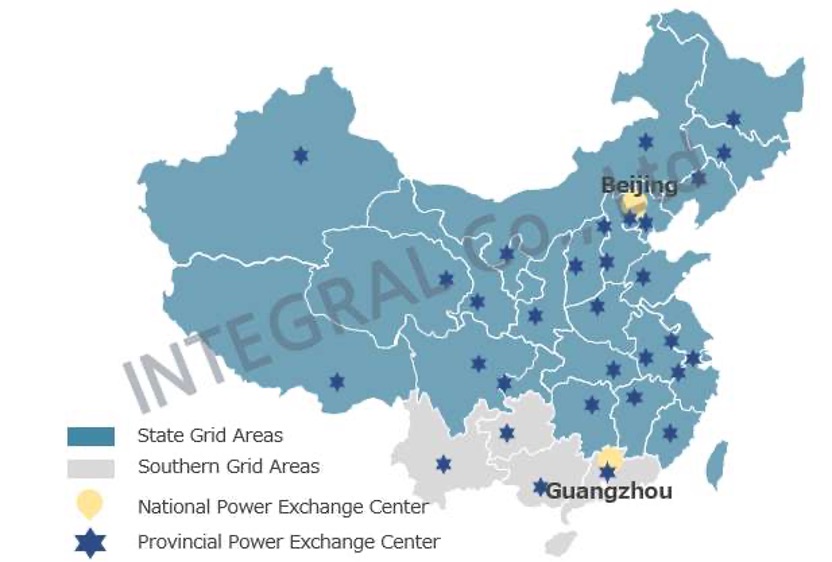 Figure 2: Locations of national and provincial Power Exchange Centers
Decentralised matching: two parties pair up without the help of PX:
Bilateral Contracts (双边协商): Buyers and sellers pair up with each other and decide the price on themselves. Power Exchange Center (PX) and Power Dispatch Center (PDC) will not step in until the two parties submit their trading details (e.g. trading amount, price) on the PX platform. PX and PDC may have an impact on power trading amount and the transmission schedule mainly depends on available transfer capacity (ATC).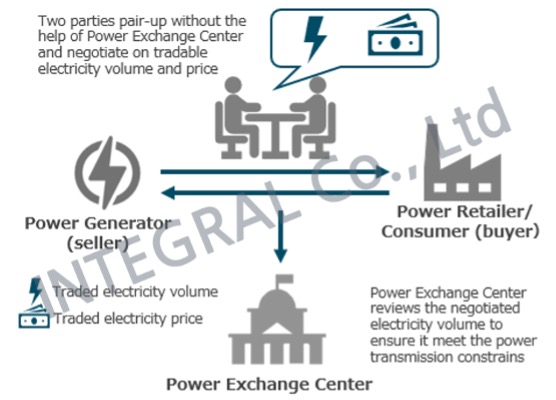 Figure 3: Bailateral Contracts
Pros: Buyers (sellers) can choose the other half they want to pair up, and negotiate on the price and amount on themselves.

Cons: Time-consuming, may take a few months to pair up with the right partner. Or, may fail to find a partner to pair up with if two parties cannot reach a mutual agreement.
Centralised matching: two parties pair up with the help of PX
Centralised Auction (集中竞价): PX summarises price-amount bids submitted by buyers and sellers, conducts unified market clearing services based on a specific algorithm, and releases the market clearing results.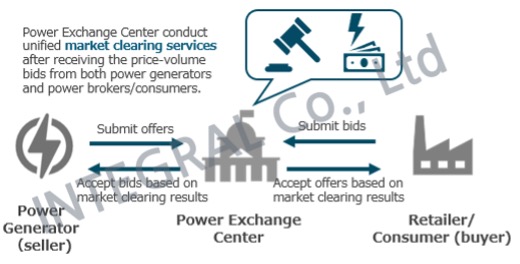 Figure 4: Centralised Auction
Pros: Time-efficient, both parties pair up with each other with the help of PX, no need to find a partner by the buyer or seller himself

Cons: 1) Buyers face restrictions in price, amount and schedule. 2) From the buyer's perspective, centralised auction is designed anonymous, a buyer cannot choose a specific seller to pair up with. 3) Better to have an auction strategy to be more profitable. Participants who don't have enough expertise need to be familiar with the auction.
Rolling Match (滚动撮合): Buyers and sellers submit their price-amount bids at the same time, and PX automatically pair up the two parties on a rolling basis, once the buyer's bidding price is higher than the seller's offering price. The paring up order is based on the principle of first-come-first-serve, price priority, and energy conservation and environment protection priority.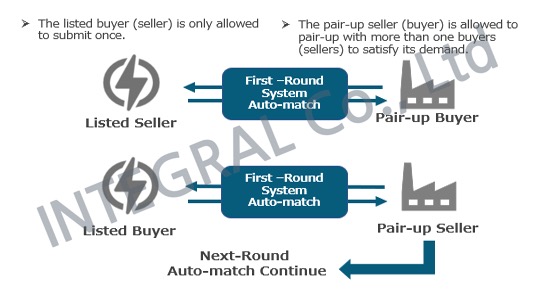 Pros: Like Centralised Auction, very time-efficient, both parties pair up with each other with the help of PX, no need to find a partner by the buyer or seller himself

Cons: Same as auction, buyers face the same restrictions in price, type of electricity, amount and schedule.
Listing (挂牌): Buyers and sellers list their price-amount bids on the Power Exchange Center, based on which sellers and buyers submit their interests to pair-up under the principle of first-come-first-serve. Listing could be the final option to pair-up two parties.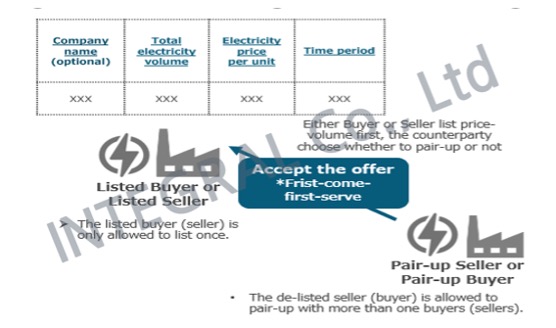 Pros: The pair-up buyer/seller can see the price and amount offered by the listed seller/buyer

Cons: In many cases, the name is not listed so buyers cannot choose the specific source.
2) Potential to lead to the issue of double-counting in the conventional mid-to-long term trading scheme
To briefly understand, one green electricity has only one attribute, and it cannot have two attributes. But there are many systems or transactions, sometimes electricity has more than two attributes transactions, thus exclusivity of RE attributes cannot be substantiated.
Historically, double-counting could happen when a RE generator sells a certain amount of physical electricity with boththe value of bulk energy and attributes, and the environmental attributes in two different systems at the same time, with the former in the conventional trading scheme via mid-to-long term contracts, and the latter one in the Green Electricity Certificate (GEC) system. In this case, the environmental attributes of the same certain amount of electricity are counted twice.
The changes that the green electricity pilot trade program brings to the market
The launch of the pilot trade program solves the problems of conventional one by:
1) Firstly, diversifying the trading scheme by offering a specific program between buyers and RE generators, ensuring the sources of electricity that the buyers purchase are from renewables only. 
In the wholesale market, other than Bilateral Contracts, buyers and RE generators can also pair up with each other via Centralised Auction and Listing. Although buyers cannot choose to match with a specific RE generator through these two methods, it can be guaranteed that buyers procure green electricity only without mixing other sources of power together. 
In the retail market, according to Beijing PX's rule, Centralised Auction and Listing are the two methods to procure green electricity from the grid company, while according to Guangzhou PX's rule, Bilateral Contracts and Listing are the two major methods. 
2) Secondly, introducing a new mechanism of "bundled electricity + attribute certificate" to avoid double-counting of the environmental attributes in the conventional mid-to-long term trading scheme.
In actual implementation, the first batch of corporate buyers who participate in the pilot trade program have receieved a national verified bundled certificate called Green Electricity Consumption Certificate (GECC) , a certificate co-issued by Beijing PX and State Grid, enabling them to claim clear ownership of environmental benefits. By far, GECC is considered as a transitional tool to achieve a "bundled electricity + attribute certificate" system, due to some disjoints and sectionalism between National Renewable Energy Information Management Center (NREIMC, 国家可再生能源信息管理中心), the issuer of GEC, and PX, the pilot trade program operator. It is expected that GECC and GEC in the green electricity market should be unified in the green pilot trade program in the future.

(

To read more about Green Electricity Certificate in China:

【

What is the Green Electricity Certificate in China? Will it Lead to New Opportunities? 】

)
Summary of the market scheme of green electricity pilot trade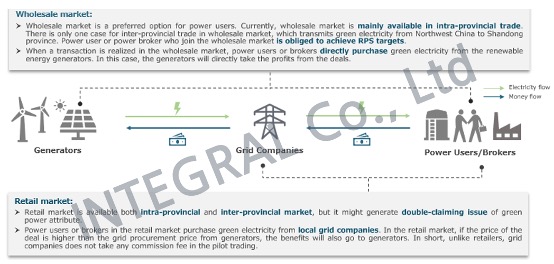 Figure 7: Two types of markets in the green electricity pilot trade
A corporate buyer can choose to participate in the wholesale market to directrly enter a PPA with a RE generator (or multiple RE generators) . Alternatively, it can procure green electricity in the retail market, either through a grid company or an electricity retail company. It should be noted that it is not allowed for a corporate to join the wholesale and retail market at the same time, neither can the corporate purchase electricity through more than one retail company throughout a specific duration of a contract.
Also, in the retail market, the role of the grid company is more like a delivery role without charging any comission fee. This is designed as a transitional method in the current pilot program, as inter-provincial trade has not yet developed as mature as intra-provincial trade. It is expected that the role of the grid in the retail market will become weaker in the future.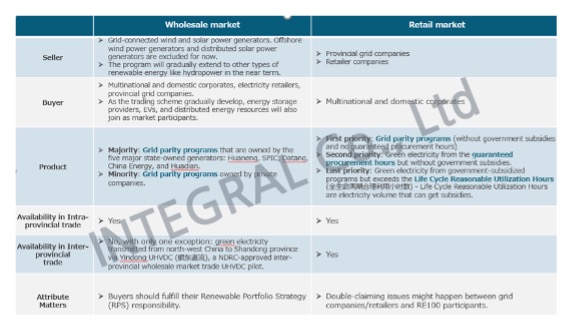 Figure 8: Green electricity pilot trade snapshot
The key point should pay attention to from a corporate buyer's perspective:
The point should be paid attention to is the responsibility to fulfill Renewable Portfolio Strategy (RPS) targets, and the potential to lead to the
double-claiming
issue. In the final part of the article, we will explain more details about this issue.
Case Study: BMW Brilliance




By the end of 2019, the company has already achieved the target of using 100% 

Renewable electricity at its production base in Shenyang, Liaoning province, 

reporting 100% of renewable energy share in their energy consumption in 2019 and 

2020.



BMW Brilliance achieved this mainly through three methods,
1) Purchase wind power (could imply provincial PPA and other markets transaction methods with the local grid company);
2) Self-generation of distributed solar PV;
3) Purchase of I-REC.
Among the buyers who participated in the green electricity pilot trade, BMW Brilliance was ranked first in the pilot trade program by completing a total volume of
2.78 billion kWh
of green electricity with China Power International Development Limited, fulfilling most of the demand of green electricity of its production base in Shenyang, Liaoning province. According to the public news, it is likely that they purchase in the wholesale market and directly deal with the RE generator, rather than purchase through a retailer.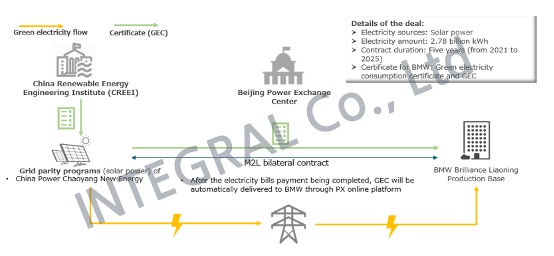 Figure 9: BMW Brilliance trading flow in the green electricity pilot trade
According to INTEGRAL's estimation, the purchase amount in the pilot trade program would account for about 85% of their total electricity consumption in 2022. It covers their required consumption for production in Liaoning.
Potential issues that have to be further classified in or outside the green electricity pilot trade program
Although the green electricity pilot trade addresses some of the key issues in the
conventional trading scheme, some problems are still left to be solved. The
problems may include,
1) Double-counting occurs under China's GEC system
Figure 10: Double-counting under China's GEC system
The graph above shows the concerns of double-counting issues in China's GEC system when China launched it. GEC is issued based on the generation amount of centralised PV and centralised onshore wind generators to send to the central grid. For example, a grid company purchases GECs from a centralised solar PV project and count the GECs into its RPS target, while at the same time, the grid physically consumes the electricity generated from the same solar PV generator through guaranteed procurement, and count the consumption amount into its RPS target again. Thus, double-counting may occur in the situation. So far, how to avoid double-counting is unclear under the RPS system. It leads to double-claiming as well. (See below) That's the reason why some RE100 participants prefer to buy other unbundled certificates like TIGR, Tradable Instruments for Global Renewables. (TIGR: https://apx.com/about-tigr/).
2) Double-claiming issue if the corporate buyer aims to achieve RE100.
According to RE100 criteria, it requires exclusive ownership of environmental claims to guarantee property rights andprovide exclusive issuance, trading, and retirement of attributes from a generator to a consumer.

Figure 11: Double-claiming under RPS system
While under the current system of Renewable Portfolio Standards (RPS), double-claiming happens if the claim of consumption is used twice by two different entities. For example, in the retail market, according to the RPS policy, a retailer is obligated to purchase a certain percentage of green electricity in his total purchase amount and sell this percentage of green electricity in the retail market, while a consumer in the retail market does not need to fulfill RPS responsibility. In this case, a consumer may claim his consumption of a certain amount of green electricity, while the retailer who sells the green electricity to this consumer may also claim his ownership of the same amount of electricity to achieve his RPS targets. (To read more about GEC system:

【

What is the Green Electricity Certificate in China? Will it Lead to New Opportunities? 】

)
In a real case, previously in Guangdong's retail market, even when the attribute belongs to users as written in the retail contract, the power exchange center still counts green electricity attributes for retailers as responsible market entities while consumers need the attributes for environmental claims. According to the interviews with two retailers in Guangdong, corporate buyers have been complaining about the double-claiming issues to the power exchange center.
The way to avoid double-claiming is one of the key considerations for corporate buyers. It is suggested that they should keep an eye on PX's rules or grid companies on how to address this issue.
3) Inter-provincial trade does not develop as
smoothly as expected, compared with intra-provincial trade.
There is a significant mismatch between electricity demand and available renewable resources in China. To solve this mismatch to increase the consumption of renewable energy, inter-provincial trade has been actively promoted by the national government. However, currently, inter-provincial trade has not yet developed as mature as intra-provincial trade under the pilot trade scheme, due to:
Local government's preference on prioritising local generators and consuming electricity locally, rather than inter-provincially: For some buyer side provinces, the local government wants to prioritise their local generators' generation and consume electricity locally, rather than purchasing from other provinces' generators. The local government prefers this way to ensure a stable power supply locally.
Local administration's priority to keep local power balance: Local administration prefers to keep a stable power supply for its province, and hence strictly limits the power transmit inter-provincially when the local PDC goes through the security check. In particular, some generation provinces may hesitate to send the electricity inter-provincially during peak time blocks.
Grid company' s concerns on the fluctuation of transmission amount: Grid company tends to reduce the risks of transmission fluctuation. As the inter-provincial trade becomes more marketised and attracts more retailers/consumers to join, the amount that transmitted may fluctuate depending on the market demand and supply, which increases the risks of grid operation.
With that being said, some provinces may have advantages for inter-provincial trade
over other provinces. For example,
1) Power trades in Jing-Jin-Ji areas (Beijing-Tianjin-North Hebei area) are considered intra-provincial trades. If retailers/consumers from Beijing want to purchase green electricity cross-provincially, it would be easier for them to purchase from Tianjin or Hebei province.
2) Retailers/consumers in Shandong can purchase green electricity or coal-fired power generated from Ningxia, Gansu, and Shannxi province via Yindong DC, an NDRC-approved pilot DC SHV transmission line for inter-provincial trade between generators and retailers/consumers.
Prospects
It is expected that GEC can be issued as both a bundled certificate in the green electricity, and as an unbundledcertificate under the current GEC system. By applying blockchain technology, the generation, delivery, and consumption of renewable energy can be tracked with GEC. In the green electricity pilot trade, State Grid Blockchain Judicial Expertise Center (国网区块链司法鉴定中心) is applying this blockchain technology. (To read more about blockchain in the energy sector:

【

Blockchain – Game Changer in Energy Industry

】

)
While the current sellers in the wholesale market are mainly grid parity programs owned by state-own enterprises, more private companies will be able to join in the foreseeable future. After distributed power market is well-developed, even prosumers can join the market to sell excessive electricity from their own distributed generators like rooftop photovoltaic generators.
Figure 12: Pilot distributed markets
3) Also, retail companies are expected to provide more customised solutions to corporate buyers to meet their needs of procuring green electricity and achieving sustainability goals.
For example, Jiangsu Jingrong Electricity Retail Company (江苏景融售电有限公司) , a subsidiary of Envision Group, has actively promoted and provided customised solutions to help both multinational and domestic corporates (e.g. Apple, Ikea, AstraZeneca) to achieve RE100, offering diversified solutions that include green electricity procurement, purchase of attribute certificates, solar PV installation, etc.
State Grid Zhejiang Integrated Energy Company (国网浙江综合能源公司) has been shifting its focus onto providing green electricity procurement services to meet the needs of reducing carbon footprints for corporates. By far, the company has reached mutual agreements with Ant Group and Sunny Group to procure around 40 million kWh of green electricity in 2022.
1) 北京电力交易中心. 2021. 06. 北京电力交易中心绿色电力交易试点实施细则(试行)
2) 广州电力交易中心. 2022. 01.25. 南方区域绿色电力交易规则(试行)
3) RE100 Green Electricity Certificate (GECs) in China
4) BMW Brilliance's sustainability report 2019.
5) BMW Brilliance's sustainability report 2020
6) BMW's Brilliance's official website.
7) 国网朝阳供电公司. 2021.09.09. 辽宁电网绿电交易成交电量居全国首位.
8) 国网辽宁省电力有限公司. 2021.09.14. 人民网. (公司) 辽宁绿色电力交易量居全国首位.
9) NDRC, 2021-09-28. 锚定"双碳"目标,绿色电力交易方案蓄势出台——《绿色电力交易试点工作方案》解读.
10) 国网浙江电力. 2022.02.16. 浙江完成2022年第一季度最大绿电交易量.
11) 远景集团. 2021.11. 远景零碳综合解决方案简介.
12) 北极星电力网. 2021.07.01. 100000张!中国规模最大的平价绿证交易达成.
We welcome your comments and questions regarding this article! Please fill in the comments below.