FCEV Operators in Logistics Industry in China
Author of this article

Introduction
The FCEV logistics operation business in China emerged in 2017, with the establishment of STNE and its astonishing news of immediately deploying 500 Dongfeng FC light-duty trucks in Shanghai. Now after almost 5 years, only few players joined this market and the current market size remains small and unprofitable. Especially with the delay of the national subsidy, the FCEV operation companies which purchased a large volume of FCEVs are experiencing hard times. Despite all these, many domestic and foreign FC system integrators seem to pay close attention to the logistics market still.
This article will explore the current situation and business model of the 3 major FCEV operators in China. Please also refer to our comprehensive analysis report " 2022 FCEV Operators in China "
Background of FCEV Logistics Industry
Broadly speaking, there are 2 types of logistics services that adopt FCEV operation in China. In this article, we name them 1) commercial logistics (商业物流 in Chinese, AKA distribution logistics in English) and 2) industrial logistics (工业物流).
Commercial logistics services refer to shipping the finished goods in the process of manufacturer-warehouse-customer. And the services are usually provided by either an in-house logistics fleet (the one that can run the company itself, for example, JD.com has their own logistics fleet), or by 3rd party logistics services (3PL) companies, which are profit-oriented (for example, STO Express). The FCEV operators we discuss in this article today are all 3PL companies.
Industrial logistics services are non-profit-oriented in-bound logistics, which function as a means of internal transportation from procurement to manufacturing operations. The typical FCEV users are heavy-industry companies in the areas such as metal, steel, and coal mining. At this point, the FCEV operators haven't officially stepped into this field. Thus, we don't discuss industrial logistics in detail this time.
Currently, the majority of the end-users who use the FCEVs from the operators can be categorized into 3 types as follows.
Large e-commerce companies and express delivery companies (e.g. JD.com and STO Express)

Large foreign enterprises, especially the ones which receive the global carbon neutrality mission from the HQ (e.g. Budweiser and IKEA)

State-owned or government entities that follow the national action plans to adopt FCEVs (e.g. Changshu Transportation Bureau)
4 Types of Revenue Streams for FCEV Operators
1.

Logistics operation services model
This is the traditional 3PL services model, where the operator provides the logistics services to the customer, covering the vehicles, drivers, hydrogen fuels, vehicle IoT platform, and any other operational cost. The customer pays the operator based on the driving distance and the truckload.
Supposedly, the FCEV operators originally aim to provide this service for profit generation. However, in reality, most of the operators are only providing the #2 vehicle leasing services.
There are 2 assumptions why the customers do not select this service plan. 1) Cost of the service is too high compared to light-duty ICEV or EV operators. 2) The current end-users already have their own logistics partners, and the switching cost is too high.
(We will discuss the TCO comparison between the operation services model vs. the leasing services model later.)
2. Vehicle leasing services model (current mainstream)
This is a lease-only model. The operator only leases the FCEVs to the customers, or the 3rd party logistics companies, and offers the vehicle IoT platform. All the operational cost will be burdened by the customer or the 3rd party logistics company. However, the operator provides a discount for refueling, if the customer refuels at the designated HRS that is either built by the operator or has a partnership with the operator. The customer pays the operators with a monthly leasing fee, based on the type of the vehicle.
Upon the announcement of Data Security Law 数据安全法 in June 2021, the ownership of the vehicle operation data belongs to the vehicle operators. Thus the customers must pay the operators to legally obtain the data.
The vehicle operation data is valuable to OEMs, FC integrators (for internal R&D purposes), and vehicle IoT technology companies, which are the customers for this business sector.
This is a traditional market strategy to display an advertisement (logo and name) on a vehicle that everyone sees. Currently, FC system integrators usually display their advertisements on the vehicle body. The customer pays by the number of vehicles per month.
Fig 1 below illustrates an integrated sales and services model for FCEV operators.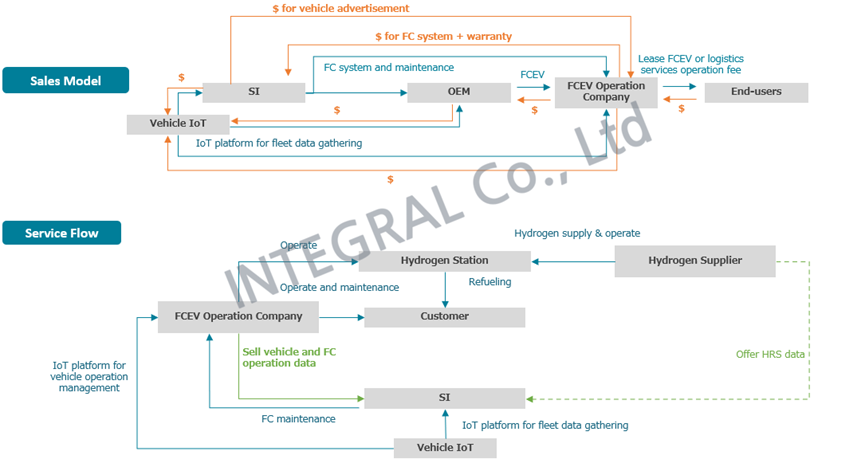 Fig 1: general sales model and service flow of FCEV logistics industry in China
Source: 1) Official websites of REFIRE and Suyun 2) REFIRE 2019 exhibition information
3 Major FCEV Operators in Logistics Industry
Currently there are three major players running the business in either Yangtze-river-delta or Pearl-river-delta regions, which are the 2 logistics hubs in China. The general situation is very similar among the three – they have all made a huge capital investment at the beginning, but minimal follow-on investment due to the low customer acquisition rate; all of them directly invest or partner with others to invest in HRS construction and operation; all of them adopt the usage of vehicle IoT platform.
Fig 2: timeline of 3 major FCEV operators
Source: summarized by Integral
STNE (氢车熟路)
STNE was founded in 2017 in Shanghai by Mr. Liu Kecheng (刘可成), who has extensive knowledge in the logistics and vehicle IoT industry. As the first company entering the FCEV operation industry, STNE ventured on purchasing 500 Dongfeng light-duty logistics trucks equipped with REFIRE's FC systems all at once – even if that becomes today's news, it can still make the headlines as the volume of the order is large. The first batch of STNE's customers was famous e-commerce or express delivery companies, such as JD.com, Hema Fresh and STO Express. Most of the customers rent the FCEVs and operate the vehicles with their own drivers. As the drivers were unfamiliar with FCEVs, STNE usually organized training sessions and also took care of the after-sales maintenance and repair (partnered with REFIRE).
Since the FCEVs are all operating in Shanghai region, to reduce customer's concerns of insufficient resources of hydrogen, STNE also established an HRS construction and operation subsidiary named Jiaqing Shiye (嘉氢实业). If the FCEVs get refueled at Jiaqing's HRS, the driver will receive a discount on the hydrogen price.
With its ambitious and pioneering business plans, STNE soon attracted SinoPec and Air Liquide, the domestic and international energy giants, to become the strategic partners and further make the investment. In Dec 2018, SinoPec Sales Company announced that they co-founded SinoPec Hydrogen Energy (中石化氢能源) with STNE, while SinoPec held 56% and STNE held 44% of the shares. Air Liquide planned to acquire an 11.11% shares in STNE, and provide technology and expertise in the hydrogen supply area.
However, in 2019, when the future looked bright for STNE, an unexpected change suddenly happened– the CEO Liu Kecheng suddenly co-founded another FCEV operation company named BESTPATH in May, and left STNE in June. Then, the current CEO, Mr. Zhang Yi, took over STNE, who was also one of the very first employees to join STNE. As a result, BESTPATH and STNE became direct competitors and "self-cannibalizing" the Shanghai FCEV logistics market.
Yet we are unsure what exactly happened to STNE in 2019, but the leaving of ex-CEO triggered a cascade effect – STNE first gave up its 44% shares in SinoPec Hydrogen Energy, which were later completely taken by BESTPATH. In addition, Air Liquide decided to pull out the investment in 2020, which was first revealed in REFIRE's 2nd IPO inquiry document in Aug. 2021. Interestingly, REFIRE did not reveal the withdrawal of Air Liquide in its 1st IPO inquiry document. Rather, REFIRE described STNE as a "promising" key account customer, which successfully attracted influential investors like Air Liquide. After further questioned by Shanghai Stock Exchange, REFIRE made it clear that Air Liquide did not invest in STNE in the end, due to the "different strategies in business development". Until now, Air Liquide has not made any other investment in FCEV operation industry yet. Although the reason of its withdrawal remains ambiguous, given that both SinoPec and Air Liquide cut ties with STNE, we deem that the future of STNE may not be as promising as they claimed 5 years ago.
Currently, STNE's 500 FC trucks are still in operation. By Aug. 2021, 453 of them have already received the subsidy from MIIT. However, they haven't purchased any other vehicles since its establishment. Their current goal is to fully utilize all 500 vehicles, indicating that some vehicles are still set aside waiting to be leased. This situation also happens to the other 2 players we will discuss next.
BESTPATH (轻程物联)
BESTPATH was established in Shanghai in 2019 by three people - Mr. Liu Kefei, (current CEO), ex-Regional Director at Yamato Logistics China, Mr. Lin Qi, CEO of REFIRE - the major FC system supplier for BESTPATH's FCEVs, and Mr. Liu Kecheng (current Chairman), the ex-CEO of STNE. Lin Qi decided to leave BESTPATH in Dec 2020 to fully focus on his main business of REFIRE. Despite this, BESTPATH and REFIRE still maintained a good strategic partnership and collectively signed several new deals in 2021.
BESTPATH first purchased 210 Sunlong light-duty refrigerator trucks equipped with REFIRE FC systems and put them into operation in 2019. In 2020 and 2021, BESTPATH also signed the purchase order of 1200 light-duty trucks and 160 heavy-duty trucks. Until now, the vehicles are either not delivered yet or have not gotten the license plates yet. However, once the vehicles start the operation, BESTPATH will become the first FCEV operator that widely adopts the logistics operation of heavy-duty trucks.
As described above, because the founder of STNE joined BESTPATH in 2019, we assume that BESTPATH has inherited the business and operation model of STNE. Especially with the support from SinoPec, the greatest advantage of BESTPATH would be its wide and reliable HRS infrastructure.
QingLiQingWei (氢力氢为)
QingLiQingWei was founded in 2018, with 51% shares held by King Wasp and 40% shares held by Mr. Yao Lei. King Wasp is a private VC company founded by Mr. Xi Chunyang (奚春阳), the co-founder of STO express and ex-CEO at Tiantian Express. Yao Lei is one of the co-founders of Suyun (the other co-founder of Suyun is Lin Qi, CEO of REFIRE), which is an IT company providing vehicle IoT services to STNE, BESTPATH and QingLiQingWei (see next sector).
In 2019, QingLiQingWei has purchased 600 Zhongtong FC light-duty trucks, equipped with REFIRE FC systems. These trucks are currently operating in Pearl-river-delta (Shenzhen and Foshan), and Yangtze-river-delta (Zhangjiagang and Changshu). In 2020, QingLiQingWei signed a strategic partnership with REFIRE on the FC heavy-duty truck demonstration in Ningxia Province. In 2022, again partnering with REFIRE, QingLiQingWei recently started to operate 60 FC light-duty trucks Changshu, Jiangsu Province as the COVID-19 testing vehicles. The customer is Changshu City Transportation Bureau, which holds a close relationship with REFIRE. And this is the most recent operational news among the three players.
By Mar. 2022, among the 600 logistics trucks which started the operation in 2019, 390 operating in Foshan have received the subsidy of 55.8 million RMB, and received Nanhai District HRS construction and operation subsidy of 25.7 million RMB; 120 operating in Changshu, have received the subsidy of 12.8 million RMB; 80 operating in Zhangjiagang, have received the subsidy of 16 million RMB.
According to REFIRE's IPO document, QingLiQingWei also has 4 FC heavy-duty trucks (in Shenzhen, Tangshan and Ningdong) and 1 city bus (in Changshu), assumingly running demonstrative operation. Shenzhen is a national hub of communication, the HDT there may be used for commercial logistics. Tangshan and Ningdong are two cities with rich petroleum, iron and coal resources, so the heavy-duty trucks there may be used for industrial logistics in heavy industry. And for Changshu, REFIRE has had the previous experience operating the FC intercity buses there. There is a chance that QingLiQingWei may want to enter the passenger bus transportation services sector as well.
FCEV IoT Platform – Suyun
Suyun Technology was co-founded in 2016 by Lin Qi and Yao Lei. Its main business is to provide IoT solutions to FCEV and HRS operations to better maximize their operational efficiencies. Suyun has developed 4 types of platforms – FCEV vehicle monitoring IoT platform, FCEV operation IoT platform (similar to the monitoring platform but added some enterprise functions such as P&L and HR management), HRS operation IoT platform, energy management system (not officially launched yet). It was the first company providing FCEV TSP services and the partner of all 3 major operators.
Originally Suyun was founded as a subsidiary of REFIRE but became an independent entity in 2019. Meanwhile, BESTPATH also self-develops its own IoT platform and recently launched it onto Android App Market. There is a high chance that BESTPATH will start to adopt its own platform rather than continue using Suyun's.
Let's take the Vehicle Monitoring Platform as an example. This platform can be widely used for OEMs, FC integrators as well as FCEV operation companies.
With the consent from the customer, each vehicle needs to install a T-box, which dynamically captures the operational data and transfers the data to the Suyun NEV TSP Platform. Then the data are uploaded on the public cloud for big data analysis. The main functions of the platform can be referred below.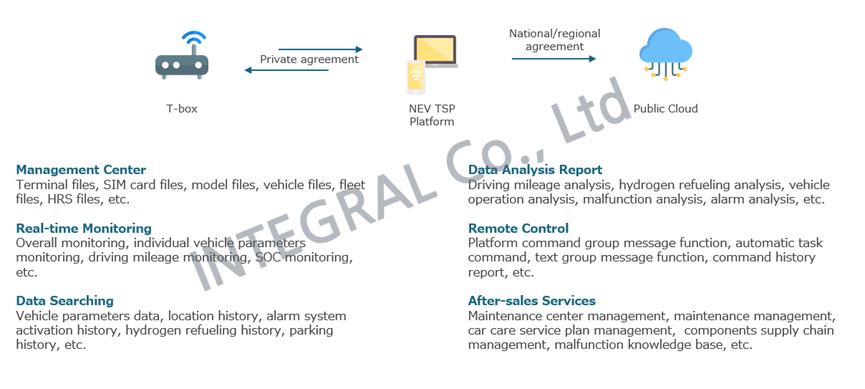 Fig 3: functions of IoT Vehicle Monitoring Platform
Source: official website of Suyun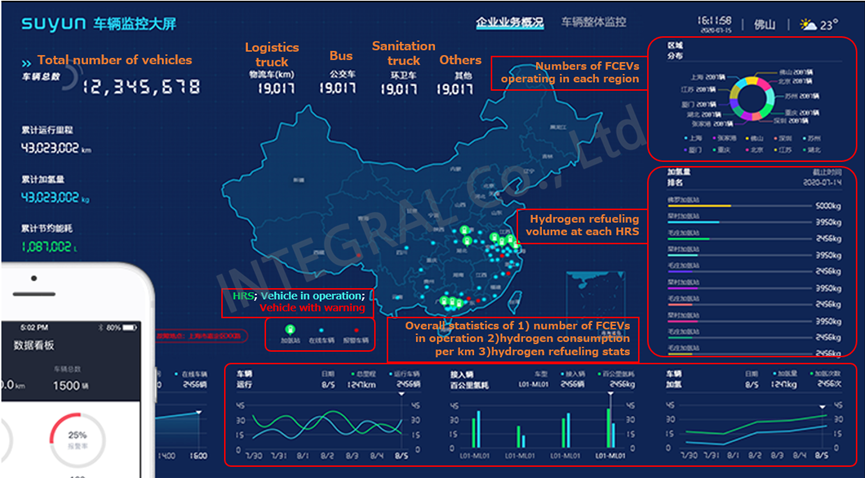 Fig 4: screenshot of Suyun Vehicle Monitoring Platform Big Screen
Source: official website of Suyun
By monitoring the driving data of each vehicle, the FECV operators/end-users can better allocate the number of vehicles operating in the peak and valley time according to different transportation needs, as well as arrange different hydrogen refueling time to avoid the long queue. Other information such as driving mileage or hydrogen consumption per 100km is important R&D feedback for the FC stack/system integrators and OEMs as well.
In addition, this platform can be critical in after-sales services for maintenance and repair. In Suyun APP's list view (see Fig 5 and Fig 6), the operator can quickly identify which vehicle has triggered the alarm (the icon becomes red) and view the details of the alarm. Then the after-sales engineers will make a preliminary judgment, and the after-sales services team will remotely guide the end-users to solve the problems. If the issue is critical (for example, shown as Level 1 Alarm in Fig 5), the engineers will come to the site for further diagnosis and parts repair/replacement usually within 24 hours.
Fig 5: screenshots of Suyun Vehicle Monitoring Platform APP - 1
Source: Suyun VMP App from Apple App Store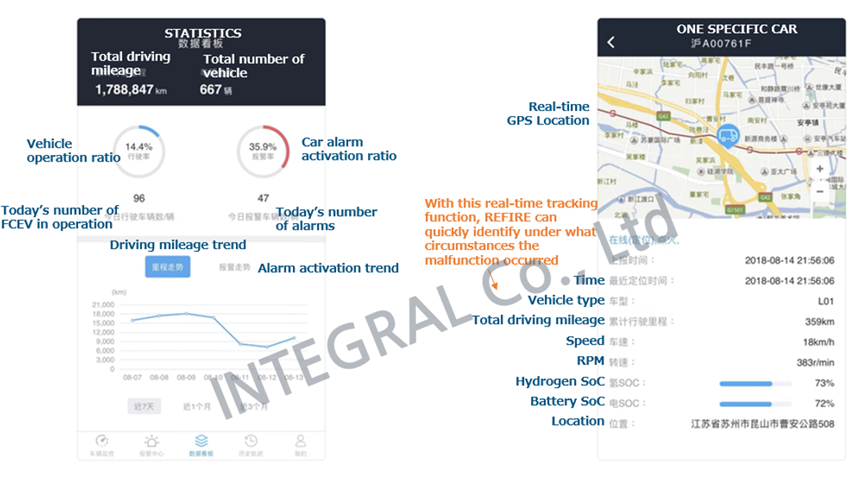 Fig 6: screenshots of Suyun Vehicle Monitoring Platform APP - 2
Source: Suyun VMP App from Apple App Store
TCO Analysis of FC Light-duty Trucks
Based on the #1 logistics operation services model and #2 vehicle leasing services model, we have made the following TCO calculation and analysis, based on the case of 600 FCEVs purchased by QingLiQingWei in 2019, which are currently in operation. The vehicles are Zhongtong 9T FC logistics trucks, equipped with REFIRE 32kW FC system and three 140L 35MPa hydrogen tanks.
It should be noted that the calculation of the profit and the cost is based on the mock scenario, which does not reflect the actual operational status of QingLiQingWei.
The key assumptions in this analysis are:
8 years of lifecycle

180 km/day driving distance

300 days of driving each year

FC system needs to be replaced once during lifecycle

Hydrogen price is 35 RMB/kg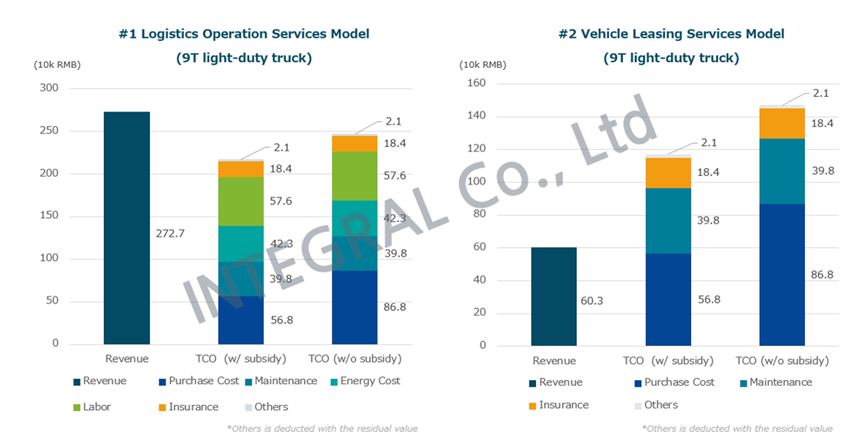 Fig 7: TCO of a 9T FC logistics truck
Source: 1) 2020, Deloitte, Fueling the Future of Mobility 2) 2020, China EV100, 氢燃料电池汽车全生命周期经济性分析2020 3) REFIRE's IPO document 4) Public information
From the TCO comparison, we can see that #1 and #2 models show a significant difference in profit margin. We assume that at the beginning, the operators wanted to run the #1 logistics operation services as the main business for profit generation. However, the reality is that merely any customer would pay for it as the customers who use logistics services are very price sensitive. Thus, the current customers are more willing to #2 rent the vehicles only, which brings negative profit for the operators. For vehicle leasing, the operator usually prices the monthly rental fee similar to the fee of ICEV rental. As the initial purchase cost of an FCEV is significantly higher than ICEVs or BEVs, the operators must burden the operating loss in order to promote the use of FCEVs at this stage. This ties back to the previous point we discussed that the operators are experiencing a severe cash shortage.
At this moment, only the large enterprise customers seem to be willing to try FCEVs and they all have their own logistics suppliers already(either in-house or external partners). As the economies of scale improves for hydrogen energy, the purchase cost (especially the price of FC systems) and the hydrogen price keep declining. Assumingly that the initial purchase cost of FCEVs will eventually decrease to a break-even point with BEVs or ICEVs, the switching cost for the customers may remain high, not to mention that their current logistics suppliers may start to purchase FCEVs as well. Thus, we estimate that the #2 business model may still not be sustainable in the future.
Other Problems Encountering: Shortage of Cash Flow
Almost 4 years passed since all three players joined this industry. However, neither one of them is making any profit right now and each shows a slow business development progression. There are several cases indicating that they are likely to experience a shortage of cash flow.
1. FCEV operators ought to pay for FC systems
Case Analysis 1: Hypothecation Agreement of STNE's 500 FC systems
In July 2017, REFIRE sold a total of 500 FC system/key components products to Dongfeng and Shanghai EDrive. Dongfeng delivered 500 logistics trucks to STNE in Dec 2017.
In 2019, 6 parities (REFIRE, Dongfeng, Shanghai EDrive, STNE, SinoSynergy-REFIRE, Broad Ocean Capitals) signed a hypothecation agreement, that the value of FC systems will be excluded from the value of FCEVs that Dongfeng delivered to STNE, as a result, STNE will pay the account receivables of FC system/key components products to REFIRE directly.

Fig 8: money flow of 500 REFIRE FC systems "purchased" by STNE
Source: REFIRE's IPO document
According to REFIRE, the OEMs and the operators do not show a significant difference in accounts payable turnover ratio, despite there is a significant difference in the scale of the business size. It is common that the FCEV OEMs do not pay SIs on time. By negotiating these hypothecation agreements, it helps OEMs to reduce the burden and strengthen the relationship between the SI and the OEM. This similar situation also applies to QingLiQingWei, when purchasing 600 FCEVs from Zhongtong in 2019 (which purchased FC systems from REFIRE).
Case Analysis 2: Transfer of 600 FC Systems from STNE to QingLiQingWei
At the end of 2018, STNE signed another order of 600 FC systems with REFIRE, which was supposed to deliver in 2019. However, in 2019, STNE signed a "friendly agreement" with QingLiQingWei, to "transfer" the ownership of 600 FC systems and its subsequent payment and operation duty to QingLiQingWei. As a result, the 600 Zhongtong logistics trucks were then purchased and operated by QingLiQingWei in 2019. There was a potential shortage of cash flow from STNE's side, which directly resulted in signing this "friendly agreement".

Fig 9: transfer of 600 FC systems from STNE to QingLiQingWei
Source: REFIRE's IPO document
2. Delay of FCEV bonus and subsidies
By the end of 2020, STNE had 500 FCEVs in operation while QingLiQingWei had 605 FCEVs in operation. Both companies had expansion plans (e.g. operating at least 2,500 FCEVs in 5 years) in the beginning but neither made any progress.
We assume that the operators originally relied on the subsidy scheme for further business operation, after the initial investment. In reality, the filing of regional and national FCEV bonus/subsidy claims usually gets delayed, which has been causing significant cash shortage, as well as the risks for bad debt for the upstream suppliers, including REFIRE in this case.
After STNE signed the hypothecation agreement, once STNE receives any bonus or subsidies from the government, STNE shall pay REFIRE by a certain ratio, with the bonus or subsidy. If by Dec 31st, 2022, STNE has not received all the bonus/subsidies from the government, REFIRE has the right to demand STNE to pay the rest of AR.
According to REFIRE, by Dec 31st, 2020, the accounts receivable from STNE remained as 101.92 million RMB. By Jun. 2021, the accounts receivable from STNE decreased to 66.47 million RMB, yet there is only 1 year left for STNE to clear the rest.
On the top of our TCO analysis, the uncertainty about cash flow aggravates the operational dilemma for the FCEV operators.
Conclusion
The current FCEV operators are the market pioneers trying to accumulate the operational and after-sales services experience for FCEVs. However, they are mostly leasing or operating FC light-duty trucks due to its high purchase cost, besides, they have minimal competitive advantages compared to EVs (solid charging infrastructure, cheap electricity price, low mileage requirement for intracity last-mile deliveries, etc.).
The main problem for the operators is that the vehicle leasing services model is not sustainable from a TCO perspective, both for the operators and the end-users. Because of the high initial purchase cost and delay of the subsidy, the operator can hardly make any money or hardly pay off the debt on time. For the end-users, eventually, there is a chance that they will purchase the FCEVs on their own and become competitors of the current FCEV operators.
As discussed before, very few end-users would like to pay for the logistics operation services plan. Thus, the FCEV operators can hardly accumulate any operational experience, which puts them at a great disadvantage when compared to ICEV and EV operators. However, this assumption is made with the precondition that the operators only own FC light-duty trucks. If the operators start to purchase and operate more FC heavy-duty trucks that are suitable for long-distance highway transportation, they will eliminate EV operators as the competitors and solely compete with ICEV operators on the cost. Given that both BESTPATH and QingLiQingWei already purchased/signed the purchase orders of FC heavy-duty trucks, we may conclude that the actual FCEV operation market is on the heavy-duty application side. In accordance, FC system integrators like REFIRE also keep a sharp eye on the FC heavy-duty truck logistics market.
We welcome your comments and questions regarding this article! Please fill in the comments below.