Hyundai's Fuel Cell Strategies in China
Author of this article

Introduction
In the last article ("Toyota's Fuel Cell Strategies in China"), we discussed the FC strategies of Toyota. This time, we will look into the FC strategies of another giant in China, Hyundai. Unlike Toyota which has been actively seeking local SIs and OEMs as strategic partners, Hyundai took a completely different approach by setting up its own vehicle and FC system factories in China to further localize its integrated FCEV supply chain.
Hyundai has been developing FCEV since 1998 and has successfully commercialized 3 models of FCEV. However, although Hyundai entered China's vehicle market by joint-venture back in 2002, it just officially entered China's FCEV market segment in 2020, mainly due to the restrictions of the Korean Government.
In April 2020, due to the impact of COVID-19, The Ministry of Trade, Industry and Energy of Korea has allowed Hyundai Motor Co. to export its hydrogen fuel cell system technologies to the U.S. and EU. In Dec., they have further endorsed the FC exportation to China. Before this, a total of 69 Hyundai FC-related technologies were registered and protected as national core technologies by the government, which were not allowed to export to other countries.
As the Korean government has cleared up the policy barriers, Hyundai soon made 3 major movements in entering the China's FC market. 1) Sichuan Hyundai became 100% subsidiary of Hyundai Motor and was renamed as Hyundai commercial (originally was a 50/50 JV responsible for manufacturing commercial vehicles) and became the 1st auto company that is wholly owned by a foreign enterprise in China. This factory will be responsible for manufacturing commercial FCEVs. 2) Hyundai also formed 2 FC heavy-duty truck strategic partnerships respectively in Jing-jin-ji(Beijing-Hebei-Tianjin) and Yangtze River Delta region, to promote a total of 4,000 FC heavy-duty trucks by 2025. 3) Hyundai signed the strategic partnership with Guangzhou Municipal Government and founded HTWO Guangzhou, which will be manufacturing FC stacks/systems. ( See Figure 1)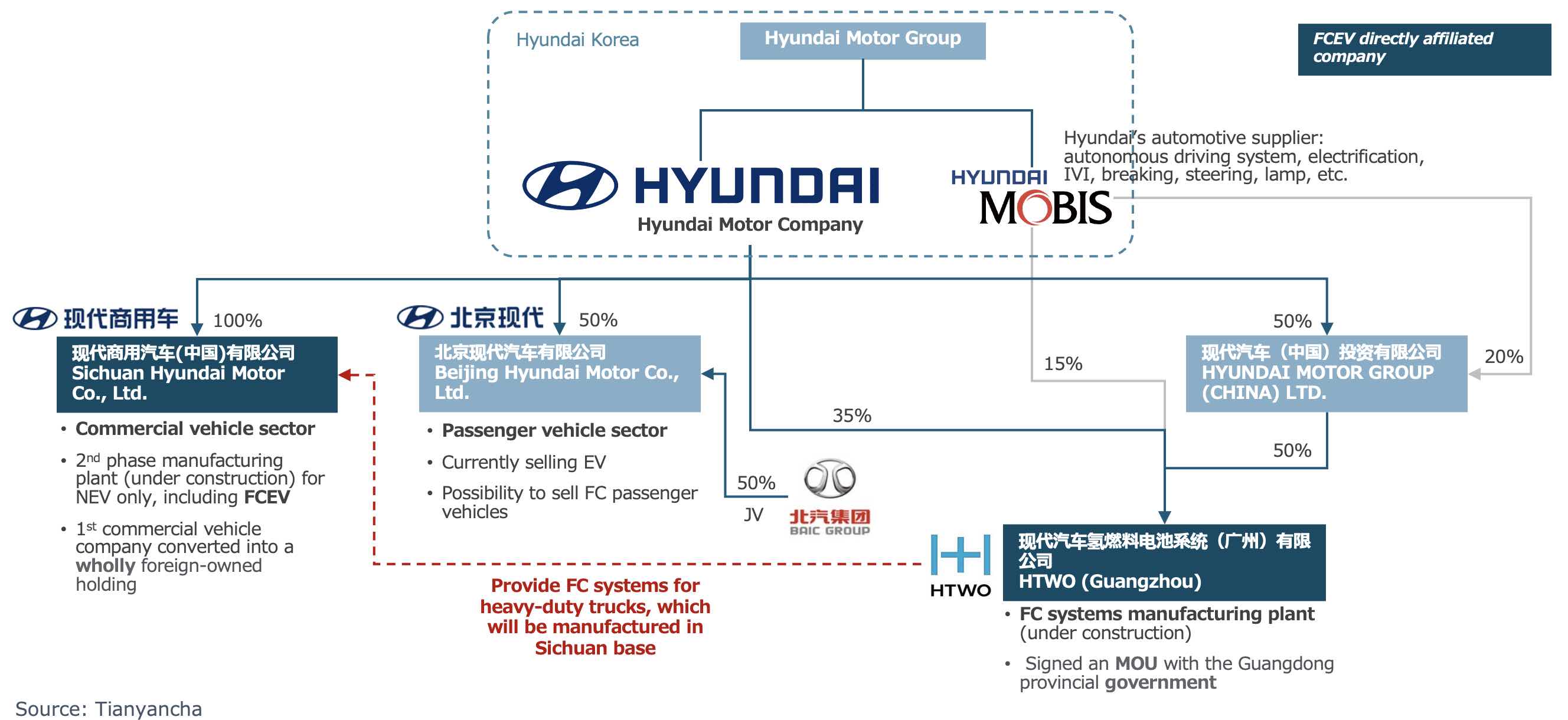 Figure 1: FC Business structure of Hyundai in China
Source: Integral's summary based on the data from Tianyancha
1. FCEV Manufacturing Center – Hyundai Commercial
Unlike Toyota, Hyundai has about 10 years of experience selling diesel engine trucks in China's commercial vehicle market. Although we don't discuss in detail why the JV Sichuan Hyundai was not successful in China in this article, at least Hyundai as an OEM has more customer connections and market knowledge. And this may lead them to take a completely different market entry approach than Toyota.
Since Hyundai takes the responsibility of manufacturing and selling FCEVs themselves, in 2020 and 2021, they have been actively participating in multiple exhibitions and showcased various FC products including NEXO and advanced applications such as trailer drones, RHGV and UAM prototypes to widely raise brand awareness. In Dec 2021, Hyundai also announced that Guangzhou Hengyun Enterprises has decided to purchase NEXO for initial demonstration inside the industrial parks, which will contribute to further exposure for Hyundai.
2. Strategic Partnership for Heavy-duty Truck Demonstration
Different from Toyota which chooses to promote FC buses in China first, Hyundai focuses on heavy-duty truck demonstrations by partnering with influential local suppliers and customers.
In Jing-jin-ji region, along with CISRI (full: China Iron & Steel Research Institute; a state-owned enterprise in advanced materials R&D and production), and HBIS Group (full: Hebei Iron and Steel Group; a state-owned steelmaker), Hyundai plans to promote 1000+ heavy-duty trucks by 2025. HBIS Group is also one of the heavy industry companies that started to use FC heavy-duty trucks at its early stage of commercialization. The FCEVs will be used to replace its traditional logistics fleet which transports steel products and materials, and etc. In 2021, China has already pledged to reach carbon neutrality by 2060. In response, heavy industry companies are now under the pressure on carbon emission reduction. For example, HBIS generates greenhouse gases from both direct energy/process emissions and indirect diesel vehicle operation emissions. Therefore, they have a large demand to replace the traditional vehicles with new energy vehicles. In addition, they generate by-product hydrogen from their coke plants, which can be used as the hydrogen resource for their own FCEVs' operation after purification.
In Yangtze River Delta region, along with Shanghai Electric Power (a state-owned energy company controlled by SPIC), Sunwise (a private EPC contractor for HRS, controlled by Shanghai Electric Power) and SPIC Ronghe Dianke (a NEV operation management company), Hyundai plans to promote 3000+ heavy-duty trucks by 2025. SPIC plays the role of leasing FCEVs and managing their operations, which targets the end-users in the logistics industry. In a similar case to HBIS, Shanghai Electric Power is also involved in grey and green hydrogen production projects, which can be used as the hydrogen resource for their own fleet in Shanghai area.
So far, we conclude that Hyundai may target both the industrial and logistics market for heavy-duty truck applications, with the following traits when choosing the partners.
Directly partner with the end-users who hold heavy-duty diesel truck fleet, with hydrogen supply capabilities. (See Figure 2 for the responsibility of each strategic partner.)

The downstream customers are influential state-owned enterprises, which are urged to execute the national carbon emission reduction policies and run demonstration projects.
3. FC Stack/System Manufacturing Center – HTWO Guangzhou
HTWO Guangzhou is the first FC stack/system manufacturing and sales company that Hyundai founded outside Korea, which is also 100% controlled by Hyundai Group. The construction is planned to finish by 2022, and the annual planned production capacity is about 6500 metal FC systems. The systems will be installed on the FCEVs manufactured by Hyundai Commercial, and sold to external customers as well. At this point, the key components like MEA will still be manufactured in Korea, by Hyundai Mobis.
By having a wholly-owned manufacturing center in China, it greatly reduces the cost while protecting the core technologies.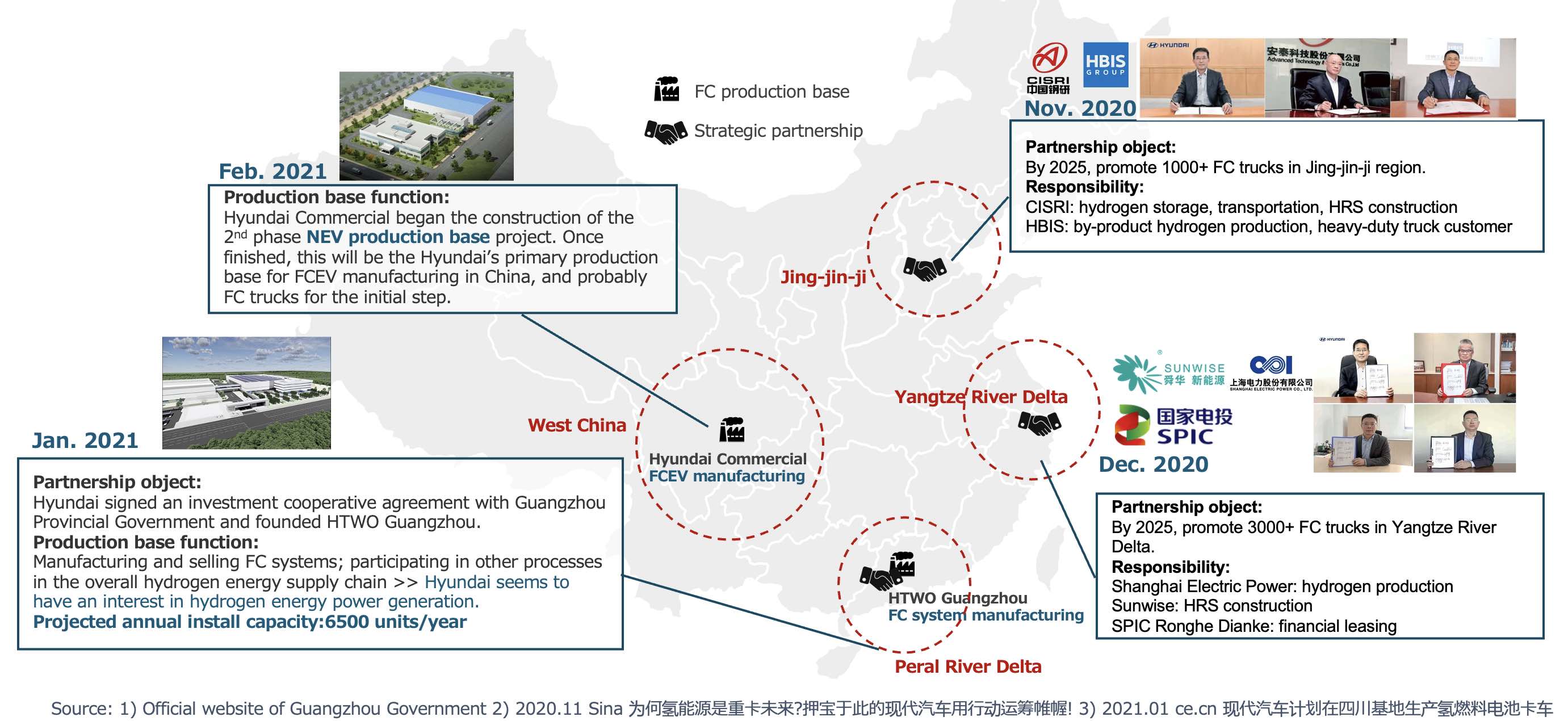 Figure 2: Hyundai's FC business mapping
Source: Integral's summary based on the official news from Hyundai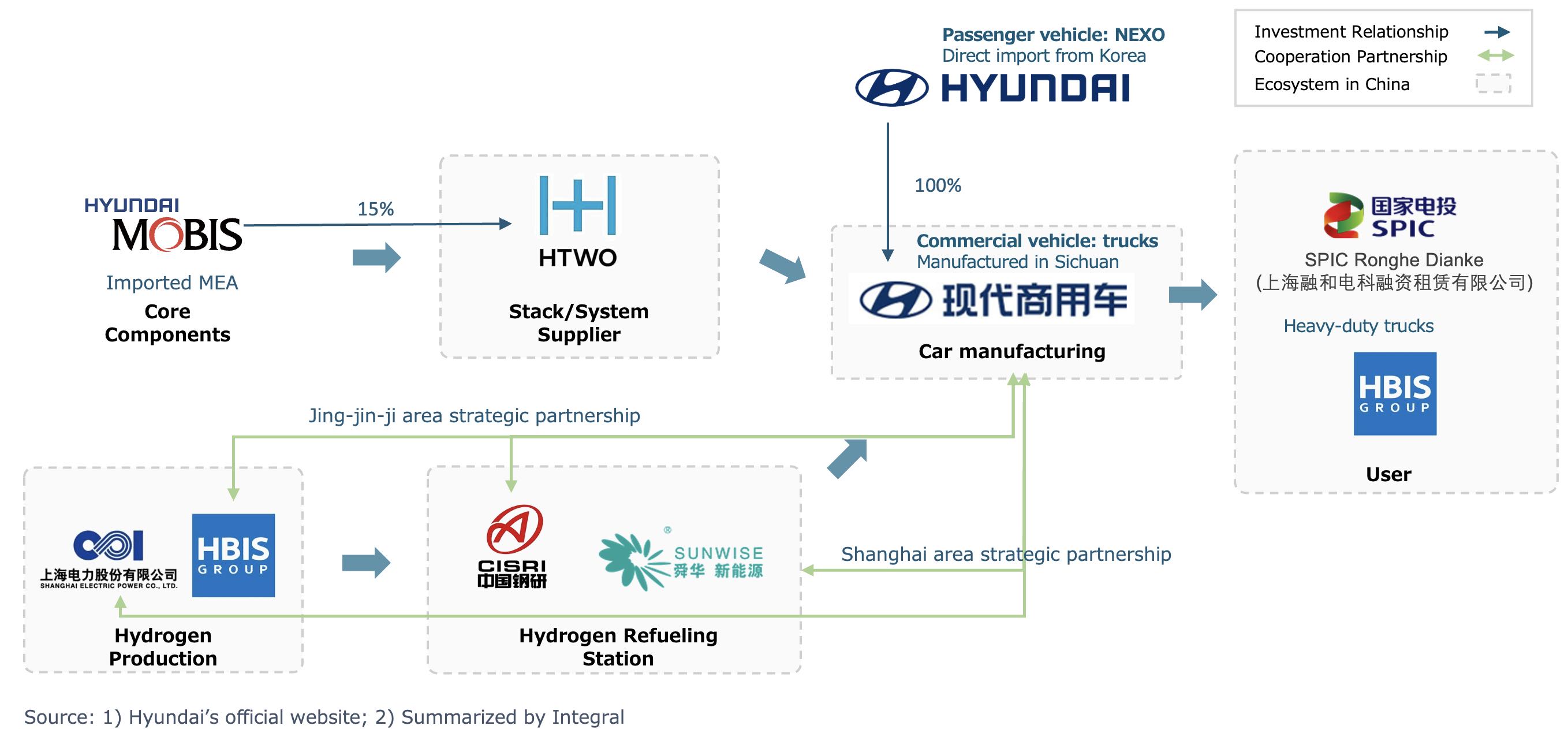 Figure 3: Hyundai's Partnership Ecosystem
Source: Integral's summary based on the official news from Hyundai
Hyundai's Strategy Overview
In the short to medium term, Hyundai will focus on the heavy-duty truck market, and take full ownership of its FCEV supply chain. The FC systems will be manufactured by HTWO Guangzhou and the FCEVs will be manufactured by Hyundai Commercial in Sichuan province. In order to expand the market, Hyundai formed multiple partnerships with the downstream vehicle users, who are also the upstream hydrogen suppliers. Primarily, Hyundai will be focusing on the 3 key areas: Jing-jin-ji, Yangtze River Delta, and Pearl River Delta (because HTWO is located in Guangzhou and invested by Guangzhou Government). (See Figure 4)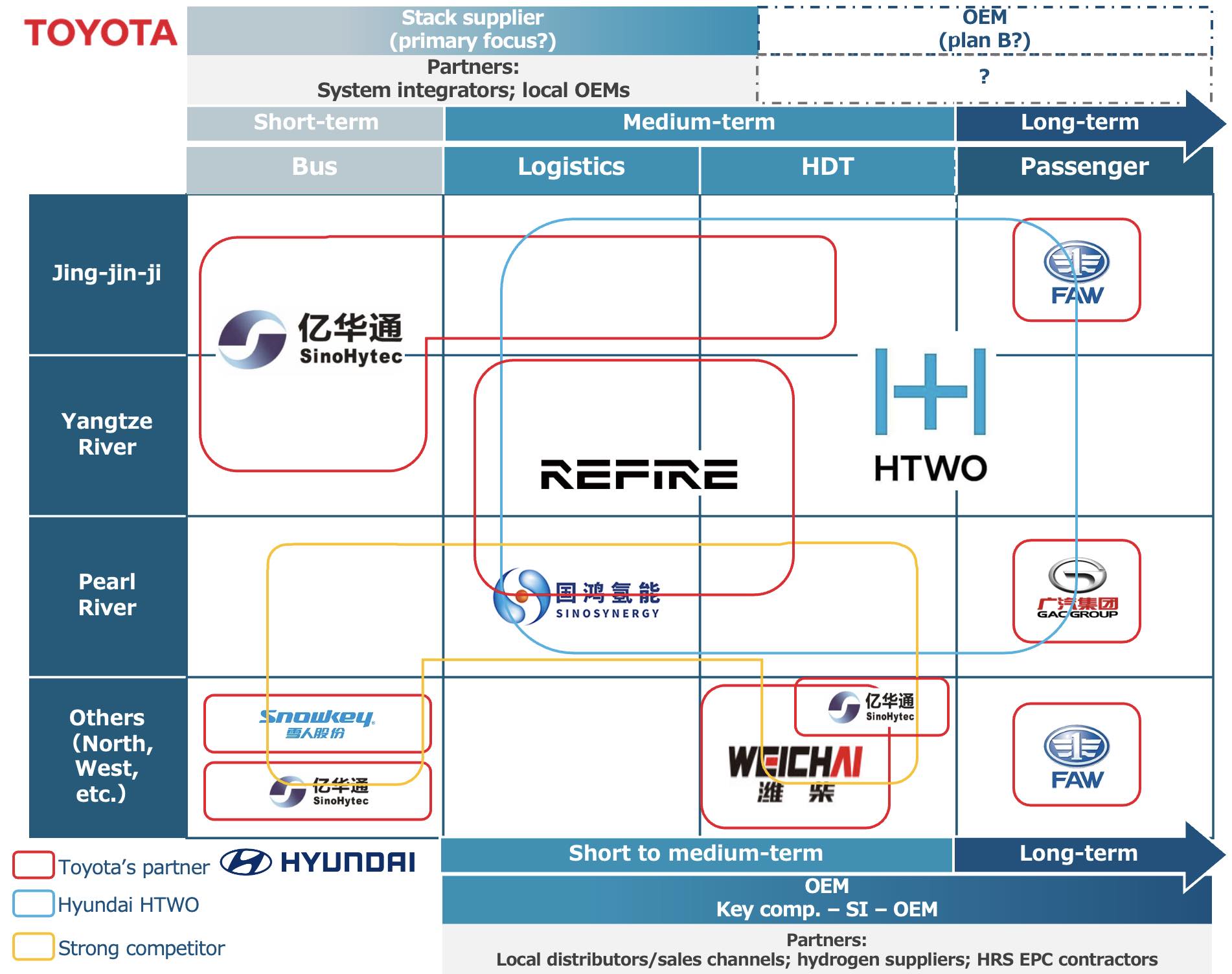 Figure 4: Toyota and Hyundai Market Entry Layout
Source: Summarized by Integral
Hyundai's Strategy Analysis:
So far, we don't confirm the movement whether Hyundai will manufacture FC buses in China or not. Currently, it seems that Hyundai decides to focus on the Chinese FC heavy-duty trucks market more, because that market has greater potential (see also our report

【

2021 Hydrogen and Fuel Cell Industry in China

】

and blog article 【

Key insights on Hydrogen Fuel Cell Heavy Trucking in China

】.

, due to the government policy support policies, large market size, and the urgent demand of replacing the traditional gas/diesel trucks with NEVs. Additionally, Hyundai has advanced metal stack technologies, which suit the high-rated power application scenarios of FC heavy-duty trucks better.

Hyundai has already manufactured and sold trucks in China for many years, so they have more experience with commercial vehicle R&D compared to Toyota. However, they previously failed in customer acquisition due to the low brand awareness and wrong marketing strategies. To better marketize their FCEVs, they looked for local distributors to better leverage the high-quality over price. They particularly focus on end-users with their own hydrogen resources, which will help smoothly run the demonstration projects.

Sichuan Hyundai Commercial is 100% controlled by Hyundai Group, which has a lower risk of technology leakage, while Toyota faces a higher risk of leaking their metal stack technologies to its local SI/OEM partners.

For passenger vehicles, in the short to medium term, Hyundai focuses on raising brand awareness by organizing exhibitions and arranging demonstration events (test drives open to the public) with local enterprises. In the long run, once there are enough HRS in the urban area, Hyundai will surely marketize FC passenger vehicles as well. For the promotion of FC passenger vehicles, Hyundai takes a very similar strategic approach with Toyota (see our blog article "Toyota's Fuel Cell Strategies in China".
*For reference, in this article
【
Go-to-market strategy of foreign FC makers in China
】
, we have also introduced 4 major ways of entering a foreign market: export, collaboration with local partners, founding a joint-venture company with local partners, and founding a local subsidiary.
We welcome your comments and questions regarding this article! Please fill in the comments below.