Toyota's Fuel Cell Strategies in China
Author of this article

Introduction
Toyota has been selling FC passenger vehicles in North America and Europe since 2015. But when they entered the Chinese market, they chose to focus on promoting FC commercial vehicles. Compared to the western market, there is no doubt that China indeed owns a larger market share of commercial vehicles. And the Chinese government is strongly supporting the promotion of FC commercial vehicles over passenger vehicles at the current stage, driven by the climate and energy policies. In the Chinese fuel cell industry, it has reached a consensus that FC commercial vehicles will be commercialized first than FC passenger vehicles.
In August 2021, MIIT and other 4 national departments co-announced the first batch of FCEV Demonstration City Clusters, including Beijing, Shanghai and Guangdong as the 3 centers. The central government clearly stated that the primary object for this nation-wide demonstration is to promote long-distance and heavy-duty applications, which also aligns with Toyota's market focus in the mid to long run. In the next 4 years, these 3 clusters will receive subsidies, and bonuses upon the completion of the demonstration targets. By December 2021, all of them have announced the local subsidy policies. We expect to see them represent the highest level of commercialization of FCEVs in China at the early stage (see also our report

【

2021 Hydrogen and Fuel Cell Industry in China

】
for detail
). So far, the business movements that Toyota made are also around these 3 key regions.
Toyota's key milestones in Fuel Cell industry in China
Toyota entered China's FC market first in 2019, by selling Mirai FC stacks to SinoHytec and REFIRE, two Chinese FC integrators headquartered in Beijing and Shanghai respectively. The FC systems were then installed on the FC buses running demonstration projects in Hebei and Jiangsu Province. In 2020, Toyota founded United Fuel Cell System R&D (Beijing) Co., Ltd. (FCRD) for FC development with SinoHytec and four leading OEMs, Dongfeng, BAIC, FAW and GAC. In 2021, SinoHytec and Toyota set up another company FC manufacturing and sales company named Toyota SinoHytec Fuel Cell Co., Ltd. (FCTS), and launched its first 120kW metal FC system product, modeled after the 2nd generation Mirai FC system. In the second half of 2021, more demonstration opportunities for Toyota started to arise due to the upcoming 2022 Beijing Winter Olympics, including launching the FC buses manufactured by FAW-Toyota and exporting Mirai FC passenger vehicles directly from Japan. So far, as described in Fig 1, Toyota revealed 3 business models in China.

Fig 1: FC Business structure of Toyota in China
Source: Summarized by Integral
Toyota aims to target at the FC bus sector in short-term and heavy-duty truck sector in the mid/long-term. In order to acquire these market segments, Toyota chose to partner with SinoHytec (currently focusing on FC bus market) and REFIRE (currently focusing on FC heavy-duty truck market), as the two main partners.
Partnership with SinoHytec
Currently, SinoHytec is the only public listed FC system integrator with a dominant position in the North China market (especially in the Jing-jin-ji area). In 2019, SinoHytec purchased RMB 24.28 million of high-power FC stacks from Toyota, which took up 5.6% of SinoHytec's total purchase value in that financial year. These Toyota-SinoHytec FC systems were installed on multiple BAIC Foton FC intercity and intracity buses. The primary purpose of the collaboration is to run large-scaled demonstration for the Winter Olympics.
We have concluded 3 reasons why Toyota chooses SinoHytec as its main partner:
SinoHytec is the designated FC system provider for 2022 Beijing Winter Olympics, which is a significant opportunity to widely raise its brand awareness.

SinoHytec preserves a dominant position in the North China market. As a long-term partner with BAIC Foton, SinoHytec has accumulated most of its customers in Jing-jin-ji region, which is one of the FCEV Demonstration City Cluster regions.

SinoHytec maintains good relationship with both upstream suppliers (i.e. Air Product and HyPower 海珀尔新能源) and downstream customers (i.e. Foton and Yutong).

Fig 2: SinoHytec's business territory
Source: SinoHytec's IPO prospectus
As an extension of the partnership with SinoHytec, in June 2020, Toyota and SinoHytec formed another alliances company called FCRD, with 4 major OEMs – FAW, BAIC, Dongfeng and GAC, focusing on the R&D on FC systems. Their first product 120kW TL Power 100 FC system came out in Nov 2021. Then Toyota and SinoHytec formed another company named FCTS, focusing on the manufacturing and sales of it.
By cooperating with the major OEMs, it is beneficial to both product R&D and product launch/commercialization. Each OEM has distinctive product portfolios, with different strengths and different targeted territories. For commercial vehicles, Chinese customers usually have various requirements because of the various environmental and geographic factors that affect driving (i.e. North China is extremely cold in winter and West China has a lot of mountains and hills). By directly collaborating with the OEMs, it helps Toyota design its FC stack/system to better fulfill customer needs. On the sales side, OEMs usually take the biggest responsibility and power of influence in the business value chain, since they are responsible for acquiring the end-user customers. At the beginning stage of hydrogen energy development, end-users tend to purchase vehicles from the most scaled and technologically advanced local OEMs, rather than choosing the more famous FC integrators in the first place.
In addition, in case the FCRD/FCTS partnership doesn't go smoothly, Toyota, along with its traditional JV partners FAW and GAC, can still collect valuable on-road data for their own domestic production in the future (explained later).
Partnership with REFIRE
In 2019, besides SinoHytec, Toyota also partnered with REFIRE and Higer (a bus manufacturing in Jiangsu province), and ran a demonstration of 20 FC buses in Changshu, Jiangsu. In Nov 2021, Toyota has signed a new R&D partnership with REFIRE to co-develop a new FC system for heavy-duty trucks.
REFIRE has a wide range of business coverage including Jing-jin-ji, Yangtze River Delta (where it is headquartered) and Pearl River Delta regions. Before 2019, REFIRE was mainly a system integrator, relying on the Ballard 9SSL FC stack provided by SinoSynergy-Ballard. Starting from 2020, REFIRE has also become an independent graphite stack manufacturer with its new FC system targeting at medium/heavy-duty applications.

Fig 3: REFIRE's business territory
Source: REFIRE's IPO prospectus
Unlike SinoHytec is currently focusing on FC buses, REFIRE currently focuses on medium to heavy-duty FC trucks, which helps Toyota penetrate this new market. In addition to the large market share that REFIRE owns, in 2019, SinoPec acquired 18% shares of REFIRE, and became the biggest shareholder besides its CEO. Supported by SinoPec, REFIRE was able to approach many new logistics customers in 2020 and 2021. Having the wide HRS infrastructure support can also help run demonstration projects smoothly. This may be another appealing factor for Toyota to partner with REFIRE.
Winter Olympics Demonstration
The upcoming 2022 Beijing Winter Olympics is a great opportunity to raise the brand awareness for Toyota. Toyota will be able to promote its FC technologies and FCEVs nation-wide or run further demonstrations even after the Olympics is over. In addition, Beijing and Hebei Province has made large investments in hydrogen economy. We expect the FCEV demand will continue to increase in Jing-jin-ji area.
For the demonstration, Toyota has also introduced new vehicle types. In April 2021, Sichuan FAW Toyota Coaster have declared two versions-FC bus and FC wheelchair accessible vehicle (seating capacity=7). In October, a total of 140 Mirai cars passed the Dalian customs and arrived in China. On the top of the SinoHytec-Foton buses, 3 types of vehicles will also serve for the Olympics.

Fig 4: Coaster FC wheelchair accessible vehicle
Source: Toyota's official website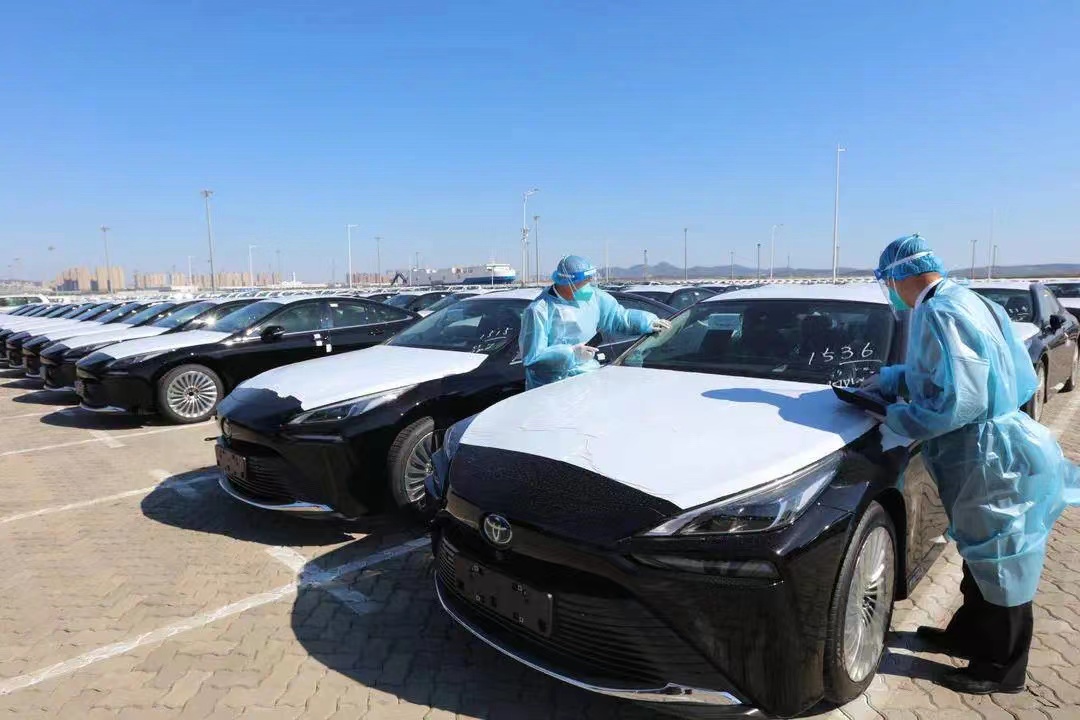 Fig 5: Mirai FC passenger vehicle
Source: Toyota's official website
As this type of small bus/wheelchair accessible vehicles/passenger merely has any market in China right now, we assume that the purpose of the demonstration was just to raise the brand awareness. At least we may tell that even if the partnership with SinoHytec doesn't last long, Toyota is still capable of manufacturing FCEVs by themselves through their traditional JV partners.
Toyota's Strategy Overview
Currently Toyota is mainly acting as a stack provider. It is actively collaborating with top OEMs and SIs to test out the performance of Mirai stack on various commercial vehicles and gain the on-road data of its stack performance. It will run demonstrations with SinoHytec through Winter Olympics with FC buses and passenger vehicles to gain more domestic exposure as the first step, and let the traditional JV partners to participate in the demonstration to learn more about the operational models, marketing strategies, etc.
In the medium to long-term, we suspect that Toyota will focus on more the heavy-duty truck market, which is more suitable for the adoption of FC metal stacks. As the domestic FC market gets more mature, given that many companies have basic strategy of the domestication of FC metal stacks (including both SinoHytec and REFIRE, which are also independently developing metal stacks with domestic partners), there is a potential risk of breaking up the current partnerships with Toyota. To further ensure the dominant position of FC metal stack market, Toyota may transit the focus and become the domestic OEM themselves.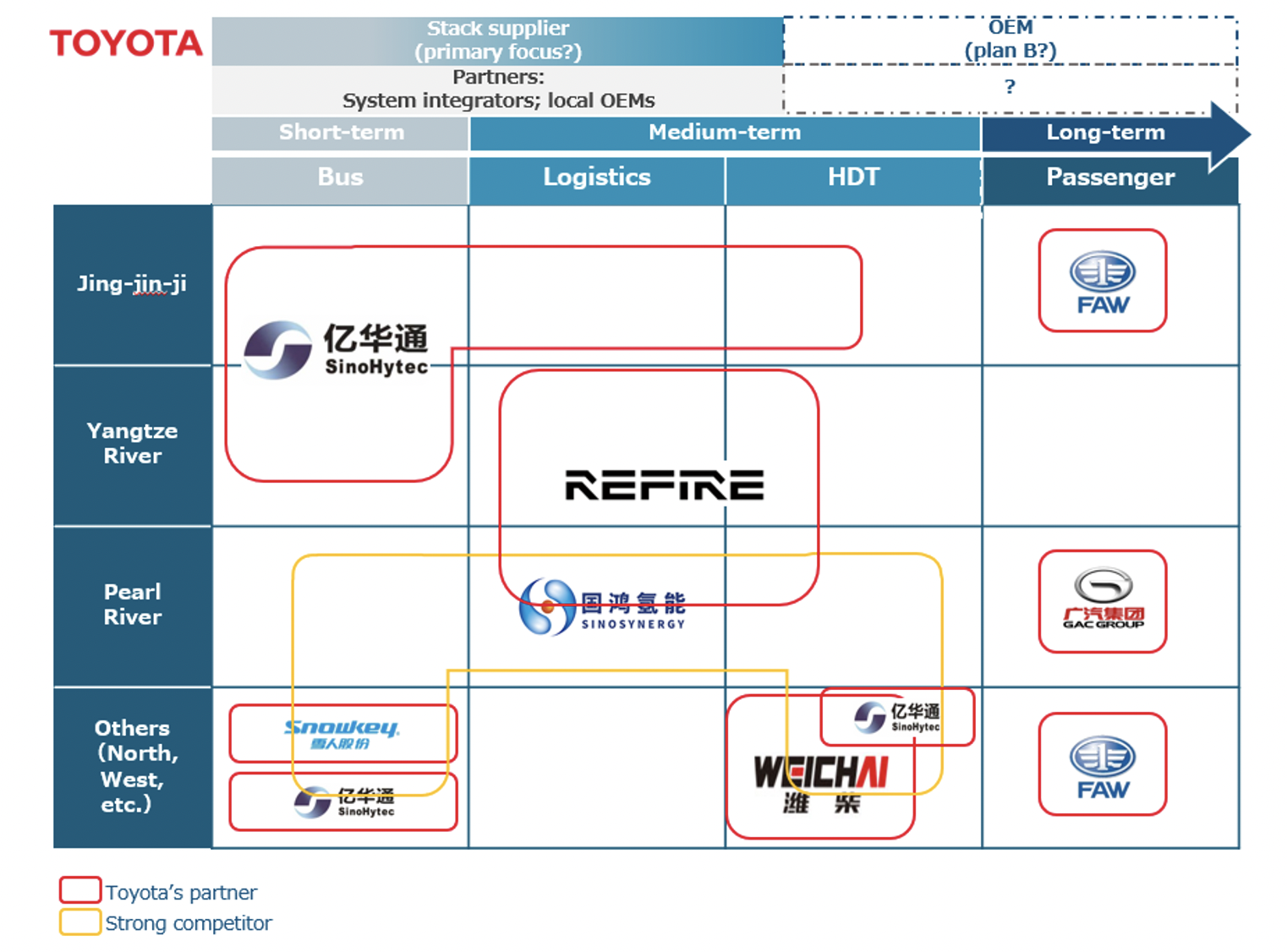 Fig 6: Toyota Market Entry Layout
Source: Summarized by Integral
Toyota's Strategy Analysis:
As shown in Fig 6, each one of Toyota's local SIs covers a different business region, with a focus on different types of vehicles as well. With these partnerships, Toyota can quickly penetrate various market and raise the brand awareness.

Toyota has limited commercial vehicle experience in China. By collaborating with local OEMs, Toyota can quickly gather the on-road driving data and develop the next generation stack which better suits commercial vehicles, or further develop their own vehicles.

There is an uncertainly of how long the partnerships with domestic SIs will last, due the domestication strategy of metal FC stack/system in China, especially since SinoHytec and REFIRE are already self-developing metal stacks now. We suspect that Toyota holds a back-up option to manufacture FCEVs with the traditional JV partners, in case the current partnerships collapse. In either way, the collaboration experience in the early stage with SIs and OEMs will be valuable for Toyota. As both GAC and FAW are already the partners in FCRD, Toyota can still utilize their customer network to further expand the market.
*For reference, in this article
【
Go-to-market strategy of foreign FC makers in China
】
, we have also introduced 4 major ways of entering a foreign market: export, collaboration with local partners, founding a joint-venture company with local partners, and founding a local subsidiary.
We welcome your comments and questions regarding this article! Please fill in the comments below.