Key Insights on Hydrogen Fuel Cell Heavy Trucking in China
Author

Introduction
Although hydrogen fuel cell is just starting to compete against batteries as a clean powertrain, its potential in heavy-duty segment is widely acknowledged in the industry.
Triggered by subsidy policies, China has witnessed an overwhelming force of fuel cell heavy-duty trucks (HDTs) from 2020 onwards.
OEMs, suppliers, and governments alike are working together for new vehicle models and technology verification in various application scenarios.
With a focus on HDTs in China, this article firstly uncovers reasons for current market prosperity by evaluating the technical fitness and the policy guidance (see also our latest report "FC Commercial Vehicles in China 2021" and "2021 Hydrogen and Fuel Cell Industry in China"

). The discussion is followed by a review of market trend summarized from relevant projects and concludes with an assessment of important issues yet to overcome.
1. Key Drivers for Popularity
1.1 Heavy trucking is the ideal sector to be powered by hydrogen
1) The replacement of traditional fuel in heavy-duty segment could significantly reduce GHG emissions and ease air pollutions.
The whole electrification process was designed to make the transportation systems greener. While among all vehicle models, heavy-duty trucks are one of the biggest contributors of the carbon footprint and pollutants. According to China Mobile Source Environment Management Annual Report (2020)
, despite the small population (~5% of total sales), diesel trucks contribute to 78% of NOx and 89.9% of PM emissions among all vehicle population
1
in China, especially in areas such as ports, industrial parks with dense heavy truck population.
2) Hydrogen fuel cell vehicles outperform battery electric vehicles for long-haul, and heavy-load transportation.
Traditionally, heavy-duty trucks are equipped with diesel internal combustion technology, which has proven to fulfill customer's requirements after a century of development. Thus, alternative low-carbon technologies must also meet the same performance standards.
Range and refueling needs: usually the productive operation of HDTs require long-distance transportation with as few stops as possible. Currently, the driving mileage of diesel HDT fleets exceeds 1,000 km on a single fueling, which takes less than 5 minutes to complete.
Hydrogen fuel cell, in this case, has more edges on batteries to fulfill the requirements. Thanks to on-board hydrogen storage, they have a much longer driving mileage,
which requires fewer stops on long routes to improve operational efficiency. For example, the Nikola Two vehicle models have a mileage of 750-1200 km with 60-80 kg on-board hydrogen storage2. While for electric vehicles with payload similar to diesel trucks, they can drive no more than 200 to 250 km with fully charged batteries. Moreover, battery electric trucks need to be charging for hours, while the fueling of FC trucks just takes less than 20 minutes.
Payload capacity: due to the limited energy density, extending the mileages would mean much heavier powertrain system for BEVs. SinoLink's study shows that in order to increase 100 km mileage, 800kg weight would be added for BEVs, while less than 200kg are added for FECVs3. In this case, BEVs are faced with more severe cargo loss, an essential issue for heavy-duty trucks as its business is highly dependent on cargo transportation.
1.2 Current policy preference fuels this sector with new momentum
Despite the technical fitness of fuel cell in HDTs, the market in China was previously occupied by fuel cell city buses or regional logistic vehicles (see Figure 1). Fuel cell heavy trucks don't receive much attention until the new subsidy policy
4
was announced in 2020, by five key government ministries to guide the industry. The policy is meant to support FCEV demonstration applications in key city clusters, while each vehicle type is given different requirements and criteria for subsidy allocation (see Figure 2)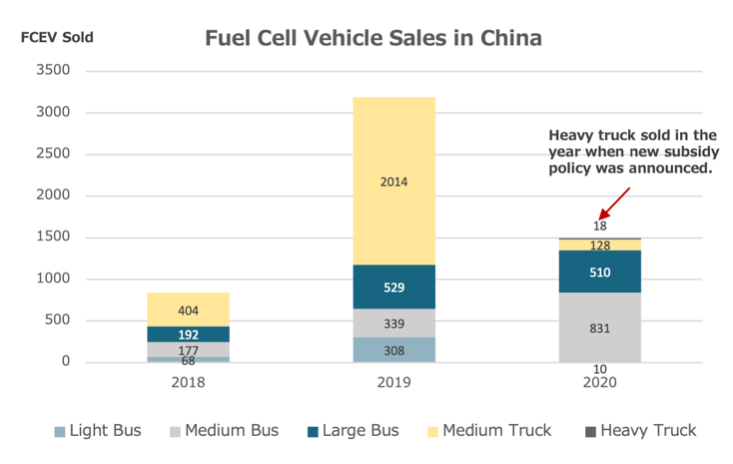 Figure 1. Fuel Cell Vehicle Sales in China
1) Newly released subsidy favors high-power and heavy-duty trucks
Heavy trucks enjoy higher maximum subsidies than passenger vehicles or small-to-medium commercial vehicles. Moreover, additional bonus is available for freight vehicles which are higher than 80kW, and heavier than 12 tons (more subsidies are given to heavier total mass). With financial support, the HDT segment is expected to increase its scale in the policy demonstration period (2020-2023).

Figure 2. Subsidy Snapshot for Related Vehicle Types
2) Vehicle models in 2021 are highly aligned with subsidy policies
The new subsidy policy receives fast industry response. This article compares models registered in the NEV recommended catelogue5 before and after subsidies (see Figure 3). As an officially published document in China, this catalogue frequently publishes latest vehicle models of major OEMs to show the market trend. Here the 2020 vs 2021 comparison shows a 75% increase in rated power for truck segment and emergence of more models with higher total mass. Heavy trucks get more momentum than large buses, mostly due to the additional financial bonus they could receive.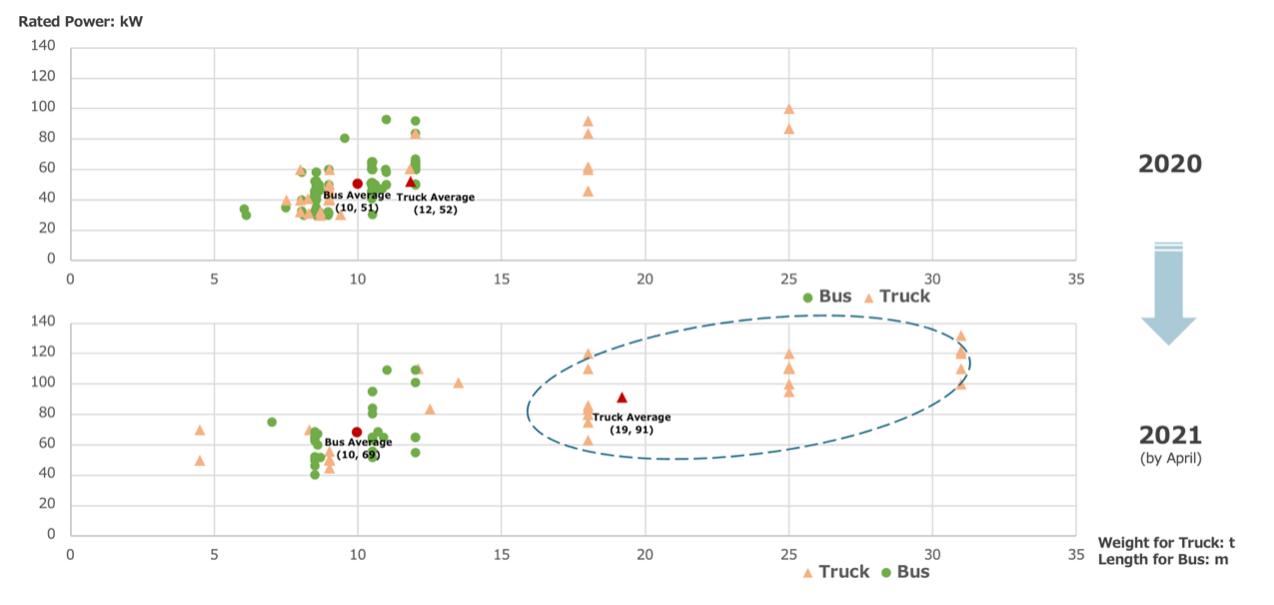 Figure 3. 2020 vs 2021 comparison for vehicle models in the NEV recommended catalogue
A closer look of 2021 vehicle models (see Figure 4) shows that heavy-duty commercial vehicles actually make up the majority in 2021's recommended catalogue. Most vehicle models are over 50kW to be qualified for subsidies, and there shows a clear trend towards 110kW for heavy-duty trucks to receive the maximum subsidies.

Figure 4. Vehicle models in 2021 NEV recommended catalogue
2. Market Updates
While players are accelerating their market entry into this segment, they could be categorized into three types: Stack/system suppliers, Vehicle manufacturers, and HDT customers. Currently, almost all major heavy-duty truck OEMs have entered fuel cell industry (see our report FC Large Commercial Vehicle Major OEMs in China (2021) ), based on their traditional business segment. They are usually tightly connected with their fuel cell suppliers, with latter either as their subsidiaries (e.g., SAIC, SHPT; Weichai; Feichi, SinoSynergy), or as their strategic partners (Foton, SinoHytec).
Current projects for fuel cell HDT manifest three main application scenarios, which differ in customer, promotion difficulty and market potential etc. (see overview in Figure 5).
Public services: Fuel cell heavy-duty trucks could be used for sanitation (sweepers, sprinklers, garbage & dust suppression trucks) or urban construction (muck & mixer trucks), usually with fixed routes, slow speed, and short daily operating mileages.

In most cases, these vehicles are manufactured by OEMs specialized in sanitation or machinery vehicles and sold to government agencies or state-owned enterprises. Its use in public sector lowers the promotion difficulty and makes it an ideal application scenario for HDT to begin with. Yet it might also be constrained by public budget, especially when faced with BEV competition.
Enclosed areas: Fuel cell HDTs could be used in enclosed areas, e.g., harbors, industrial parks/factories, (coal) mines etc., which has lower demands on refueling infrastructure.

The vehicle operation would firstly serve enterprises in the field of port logistics, steel, mining etc. Those customers are equipped with heavy-duty fleets for transportation in the first place, which could be transformed into FC fleets more easily, especially in the face of emission pressures. Also, some of them (e.g., coal, steel companies) have by-product hydrogen resources to power their vehicles and create a closed loop. Emerging orders from this scenario to some extend mark the beginning of commercialization, as 2B customers run vehicles not only for demonstration, but also for profitable business operation, which makes more sense for its large-scale adoption.
Mid/long-distance transportation: Since FCEV have longer mileages than BEV, it has advantages in this application scenario. However, the efficient operation needs to be supported by enough refueling stations across cities or provinces, which requires time for construction and makes it a rather mid to long-term option. Current available projects are limited compared with other scenarios, usually in regions where the hydrogen corridors is under construction (e.g., Yangtze River Delta or Sichuan-Chongqing).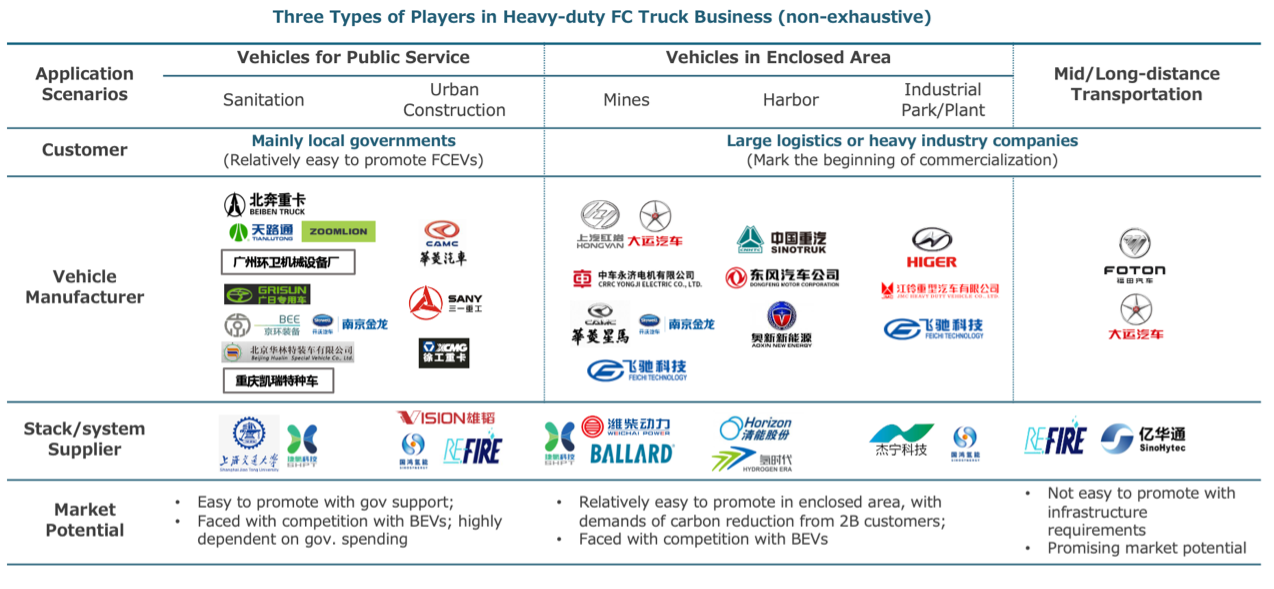 Figure 5. Application Scenarios and Player Overview
3. Important Issues
Along with the uptake of fuel cell HDTs, technical and economic issues must be addressed to make full use of this opportunity in China.
3.1 Technology
Unlike passenger vehicles, heavy trucks are used for pulling heavier payload, travelling long distance in continuous operation. This working feature requires higher amounts of power and torque, longer durability, and higher efficiency of fuel cell systems, as well as more advanced storage technology.
System power and durability are two main areas which lag behind in China to meet the performance standards. Currently, the average fuel cell system ranges from 30 to 60 kW, and its lifetime is roughly 10,000 hours. According to the NEV roadmap 2.0, China's target by 2030/35 would be rated power over 180kW, and durability over 30,000 hours6, which are more comparable to traditional ICEs. The roadmap mentioned here is formulated by a cohort of industry professionals designated by government to provide guidance. Given that most targets are realized in the roadmap 1.0, the goal in roadmap 2.0 could somehow provide a reference for future prospects.
Mileages around 500km currently cannot benchmark ICEs for long-distance transportation. More efficient on-board hydrogen storage methods are developed, either by increasing the pressure from 35MPa to 70MPa, changing from gaseous to liquid hydrogen, or developing new materials such as Type IV tanks.
35MPa Type III tanks are now widely applied in China's FCEV segment, while 70MPa ones are under test validation for future application. On the contrary, Type IV tank represents more advanced technology, with higher storage capacity, lower weight & cost, and longer lifetime/cycles, which makes it a promising technology for HDTs. Some companies in China have initiated product R&D, sometimes in cooperation with international players.
Liquid hydrogen, with higher storage capacity, could effectively increase the driving mileages. However, its development is constrained by other regulatory factors, e.g., when liquid hydrogen could be transported for civil use or by the inadequate national standards available.
3.2 Economy
With maximum subsidies, it's possible for FC HDT to compete against similar diesel trucks in terms of the cost, especially in regions with abundant hydrogen resources and favorable policy support (see Figure 6).

Figure 6. Economic competitiveness provided by the subsidies
The comparable cost in the policy demonstration period could effectively drive up the vehicle population. The increased scale would further drive cost down, as current FCEV market is very limited. Another driver is the increase in domestic components supply. New technology improvements are expected in the field of core materials in GDL, catalyst, or PEM for further cost reduction. By 2030/35, One million FCEVs deployment is expected in China estimated by the roadmap, while the heavy-duty trucks' costs are continuously reduced to benchmark ICEs by then. If 25% of the market share7 is assumed, the market potential in heavy-duty segment would amount to 250,000 vehicles.
Conclusion
Due to its massive emissions, revolutionizing heavy-duty segment with clean technology has strategic meanings for China to achieve its carbon neutrality goal. Thanks to the policy guidance, hydrogen has just taken off in the heavy-duty segment, with application projects firstly for urban services and heavy-industry customers, while in the long run switching to long-distance transportation. However, despite the seemingly promising technology, hurdles still remain in the process of commercialization. For vehicle itself, competition from battery swapping technology might offset fuel cell's charging and range advantages. While for the hydrogen supply, accumulated cost in the process leaves hydrogen no advantages over traditional fuel, and methods for cost reduction remain blurred. To make hydrogen the viable option for heavy-duty segment, there's still a long way to go.
For more insights on this issue, please see our report
1. China Mobile Source Environment Management Annual Report (2020)
2. Nikola. The case for HD fuel cell and large scale hydrogen roll-out
3. SinoLink Securities. 2020.11 When will fuel cell reach comparable cost: A two-stage growth model driven by policy & cost
4. MIIT 2020.9 Notice on the Development of Fuel Cell Vehicle Demonstration Applications
5. MIIT. The Catalogue of Recommended Models for New Energy Vehicle Promotion and Application 新能源汽车推广应用推荐车型目录
6.
China Society of Automotive Engineers. Technology Roadmap for Energy Saving and New Energy Vehicles 2.0 节能与新能源汽车技术路线图2.0
7. China EV100 China's hydrogen industry development report 2020
We welcome your comments and questions regarding this article! Please fill in the comments below.