【Navigating opportunity in the China stationary fuel cell market】
Author

Introduction
In 2020, Meijin Hydrogen Technology Park (also known as Hydrogen Energy Town) officially put into construction. Initiated by one of the largest coal producers in China—Meijin Energy—the Hydrogen Energy Town is deployed with a comprehensive hydrogen value chain with over RMB 11 billion investment. Likewise, the inflow of substantial investment has spread over the industry across China, under which a newly introduced segment—stationary fuel cell—is attracting diverse forces to conduct local market deployment. Thus, this article will explore four potential opportunities in the current market settings, and in response, we will disclose the efforts that industry stakeholders are devoting.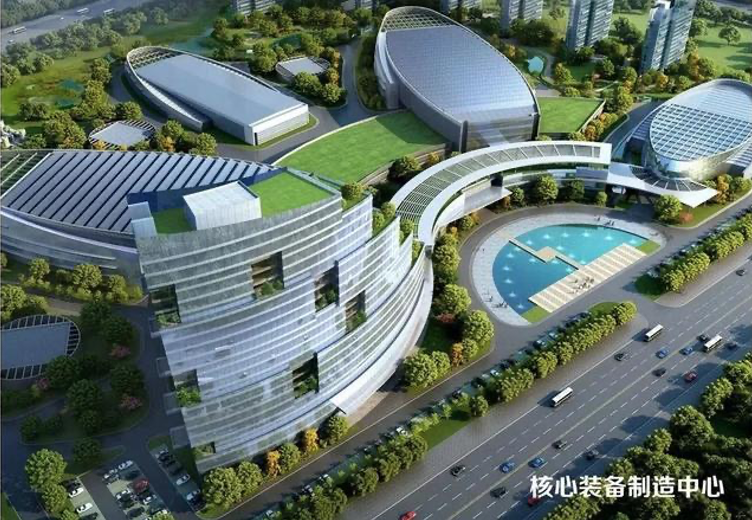 Design Sketch of Meijin Hydrogen Technology Park
Opportunities in stationary fuel cell application
Fuel cell in stationary sector is often used as a backup power, stand-alone power plant for city or rural areas, distributed generation for buildings, and co-generation (in which excess thermal energy from electricity generation is used for heat). At the same time, China, with the notion to achieve carbon neutral and strongly promote renewable energy (RE) production, the use of fuel cell to manage RE generation and reduce its curtailment is also taken on the table For further information regarding curtailed RE, please refer to [What is next for China's hydrogen supply chain (1) --- Production]. Therefore, we have concluded four potential opportunities in the current China market settings (Figure 2).
Power to Gas (P2G): the centralized power generation from renewable energy where hydrogen is produced from surplus electricity via water electrolysis. As an exciting prospect for future power generation, fuel cell will be utilized for power balance management of RE to regulate its instability during generation.
​
The advantages of hydrogen production from renewable energy are two-fold. On the one hand, with the large-scale promotion of renewable energy, the price of electricity will be significantly reduced, which in reverse can deduct the cost of hydrogen production. On the other hand, hydrogen production from renewable energy is conducive to clean energy consumption, which renewable energy (e.g., curtailed wind and PV power) can be stored in the form of hydrogen to solve the large-scale seasonal imbalance of power supply & demand and help the peak shaving issue of renewable power systems.
Hydrogen Industrial Park: the most recent practice in China held by industry partners as demonstration projects to promote hydrogen fuel cell and its applications, where fuel cell is one of the ideal choices for power balance management of RE in case of onsite power generation and as the supplementary power source of grid (Figure 1).
Figure 1: Role of stationary fuel cell in hydrogen industrial park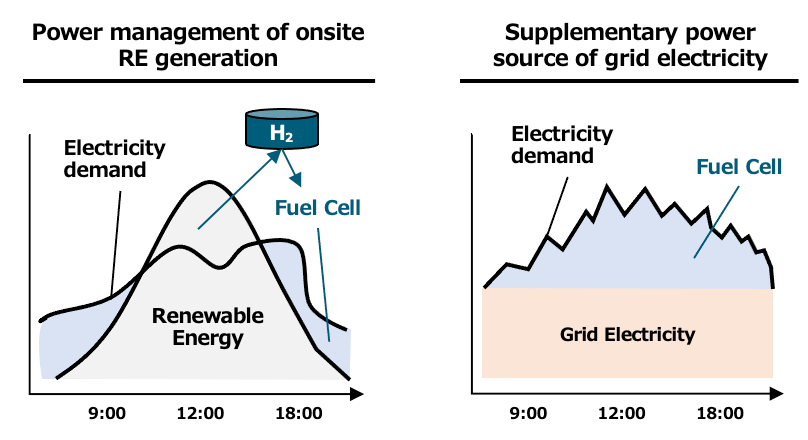 Source: INTEGRAL analysis
Microgrid: a decentralized, small-scale, local energy system that can disconnect from the traditional utility grid and operate independently where is best served by local energy sources. Microgrid is estimated to meet with the future market demand in China and can be applied for rural industrial clusters that have enormous and volatile electricity demand.
Isolated island: an unstable and inconsistent electricity supply environment which requires a stable power source for demand side's operation. For example, hotel facilities on isolated islands, or mining areas on mountains. Fuel cell, therefore, can contribute to a consistent power supply unit to guarantee a stable power source.
Figure 2: Four stationary fuel cell market opportunities in China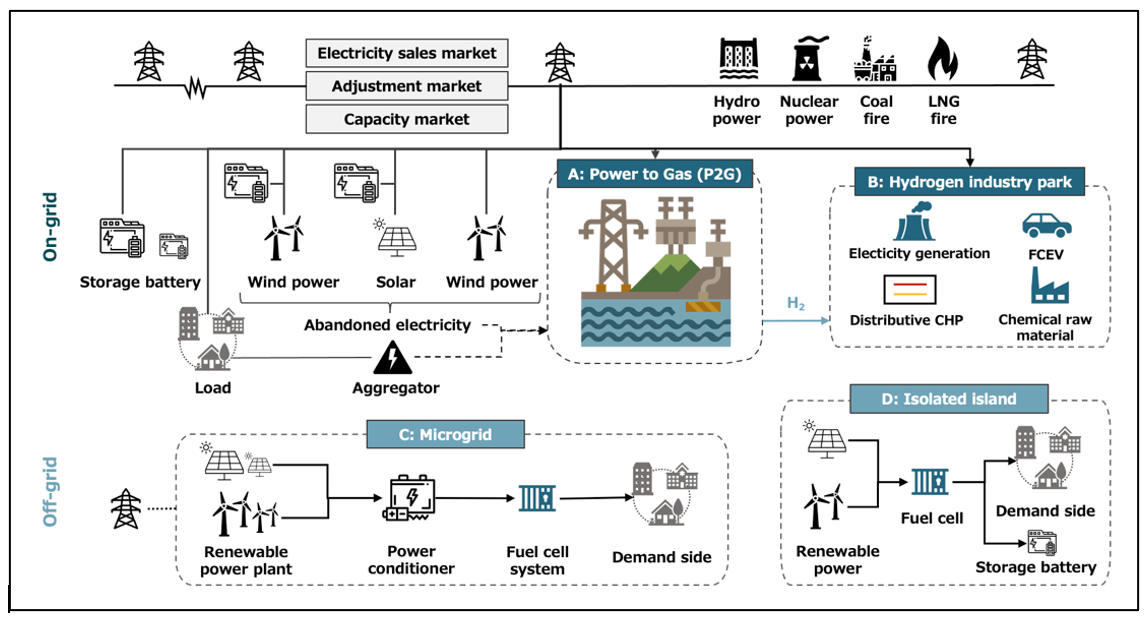 Source: INTEGRAL analysis
Shaping the four practices of fuel cell player
Under the four stationary fuel cell applications, since 2019, Japanese players become one of the major forces to shape the stationary market and started to forerun in the China hydrogen business layout. To put that into perspective, four practices are commonly placed a bet during business expansion.
Figure 3: Business layout of stationary fuel cell in China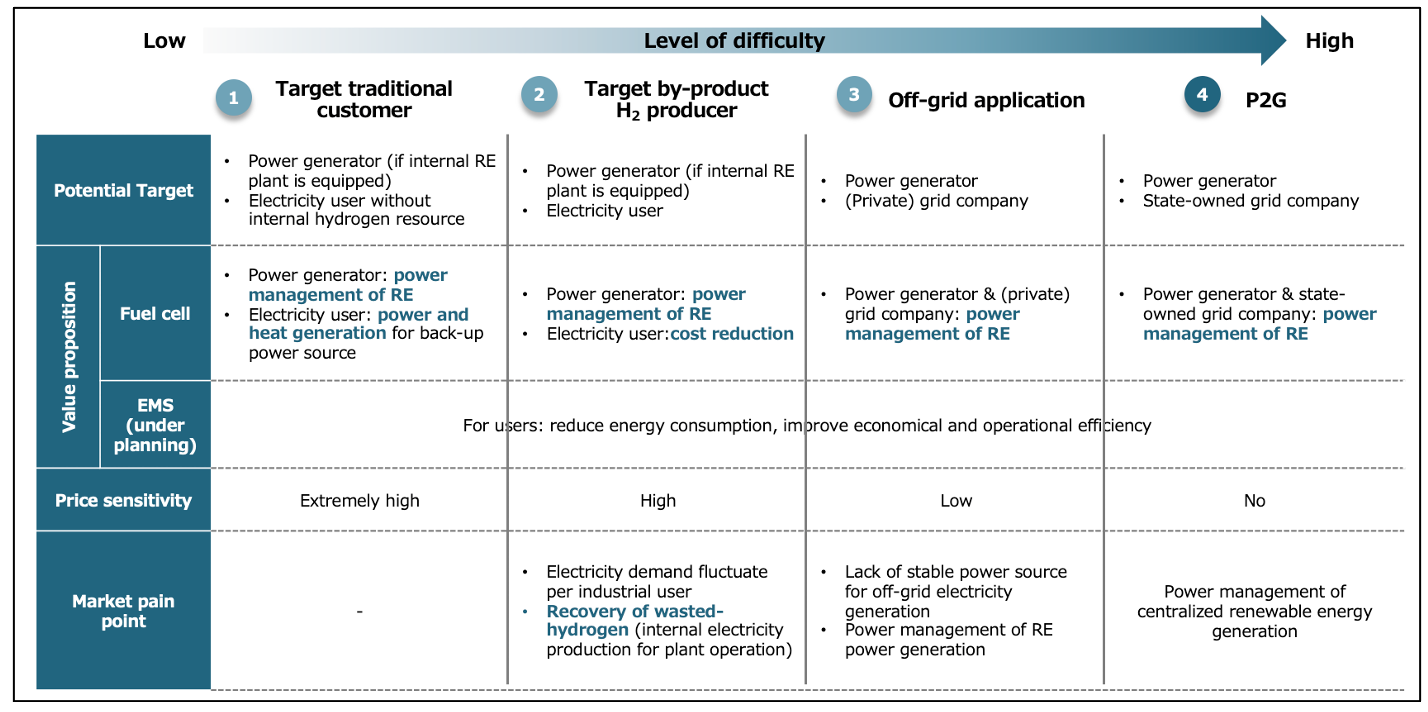 Source: INTEGRAL analysis
Endless effort: traditional customer segment
It is the broadest customer target segment which covers from household, commercial building to production factory, where fuel cell is positioned with two roles—first, in the context of electricity users such as household and commercial buildings, fuel cell is majorly employed for electricity and heat co-generation, acting as the back-up power during electricity outage. Second, it can also be applied on the power balance management of renewable energy if the RE generation plant is equipped within the factory.
On the other hand, although the traditional segment has a diverse customer base, still, it is a market that constitutes high attractiveness for market entrant but very limited magnetism for customer. From end-users' point of view, the current fuel cell product does not contribute to a strong sense of economy which the price of grid electricity is already cheap enough for daily operation. Nevertheless, the market is budding due to the effort of demonstration projects held in hydrogen industrial park, where according to INTEGRAL's analysis, 64MW of stationary fuel cells are expected to be installed by 2023 in response to reduce carbon emission and promote hydrogen application. Therefore, we expect the traditional customer segment would be mature in the long run following the development and maturity of the next three markets. So that the cost of hydrogen and fuel cell will be reduced while hydrogen will become commodity and show significant economy for household and business sector.
Forthwith approach: target by-product hydrogen producer
By-product hydrogen producer is the new target derived from common customer segment and owns generous by-product hydrogen resource, which the employment of wasted hydrogen should show significant advantage in economy and cost reduction. For instance, in 2019, one of the major hydrogen sources—caustic soda—reached a production quantity of 34.6 million tons in a year, generating about 870,000 tons of by-product hydrogen1. Excluding those for self-use, around 30% was directly wasted, and theoretically speaking, these wasted by-product hydrogen can supply for 1 million fuel cell vehicles.
As such, fuel cell will be positioned with two roles—first, performing as a power balance management tool for internal renewable energy production if installed; second, fuel cell will be responsible for cost reduction of by-product hydrogen producers, that is, to recover wasted hydrogen that can be utilized for internal electricity generation. Thus, in order to capture the market share, one prospective solution is to target and partner with by-product H2 producer to provide a comprehensive solution in energy management and cost saving, so as to maximize fuel cell players' competitive advantage and fuel cell's value for by-product producers.
Forthwith approach: off-grid application
Off-grid application is the emerging market in recent years due to the arisen of 5G and the need to guarantee a stable power supply in remote areas of China, where often own certain number but unexploited renewable energy source. With the intention to provide a stable power source for large-size electricity consumption sectors (e.g., 5G communication base or hospital facilities in rural areas), the utilization of local RE is already on the table. However, large fluctuation is the attribute but also the major pain point of RE production, fuel cell hereby, is consumed by power generator and grid company (including non-state-owned microgrid carrier) with the roles of two: 1) power balance management of RE production; 2)
power source of consumption sector. However, methanol is currently employed as the alternative fuel rather than hydrogen due to its high stability and strong density. For example, Toshiba, a Japanese stationary fuel cell manufacturer, collaborates with More Hydrogen (a Chinese local DMFC manufacturers) as the first step to deploy in the Chinese stationary fuel cell market which supplies DMFC as a power source for 5G communication base and rural microgrid projects.
The path forward: Power to Gas (P2G)

Power to Gas (P2G) is a long-term promising sector while China devotes endless efforts in reducing CO2 emissions. It has been conducted in various large-scale demonstration projects in the country, showing great momentum especially in recent two years which thirty-three P2G programs have been implemented. For example, the first wind to hydrogen production demo was put into operation in Hebei Province since 2019 which consists of a 200MW wind power plant and a 10MW water electrolysis H2 production system. Likewise, the demonstrations of P2G are widely held in Ningxia, Shanxi, Inner Mongolia, etc.
According to INTEGRAL analysis, in 2020, the hydrogen production potential from using curtailed renewable power has reached 912k tons/year, which is expected to grow till 4 million tons/year by 2030. Therefore, the prominent future of P2G reveals a significant market opportunity for stationary fuel cell—as one of the ideal solutions in power balance management to work towards RE curtailment issue. On the other hand, the implementation of P2G also requires an intelligent system to handle massive and complex data inflow to better monitor, predict, and regulate the imbalance between power supply and demand. For example, in 2020, Toshiba successfully constructed one of the largest P2G system in Fukushima, Japan, where a comprehensive solution (including supply and demand prediction) is adopted for large-size data processing and management (Figure 4).
Therefore, for industry players and those who have strong intention to enter, transitioning from a product supplier to a comprehensive solution provider will greatly add to its competitive advantage in the stationary fuel cell market.
Figure 4: Large-scale P2G system composition by Toshiba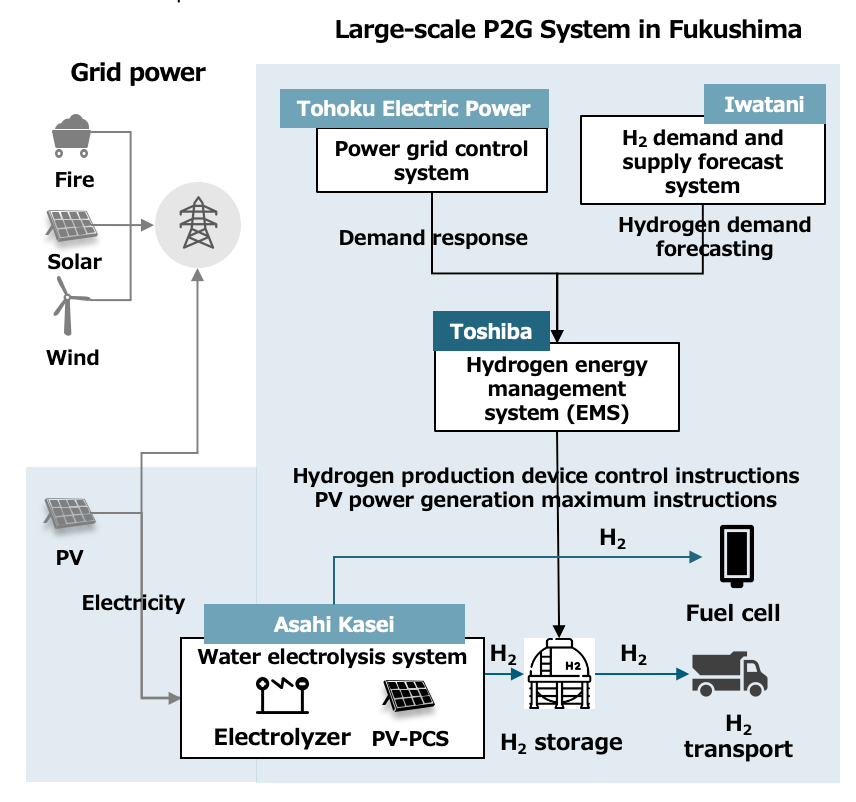 Source: INTEGRAL analysis
Conclusion
Although stationary fuel cell is a newly introduced market in China, it has attracted numerous Chinese and international players to enter. To remain competitive in the market, several fuel cell players have determined to deploy in the diverse market application and product portfolio. On the other hand, long-time market players who transit from a product supplier to a solution provider are endorsed in order to protect their core business while looking for opportunities to expand.
1. 前瞻数据库:2019年中国制盐行业市场分析:原盐产量突破6000万吨 烧碱产量将近3500万吨
Should you have further questions about hydrogen and related topics, please feel free to drop us an email at
info@integral.net.cn
.
We welcome your comments and questions regarding this article! Please fill in the comments below.