【

Smart Grid, A Game Changer

】

On July 21, China's largest-scale smart grid project was launched in Qingdao, Shandong. A world with smart grid is approaching, but how is it going to turn over the game of power industry?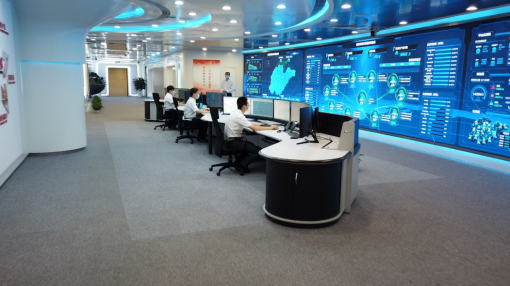 (A picture of Qingdao Smart Grid Control Center)
In this article, we are talking about the emerging smart grid and China's roadmap in reshaping the energy world.
【Summary】
In the future, a strong smart grid can help to tackle issues like power curtailment and power imbalance in China, and furthermore prepare for an inter-continental Global Energy Internet.
Smart grid will grow mature as ultra-high voltage (UHV) power transmission networks are well-developed and information communication technology (ICT) are advanced in the 5G era.
China has developed smart grid as a key national infrastructure in the past decade to promote renewable energy consumption and increase energy efficiency of power grid.
Smart Grid refers to a modern power grid integrated with advanced sensor, ICT, and automatic control technology (Fig1). It is connected to various power generation bases and large-scale UHV power transmission networks to meet power supply development and diversified user demands, thereby enabling the vision of building Energy Internet across China and the world.
Fig1. Smart Grid Vision in China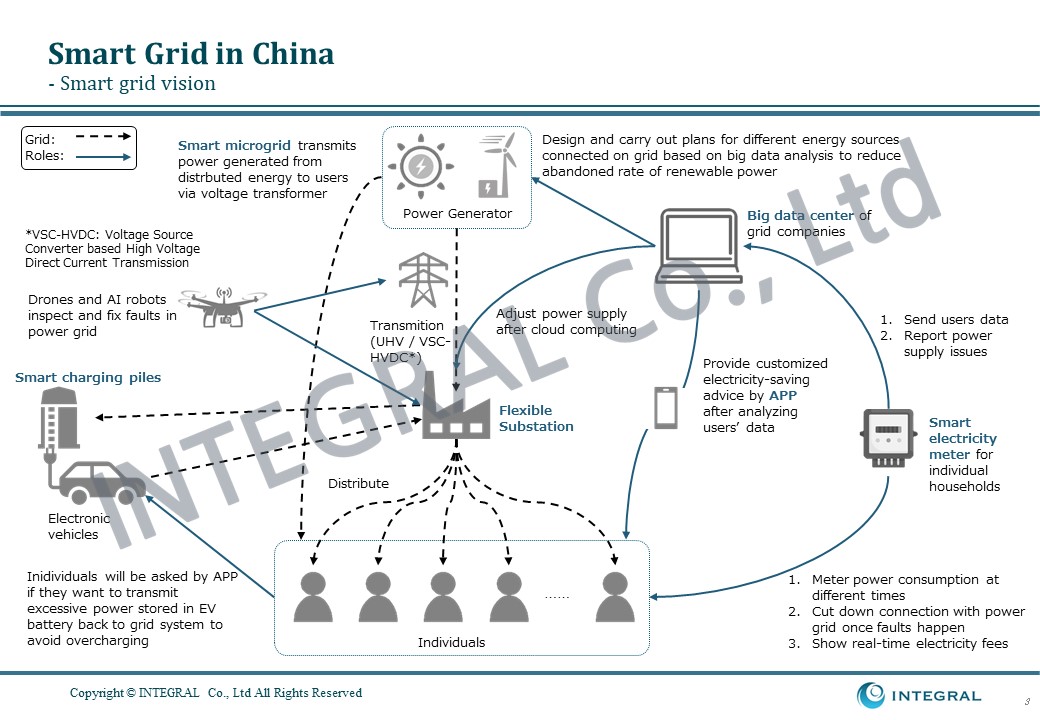 Reference: INTEGRAL. 2020.06.15.
For downloading our research report about Smart Grid in China, please click here
【Insight】
We anticipate that smart grid is a game-changer to the power industry in China and more broadly, the whole energy industry worldwide.
In the short-to-mid-term, UHV transmission networks and hydrogen transport/storage combined serve as solutions to power imbalance and power curtailment of renewable energy.
In China, power imbalance remains the top issue to address in the power industry. Renewable energy and other natural sources for power generation largely concentrate on the north and west areas of China, whereas local end-users cannot consume all power generated, resulted in curtailed power. A different story happens in east and south China. The majority of population live in south and east China so power demand loads in these areas are comparatively higher than north and west regions. However, a lack of natural resources causes that power generated locally is insufficient for end-users' consumption demands. Thus, without cross-regional transmission networks, power generated in north and west China would be curtailed while end-users living in south and east China would suffer from undersupplied situations. The invention of UHV transmission networks, to a great extent, resolves such power imbalance issue simultaneously facilitates renewable energy consumption. In fact, the average curtailment rate of renewable power significantly improved since the installation of these high voltage power transmission (Fig 2) From 2020 onward, the newly implemented policy
Guarantee mechanism of renewable energy consumption
(可再生能源电力消纳保障机制) further guarantees the share of renewable energy in total power consumption. [
What is Green Certificate in China? Does it lead to new opportunity?
]
Fig2. Wind and Solar Curtailment Rate in China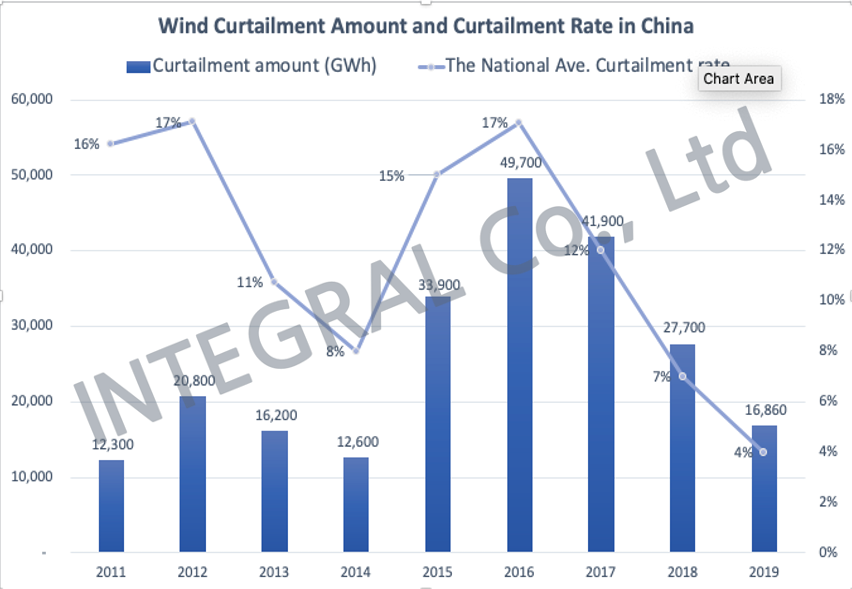 References: 国家能源局. 2011-2019年国家能源局中国弃风数据统计.
References: (1)国家重大技术装备网. 2016-06-02. 2015年我国"弃光率"12.6% 全额保障收购办法出台. (2) 搜狐网. 2018-01-24. 国家能源局:2017年弃光率6%,同比下降4.3个百分点;弃风电量和弃风率实现"双降". (3) 国家能源局. 2020-02-28. 2019年光伏发电并网运行情况.
By transmitting power across regions, UHV networks not only promote the consumption of renewable power in west and north China but meet high power demands in east and south China. More importantly, as technology advances, the low loss rate of UHV networks (e.g. 1.5%/1000 km) increase the cost-efficiency of power transmission business. Less power is wasted during the transmission link and more power can be consumed on the demand side. This new solution seems to appear as a competitor to hydrogen transportation business. However, some limitations of UHV need to be noticed are that
UHV cannot cover every corner of China due to geographical conditions
and
UHV cannot store power that is overly generated by renewable energy
. In this case, as energy carrier, hydrogen can transport curtailed power in areas where UHV infrastructure is underdeveloped. Assumingly, UHV is well-developed nationwide (Fig 3), hydrogen can also be used for on-site power storage before power is sent to the national grid or before power is consumed on demand side. The over-generated power can be converted into hydrogen via water electrolysis, which further reduces the likability of power curtailment. Also, hydrogen can again be converted into power during peak-time of power demand (
Four reasons why China promotes hydrogen energy (Part 1)
).
Fig 3. UHV networks in China and hydrogen production potential from curtailed renewable power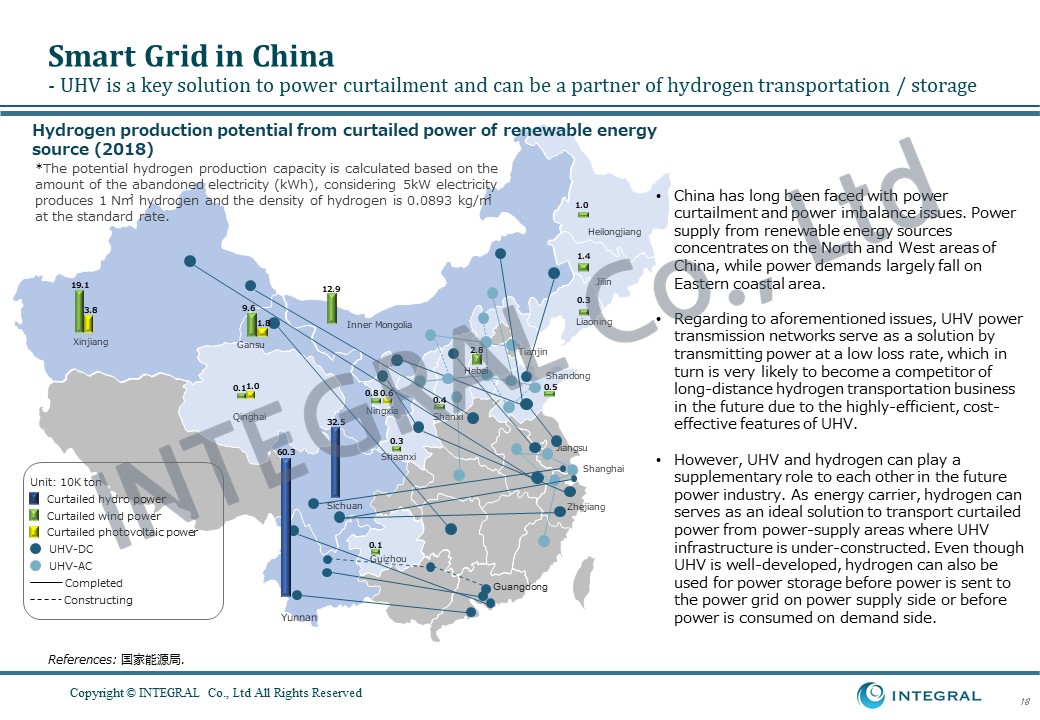 On the terminal side, smart electricity meters contribute to the advancement of intelligent and energy-efficient facilities. For example, the concept of green building (Fig 4) has gained its popularity in China recently due to global warming issue. The number of approved green building projects is over 14,000 by the end of 2018. The application of smart electricity meters can help building operators themselves better grasp the energy consumption of buildings thanks to customized data analysis provided on the APP (e.g. SGCC Online, please see below for detailed explanations). Furthermore, operators are able to optimize consumption plans by using consultation services on the APP. In turn, in case of green buildings equipped with distributed generators, such as rooftop solar panels or small-scale wind turbines, smart electricity meters can meter power generation amount. If smart meters detected that power generated outweighed power consumed by the building, the APP would remind operators and ask if they want to sell surplus power generated to grid companies to avoid power curtailment. In the future, with clicks of buttons, operators of green buildings could achieve cost-effective and energy-efficient building management, and even increase revenue through selling power.
Fig 4. Concept of Green building in China
References: INTEGRAL
In the mid-term, smart grid can facilitate power market transaction, particularly in distributed markets and spot markets. As discussed, smart meters can realize power sales business of distributed generators installed in green buildings. Likewise, other distributed generators can easily sell their power to grid companies or neighboring end-users in distributed markets with the help of smart meters. Moreover, in future power markets, when smart grid automized power dispatch process based on big data analysis, transaction period would be shortened and more power business opportunities for different market players would be created. In China, power market transaction is currently regulated by governments to avoid power oversupply and undersupply. Particularly, the volatility of renewable energy leads to fluctuating power supply, which further causes power imbalance during unexpected times. To tackle this issue, the government has initiated spot markets for short-term power balance and now eight pilot markets are in operation (Inner Mongolia, Shanxi, Gansu, Shandong, Sichuan, Zhejiang, Fujian and Guangdong). As smart grid simplifies and accelerates transaction, more enterprises and even individuals are able to join spot markets.
In the long term, smart grid lays the foundation for Global Energy Internet. To address global energy crisis and global warming issue, the concept of global energy internet was brought up by the Chinese President Xi in 2015 and was incorporated into the UN Global Environmental Governance Framework in 2019. Global Energy Internet is an interconnected modern energy system with three key components, that is, smart grid, UHV transmission networks and clean energy. The vision is "nine horizontal and nine vertical" (Fig 5) Global Energy Internet backbone network connecting five main continents with the transmission capacity of 1.25 TW (shown as below). In this prospect, smart grid is critical to the construction of the world's first energy internet purely based on clean energy sources.
Fig 5. Vision of Global Energy Internet
References: Global Energy Interconnection Development and Cooperation Organization official website
In the future world with Global Energy Internet, China's major role is assumed to be a green electricity supplier for countries with insufficient renewable energy sources, as well as a UHV and smart grid supplier for countries without advanced technologies. The general power supply and demand situation in China is oversupplied, which indicates that China has a huge potential of supplying electricity worldwide. Yet, to achieve this goal, China needs a cost-effective deliverer (UHV transmission networks) and an advanced energy management system (smart grid). Now, UHV networks and smart grid are under development and prove to be successful in China. As technologies become advanced, China is very likely to sell electricity and power-related technologies to other countries.
Nonetheless, there are some hindrances to China's energy blueprint. It can be assumed that China's power businesses would face similar difficulties as 5G global businesses. Firstly, energy safety and cyber safety are two key concerns of every country. Governments are unwilling to give up their control over domestic power supply and count on other countries, needless to say a smart energy system that can create potential threats to national cyber safety. Secondly, the idea of building a Global Energy Internet across different countries requires inter-governmental negotiation and agreement, which is difficult to achieve under the circumstances of anti-globalization trend.
In short, through UHV and ICT, smart grid makes it possible that long-distance power transmission and flexible power dispatch, which would rewrite power market transaction rules in China. In the long run, smart grid holds out the prospect of Global Energy Internet that can turn China into a supplier of green electricity and power-related technologies.
【Key technologies of smart grid in China】
Ultra-High-Voltage (UHV) transmission networks:
UHV transmission networks refer to a power transmission technology of 1000 kV AC, ± 800 kV DC and above. Comparing with original projects, UHV transmission capacity is 2 or 3 times higher, the operational reliability can be increased by 8 times, and the cost per unit of capacity can reduce by 28%. (Fig 6) State Grid (SGCC) and China Southern Power Grid (CSPG) are the only 2 players in UHV investment and construction, in which SGCC has contributed for 22 UHV networks with a total capacity of 1500 TWh so far.
Fig 6 Overview of UHV network in China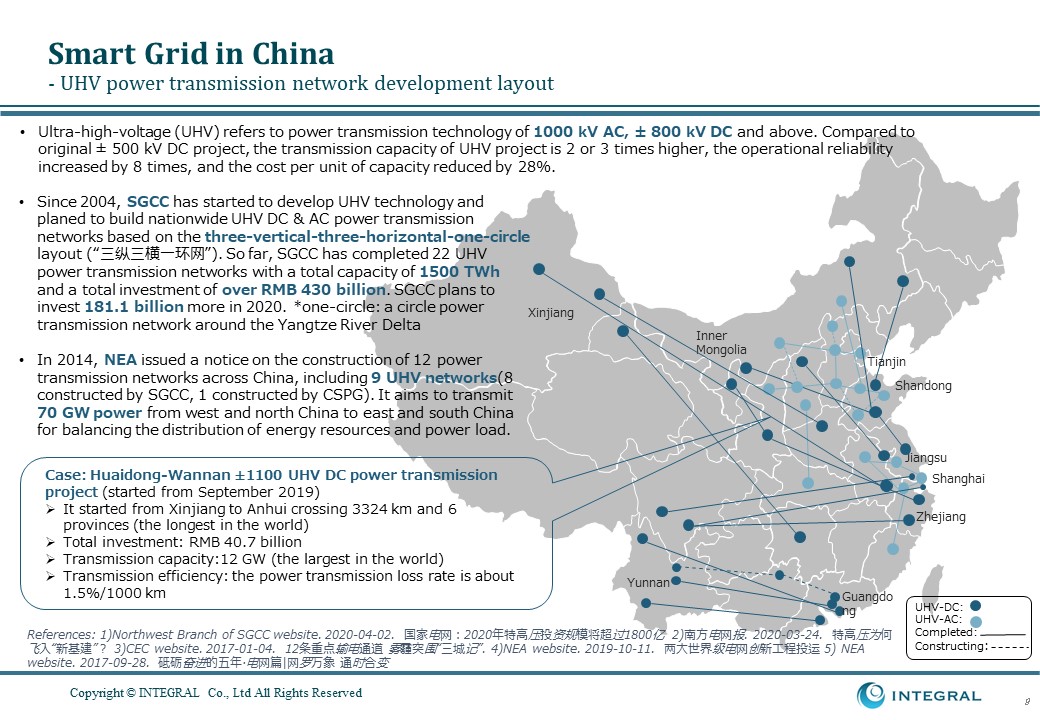 UHV case example: Huaidong-Wannan ±1100 UHV DC power transmission project
The project started from Xinjiang to Anhui back in September 2019, crossing 6 provinces of 3324 km across China, being the longest transmission project in the world. A total number of RMB 40.7 billion was invested, achieving the highest transmission capacity of 12 GW in the world and the power transmission loss rate of around 1.5%/1000 km.
The project is considered as a breakthrough in technologies with regard to direct current (DC) transmission voltage increased from ±800 to ±1100 kV, the transmission capacity increased from 6.4 to 12 GW, the transmission distance increased to 3000-5000 km, and most importantly the transmission loss rate per 1000 km decreased to about 1.5%, further improving the transmission efficiency and saving valuable land resources.
Reference: NEA. 2019-10-11. 两大世界级电网创新工程投运.
[http://www.nea.gov.cn/2019-10/11/c_138464003.htm]
Smart Electricity Meter
Smart electricity meter is the key data-collection component of smart grid that serves as a bridge-connecting end-users and power distribution networks. By 2019, SGCC has covered 99.57% of its service areas with a total installation number of around 470 million. Likewise, CSPG has covered around 100% of its service areas. China shows a significant success in smart meter popularity, while in the UK, the governmental energy regulator named 'Ofgem', postponed the target of achieving 85% of installation in service areas by December 2024. Likewise, in the U.S., only 57.87% of the smart meter installations were applied by 2018, although it is projected to increase to more than 80% by the end of 2024.
Main functions include:
Electric power metering
Data collection and processing
Real-time monitoring
Automatic control
Information interaction between end users and substations
(Sample of Smart Electricity Meter)
Reference:
2. Ofgem (Office of Gas and Electricity Markets) [https://www.ofgem.gov.uk/system/files/docs/2019/10/statutory_consultation_on_the_post-2020_smart_meter_rollout_reporting_requirements_0.pdf]
SGCC Online 网上国网
SGCC Online is an app developed for individuals and commercial electricity users in 27 provinces and cities, which connects with smart electricity meters and provides corresponding analysis services to optimize users' electricity consumption. On the other hand, it offers solutions for household photovoltaic power generator in terms of consultation, application of installment, procurement, and etc.
The service section is composed of 5 using scenarios, i.e. household, store, electric vehicle, corporate, and new energy sector. For example, while in the household scenario, an individual can utilize the app to fulfil basic needs such as electricity bill payment along with specialized service such as consumption analysis and/or credit exchange. In addition, if individuals own an electric vehicle, they can count on the app to top up and locate charging stations. Overall, SGCC online aims to meet diversified user demands with comprehensive service providing.
【Government plans for smart grid development】
Smart grid development was started as a corporate approach of State Grid, later promoted as a national key strategy authorized by NEA and NDRC (Fig 7). By the end of 2020, the state has planned to invest accumulated 3.7 trillion RMB to construct a unified and strong smart grid.
Fig 7 Administration mechanism of Smart Grid in China
The 12th Five-Year Plan (2011-2015)
To create a better environment for the construction of smart grid, as well as energy development and supply, thus, the government plans to develop:
• UHV power transmission networks
• Smart electricity meters
• Smart charging facility
• Power dispatch ability and power supply stability
The 13th Five-Year Plan (2016-2020)
To construct a smart energy system and internet, the government indicates to:
• Coordinate the development of power supply, network, demand and storage (源-网-荷-储) to develop Energy Internet
• Promote the development of smart society
• Develop distributed energy and smart micro-grid
To sum up, Smart Grid is not a concept but emerging infrastructure in China. To understand smart grid in China is the key to gain an insight into future power industry. Recently, we published the report of
Smart Grid in China
,
, which can be downloaded for free by all viewers now as our promotion. If you have further questions about smart grid and related topics, please feel free to drop us an email at
info@integral.net.cn
.
We welcome your comments and questions regarding this article! Please fill in the comments below.