Visit to Refire ~The top FC system maker in China~
■Date: October 26, 2018 Category: FCV
Participants: NEDO, Shanghai Jiaotong University Fuel Cell Laboratory, Fuel Cell Development Information Center (FCDIC), INTEGRAL's CEO Nakanishi.
*The article was initially written in Japanese in Oct 31, 2018 and was translated.
In this article, we'd like to share our experience of visiting to
Refire
(上海重塑能源科技有限公司), which has a top share in the market of fuel cell systems for FCV in China. Refire is a young company founded in Shanghai Jiading District in 2015 by a young businessman,
Mr. Lin Qi
. In 2017, it delivered
500 FC transport vehicles to
Dongfeng Motor
, which was the largest contract in the Chinese FCV industry at that time. Also, in the same year, it established a production base for fuel cell systems in Yunfu City, Guangdong Province, with a production capacity of
20,000 units
per year.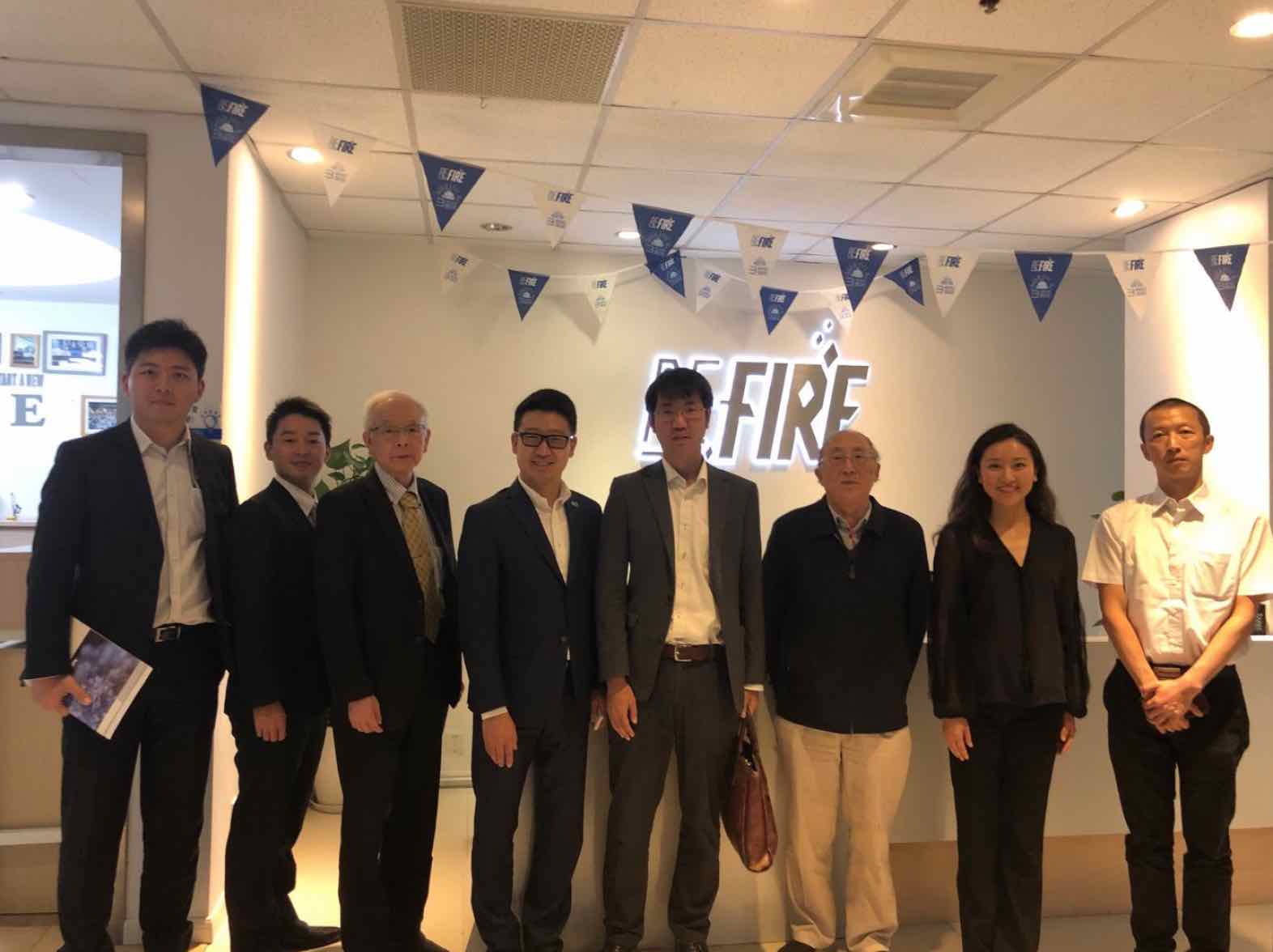 Photo 1. Photo with Refire. The fourth person from the left side is Mr. Lin.
One of Refire's strengths is using fuel cell stack designed by
Ballard
, Canadian fuel cell stack and MEA maker. It is said that the Ballard OEM fuel cell stack produced in Yunfu has the same or better quality than the stack produced by Ballard itself. It has developed various types of FC system, including "
Caven 3
" , with a rated output of 32kW for light commercial vehicles, "
Caven 4
", with a rated output of 46kW for medium commercial vehicles, and "
Caven 7
" , with a rated output of 80kW for heavy commercial vehicles.
Further more, these days, Refire

starts to launch new line of FC systems, called
PRISMA
series, for heavy commercial vehicles in 2020. For new FC systems, Reifire uses FC stack from
Shanghai Jihe hydrogen energy Co., Ltd
(上海骥翀氢能) that Refire invests in.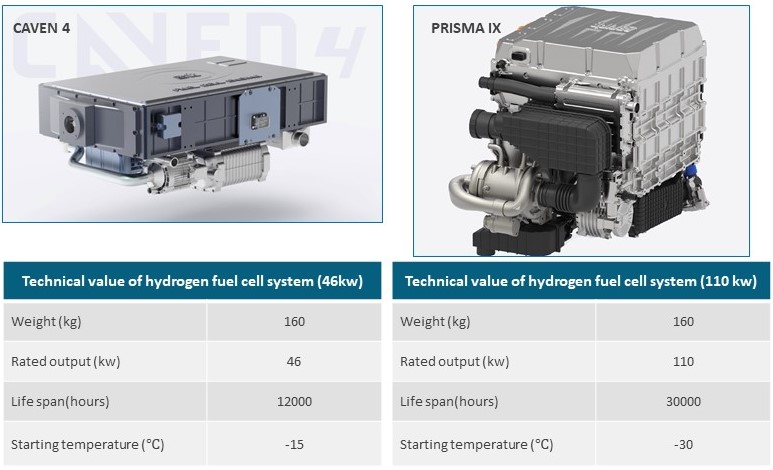 Figure 1. Refire's FC system
At this visit, Mr.Lin, the founder and CEO of Refire was present and participants freely asked questions on its business after a brief introduction on Refire by Miss.Ma Jingnan, General Manager of Business Development. The contents of the Q&A sessions are as follows.
Q1: Refire focuses on developing fuel cell systems for FC commercial vehicles. Do you plan to develop fuel cell systems for FC passenger vehicle?
"In short to medium term, we believes that we should focus on the commercial vehicle market. It is not clear that there is a big demand for FC systems for passenger vehicle in Chinese market today. However, in 2018, we delivered our fuel cell systems to two type of FC passenger cars, and we could consider the passenger car market in the future when the cost of fuel cell systems decrease and infrastructure such as hydrogen station is well-developed."
Q2: Refire's fuel cell system uses Ballard's fuel cell stack. Is there any possibility that Refire develop FC stack independently?
"So far, we don't have plans to develop FC stack independently. It is our top priority to reduce the cost of fuel cell system for a while, so we are currently looking for cheaper and high quality components, including stacks. We have adopted some parts made in Japan."
(*Later, Refire launched new line of FC systems called "PRISMA" that use stack from Shanghai Jihe hydrogen energy Co., Ltd ,which Refire invested in 2019, instead of Ballard.)
Q3: How much hydrogen is sold at a hydrogen station that Refire invests? What is the source of hydrogen?
"Considering the selling price of other hydrogen stations and the unit price per 1 km of gasoline-powered vehicles, we are currently selling it for
40 yuan per kilogram
. Yet, there is no government subsidy, so it is not profitable. Unless hydrogen stations increase, FCV will not increase, so someone has to invest in the development of hydrogen station. We call on the importance of hydrogen energy to local communities, governments and industry and invest in hydrogen station development proactively and independently, leading the spread of FCV.
Hydrogen is procured as by-product from gas produced by coal chemical plants. Although many people concern about its purity, our demonstration tests don't show any negative impacts of its by-product gas on our fuel cell systems."
Q4: Is Refire conducting basic research on fuel cells?
"We have our own R&D facility in Beijing. Rather than conducting basic research, we are developing there an operation monitoring and management platform using big data for fuel cell commercial vehicles. On this platform, administrators can check information such as running position, running distance, remaining amount of hydrogen, presence or absence of malfunctions, and details of malfunction information of FCVs in real time. What's more, it is possible to predict the time when a malfunction will occur by using big data. Accordingly, administrators can avoid unexpected stoppage of operation and perform timely maintenance. In Shanghai, we have our after-sales maintenance base, which has been in operation since the summer in 2018. Currently, the platform and service system have been highly appreciated by customers."
Q5: Does Refire have a plan to develop stationary fuel cells?
"We don't have such a plan at the moment. There are small stationary fuel cells for residential use and medium and large ones for power generation, but there is no market in China yet. Currently, there is no specific government support for stationary fuel cells, except for some national key research projects (, such as the 863 plan). Consequently, we consider it a medium- to long-term agenda."
Q6: Is Refire interested in business alliances with Japanese companies? If so, what areas does it have interests in?
"Of course, we have. Components made in Japan have good performance, and we are particularly interested in the cooperation in supply of parts for FC systems."
After the Q&A session, a tour of Jingyuan Road Hydrogen Staion, invested by Refire, was held.
Jingyuan road hydrogen station is located in Jiading district of Shanghai and has been operating since February 2018. The profit situation of hydrogen stations in China has been deficit as in Japan.
When visiting the hydrogen station, a medium-sized transport truck was seen filling with hydrogen. The filling time was about 3 minutes. The price is
40 yuan per kg
and during filling, the meter shows the filling amount and fee. According to Refire, some of
JD.com
's vehicles in Shanghai are also FCVs, demonstration of operation has started and they are charged at this station. The hydrogen high-pressure compressor is supplied by Chinese domestic manufacturer
Guofuhee
(国富氢能).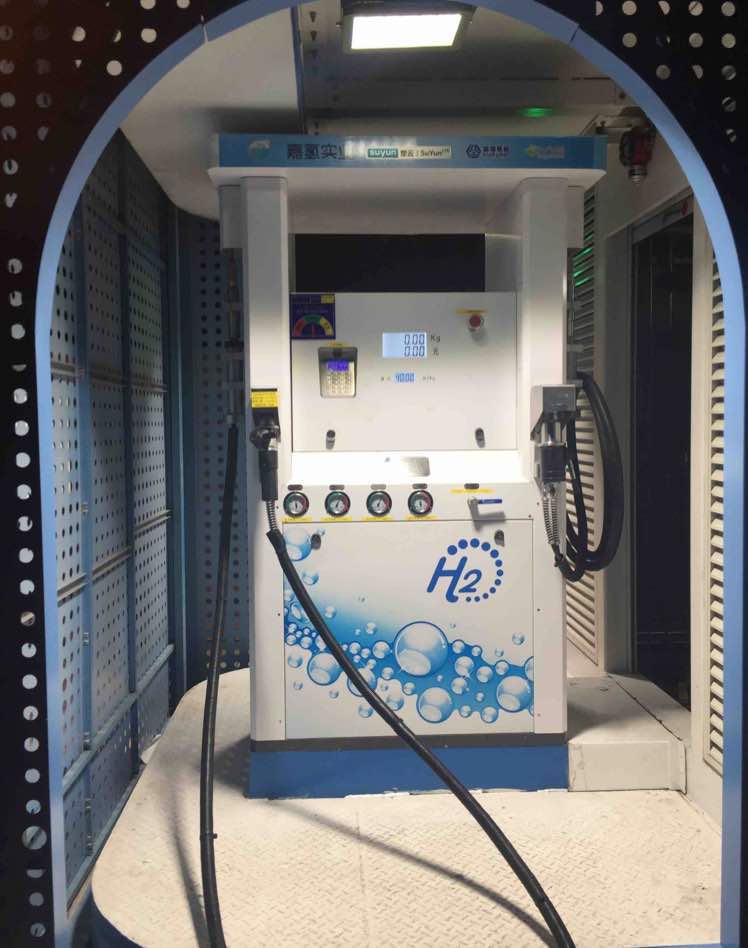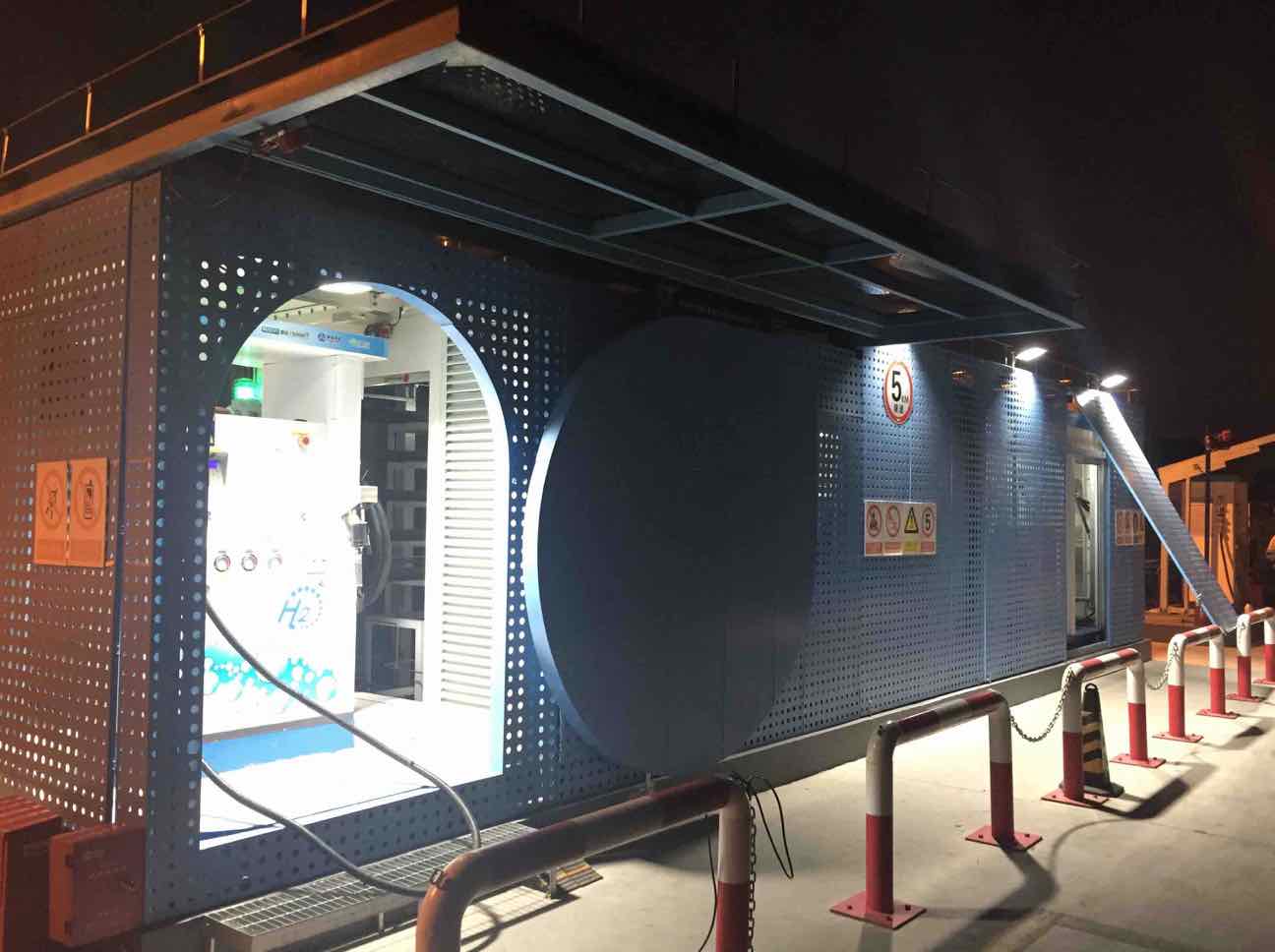 Phot 2&3. Compressor and dispenser at Jingyuan road hydrogen staiton

( Member registration is free. After registration, you can view and download reports in our
database
)