【

Mr. Wang Gang's speech about future trends in new energy vehicle subsidy policies and its implications

】

The automotive industry is undergoing unprecedented transformation towards greening, electrification, intellectualization, networking, and sharing around the globe, while China's EV industry is facing structural adjustment, which brings about tremendous change to the automotive market. In this context, it is of high concern to analyze and grasp the latest changes in the global automotive market and industry and explore industry policies and enterprise strategies tailored to current and future market changes.
On the basis of its previous five sessions, China EV100 Forum 2020 was held on 2020.1.10-12, elaborating on the theme of "Seize the Moment, Focus on Transformation and Lead Innovation" and invite representatives from relevant governmental departments, industry organizations and leading enterprises in the fields of automotive, energy, transportation, etc. to share insights on the transformation and innovation of automotive industry, enterprises and policies.
Among those government representatives, there are:
Wang Gang, Chinese expert on automobiles, former minister of MIIT until 2018. Vice Chairman of Chinese People's Political Consultative Conference, Chairman of the Chinese Association of Science and Technology
Miao Wei, minister of Ministry of Industry and Information Technology (MIIT)
Wang Menghui, Minister of Ministry of Housing and Urban-Rural Development (MOHURD)
Lin Nianxiu, deputy director of the National Development and Reform Commission (NDRC)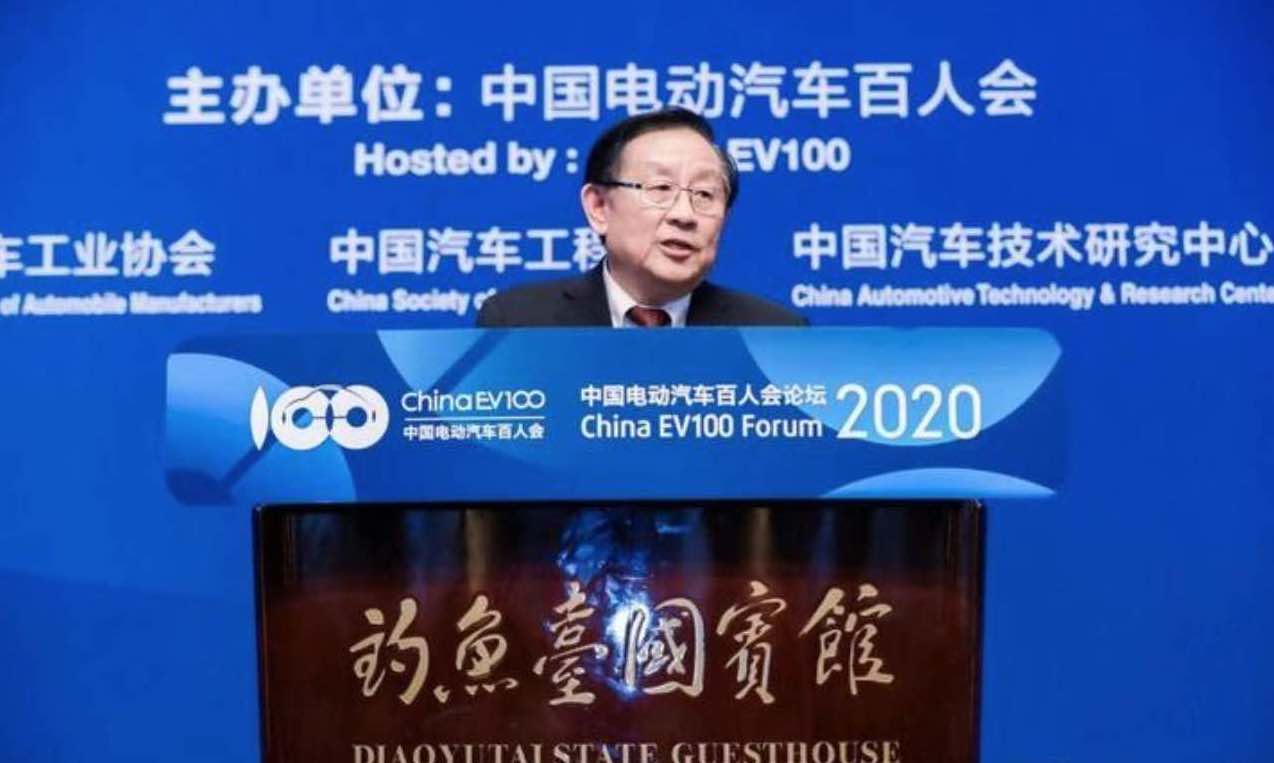 Picture: Mr. Wan Gang had a speech on the stage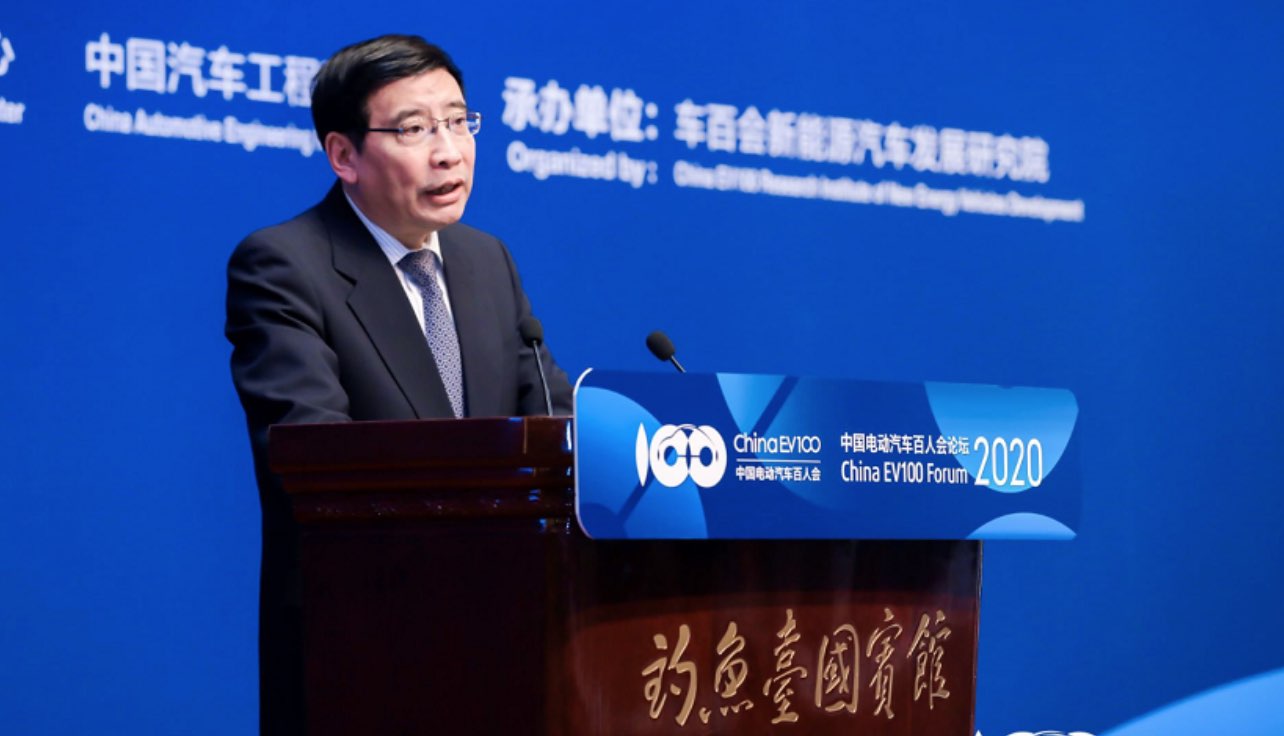 Picture: Mr. Miao Wei had a speech on the stage
The content of the conference can be summarized into the following trends:
a. Huge development space for China's auto market
According to Wan Gang's speech at EV100 forum, the market space for electrification in the fields of public transportation, cargo logistics and commercial operations is 0.5-0.9, 3-5, and 30-50 million vehicles, respectively. It is estimated that domestic new energy vehicle sales will reach 1.6 million units in 2020, with YoY over 30%.
Miao Wei, MIIT minister, pointed out that China's auto industry has entered a critical period of transforming development methods, optimizing industrial structure, and shifting from high-speed growth to high-quality development. The automobile market has gradually built up and stabilized. He gave the estimation that the production and sales may remain at 25 million vehicles for year 2020. With the continuous advancement of supply-side structural reforms and a more fair and open market, Miao believed that China will still be the world's largest automotive market and the industry's development prospects are still broad.
Author's Comment:
Auto sales in China slumped 8.2% to 25.8m vehicles last year, after a 2.8% fall to 28.1m in 2018, according to the China Association of Automobile Manufacturers (CAAM).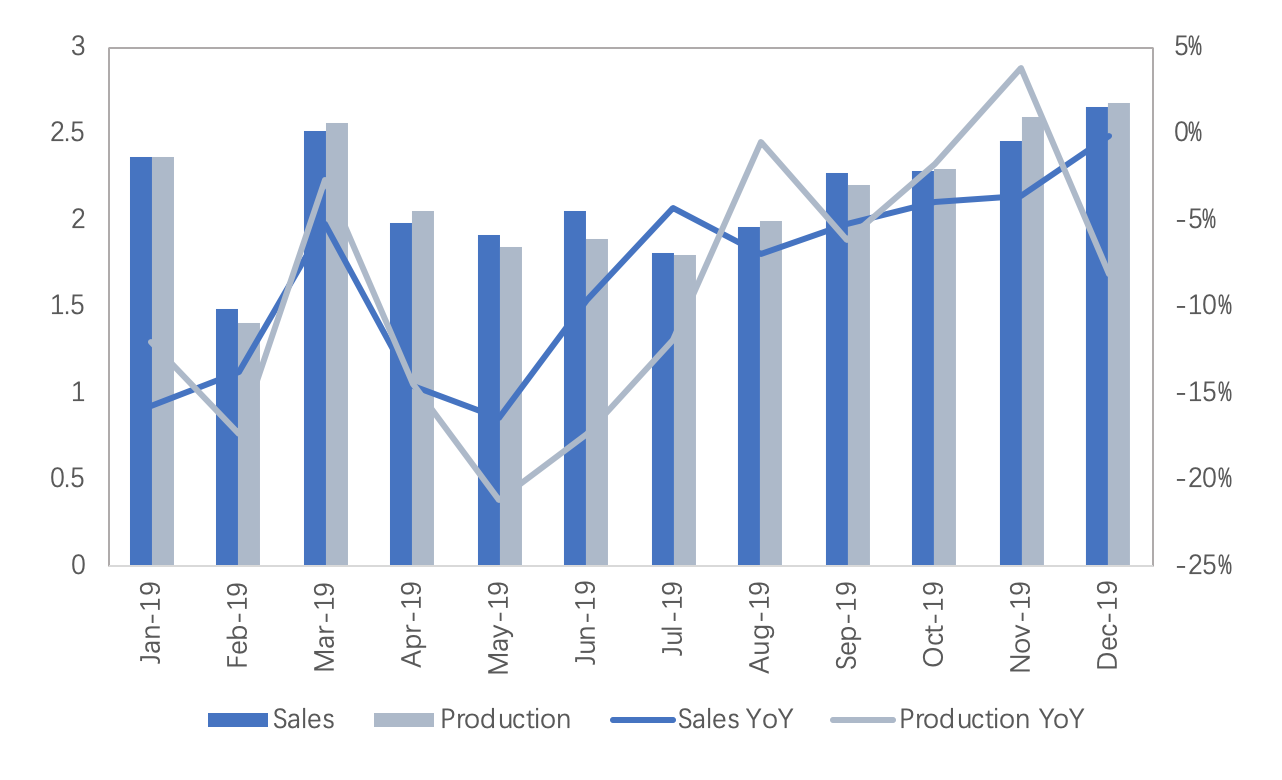 Domestic Production and Sales of automobiles in 2019 (Unit: million)
3 main factors might have contributed to the negative growth of domestic automotive market
(1) Macro-economic factors such as economic downturn pressure and external factors such as the trade friction.
(2) In the process of tightening emissions regulations, gaps in policy, markets and businesses have arisen, causing shortages of car models to meet new regulations and backlog of old unsold failing to meet new regulations.
(3) Impact on reducing subsidies for new energy vehicles, which resulted in the declining of NEV sales since July 2019.
b. Government's support for NEV development continued
In terms of top-level design, the "New Energy Vehicle Industry Development Plan (2021-2035)" solicited opinions and proposed that the sales of new energy vehicles accounted for 25% of total vehicle sales in 2025, guiding the long-term development of the industry.
Good news also came from other supportive policies:
(1) No sharp decrease of subsidy in 2020. Large possibility of keeping same level as before.
(2) Suggest the "Purchase Tax Exempt " prolonged until 2025.
(3) Optimization of Measures for the Parallel Administration of Corporate Average Fuel Consumption and New Energy Vehicle (NEV) Credits for China's Passenger Car enterprises, also known as "Dual-Credits" policy. The policy was solicited twice, and it is expected to be introduced in the near future. It is expected to relay the subsidy policy and establish a long-term industrial development mechanism.
(4) Suggest the loosening of traffic restriction of new energy vehicles.
(5) Suggest the "right -of- way" for new energy logistic vehicles.
Miao Wei said that this year's subsidy policy will remain relatively stable and there will not be further subsidy cut. Wan Gang, , also suggested that the existing financial subsidy policy for new energy vehicles should be stabilized by the end of 2020, and no new adjustments should be made to the technical indicators of the subsidized products, so that enterprises can invest more time and energy into the products planning and R&D work .
Author's Comment: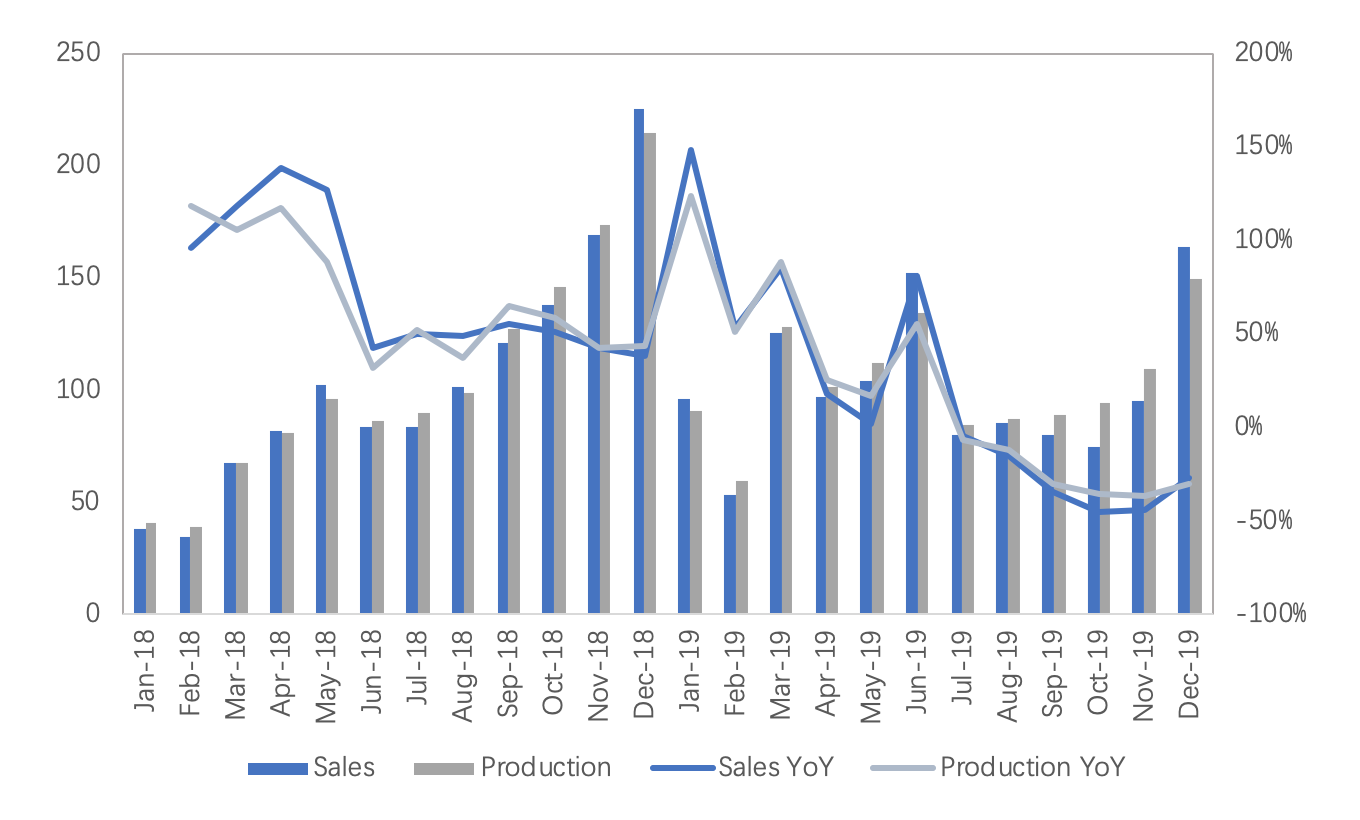 Domestic Production and Sales of NEV in 2019 (Unit: thousand)
New energy vehicle sales present obvious seasonality that the quantity in November and December makes the major contribution for the whole year. The NEV market is to a large extent influenced by government policy. Normally new version of policy will be announced in the beginning of new year with a certain transition period and is expected to be more strict than previous one. Most manufacturers would choose to sell/install ahead to benefit from a higher subsidy.
This dependence can be well observed from the sharp decrease of NEV sales in July, which is the end of the transition period of new-version subsidy policy, followed by the cancellation of subsidy at all local government level and tightening of technical requirements to obtain subsidies.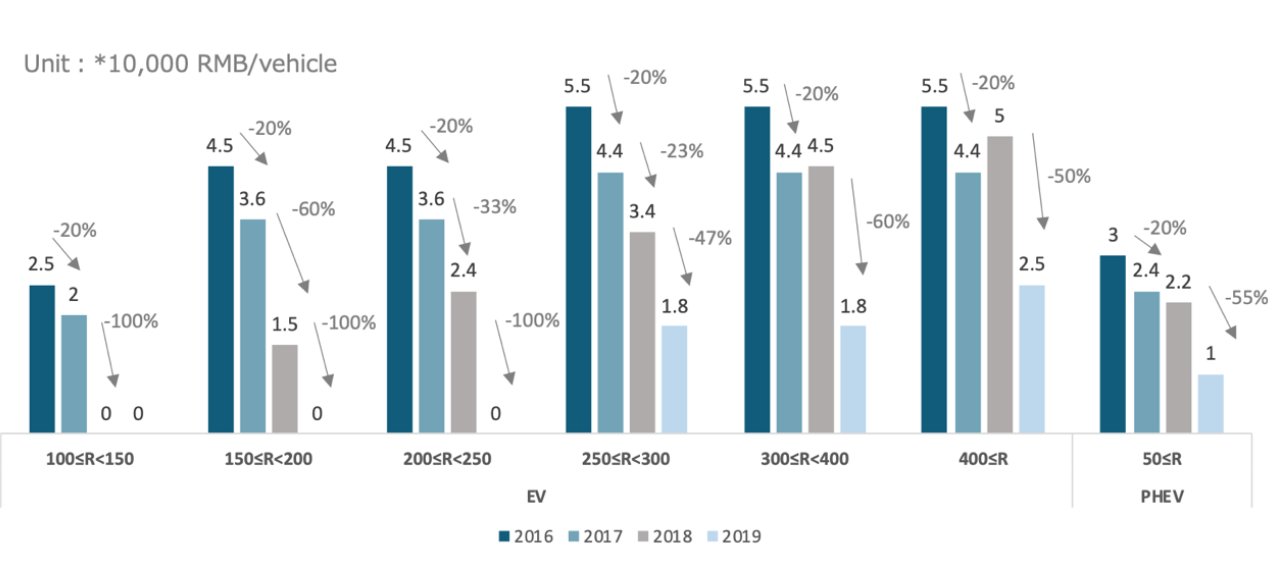 Different version of subsidy policy (example for new energy passenger vehicles)
Considering that the subsidy will not be further cut, NEV sales is expected to remain stable in the near future.
On the one hand, the government hopes that through the gradual reduction of subsidies, China's new energy vehicle development can evolve from policy-led market into a new market-oriented stage. At this new stage, The cut in NEV subsidies would reshape NEV industry, speeding up the market competition and promoting the improvement of technological standards to global levels as domestic automakers have to make efforts to reduce their reliance on subsidies and focus more on their products and cost control. According to Miao Wei, the quality of new energy vehicle products has improved significantly, and the cost of power battery systems has fallen below 1 RMB/Wh, which is 85% lower than in 2009.
On the other hand, excessive pursuit of subsidies will cause some companies to ignore the pursuit of other technical parameters (safety issue, inconsistent product quality, etc.) The market competition got more and more fierce and companies went into bankruptcy due to the rupture of capital chain, inappropriate technology roadmap or other reasons.
c. Coordinate and promote FCV development
In Wan Gang's speech, he suggested to promote the development of hydrogen energy and fuel cell industry from six aspects:
(1) Put the development into our national energy strategy system. It is crucial to clarify the position of hydrogen energy in the energy system, especially to develop a system that complements other renewable energy sources such as hydrogen energy, hydropower, wind power, and photovoltaic power.
(2) Innovation-driven strategy. By analyzing the shortcomings and competitive advantages of current industrial technologies, the basic research of fuel cells is expected to be strengthened.
(3) Speed ​​up the industrial layout and promote synergies along the value chain.
(4) Adhere to market-oriented strategy. Conduct pilot projects by selecting demonstration areas for the application such as logistics vehicles, heavy-duty trucks, inter-city long-distance buses.
(5) Standards first. The formulation of relevant standards for the hydrogen energy industry to ensure a consistent and safety hydrogen energy supply system is of paramount importance.
(6) Expand international cooperation. At present we have good communication in scientific research, and school-enterprise cooperation has entered a new stage. More substantial cooperation between enterprises is expected in the near future.
The importance of fuel cell and hydrogen technology
While generating renewable electricity is an important way to reduce carbon dioxide, one major drawback of these energy sources is their variability: the wind tends to blow intermittently, and solar power is only available during the daytime. Also, curtailment of renewable energy happens due to the imbalance between power supply and demand, difficulty in grid construction, operation and other factors, which reduced the expected output of generators that can be otherwise produced given available resources.
Under these circumstances, hydrogen are regarded as promising energy carrier for renewables: high energy density, emission-free, etc. and are thus essential for a better energy management. Excess electricity can be stored in form of hydrogen, and it can be transported and consumed via fuel cell power generation whenever and wherever it is needed.
While most of our other attentions have been put on the applications in the transportation field, namely, passenger vehicles, buses, heavy trucks, and special vehicles, hydrogen energy and fuel cells can actually be applied in much broader scope. For example, we have more than 100 communication base stations in Shanghai of which the backup power is provided by fuel cells. Fuel cells can also serve as power source for underwater transportation, emergency use in hospitals, etc. Therefore, the role of hydrogen energy development should be considered from the perspective of national energy strategy.
From laboratory to industrial scale, there's still long way to go
Just as the implementation of the "ten cities, one thousand new energy vehicles" in 2009 to develop new energy electric vehicles, hydrogen and fuel cell vehicles are as well in a very early development stage. Much concerns need to be tackled before scaling up. The core of basic research of fuel cell and hydrogen energy, for example, is seldomly derived by our own technology. The basic research capabilities are highly wanted for a more sustainable industry environment.
For another, lack of standards also poses barriers for the scale-up of hydrogen application. Since there hasn't been standards formulated for hydrogen liquification, long-distance transportation of liquified hydrogen is still an issue. However, long-distance transportation is inevitable now that the origin of liquified hydrogen are often distant (with the generation of renewable energy).
In addition, being dangerous chemical, the construction of hydrogen refueling stations is subject to restrictions. Currently, they can only be constructed inside chemical industry parks, which are mostly located outside the city. To further promote the large-scale application of fuel cell or hydrogen technology, convenient access to such supporting facilities as refueling stations is very important. Relevant technical requirements need to be standardized before these facilities go closer to potential end consumers.
Impact on the industry after the conference
Although the fuel cell vehicle subsidy policy was supposed to announce separately when the latest subsidy policy was introduced in March 2019, the new subsidy policy for fuel cell vehicles was not released until now.
Positive signals can still be inferred from Wan Gang's speech that hydrogen industry is still put in a strategic high level and that basic research capabilities are very wanted for a more sustainable industry environment.
Apart from research and development capabilities, factors such as hydrogen supply and the development of the hydrogen energy industry are essential for the large-scale development of fuel cell vehicles. Development of fuel cell and hydrogen energy in demonstration district with abundant hydrogen resource, relevant industrial partners as well as governmental fiscal support can be regarded as a smart move.
Although the national-level subsidy policies for hydrogen energy have not yet been issued, local government can still continue supporting its development. According to the latest subsidy policy, local government subsidy for new energy vehicles other than fuel cell vehicles will be cancelled after the transition period.
Another reason why local government are generally willing to support the hydrogen energy industry is often involved along the value chain and interacted with other stakeholders such as hydrogen production, storage, transport, and application. The development of hydrogen energy is therefore significant in driving the local economy.
( Member registration is free. After registration, you can view and download reports in our
database
)